Saturday, Twitter was in stitches tweeting about the boxing match between Floyd Mayweather protégé Adrien Broner and Argentine Marcos Maidana. Broner was undefeated going into the match, with many stating he would win. However, a hungry and focused Maidana went in there and knocked Broner to the floor.
Broner is famously known for boastfully saying "brush my hair" to his dad, whilst in the ring. Well, Twitter joked Maidana knocked the waves out of Broner's hair. Hey, if you mess up, don't let Twitter catch it, as it will be the butt of many jokes.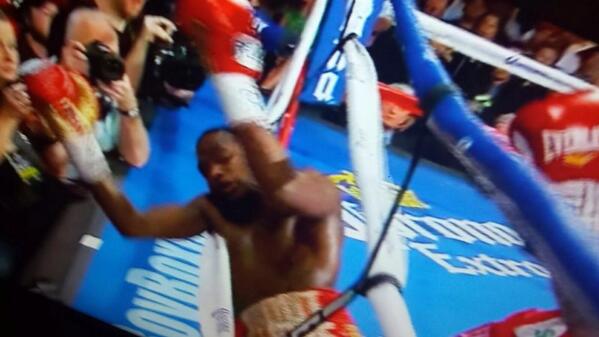 I've heard of on the ropes, but Adrien Broner is in the ropes after Maidana knocked him to the ground
Broner clearly took one too many hits to the head and lost all composure, because he began humping Maidana, who was startled. Broner debuted a new style of boxing, the jab and poke. I've never seen anything like it in my life. It looked like a spoof video. It was Liberace boxing.
Trainers usually advise boxers to protect their heads during fights, but in Broner v. Maidana they should have yelled "protect your butt" (LOL). One minute the match looked like booty boxing, the next MMA with Broner holding Maidana like he wanted to pick him up and body slam him.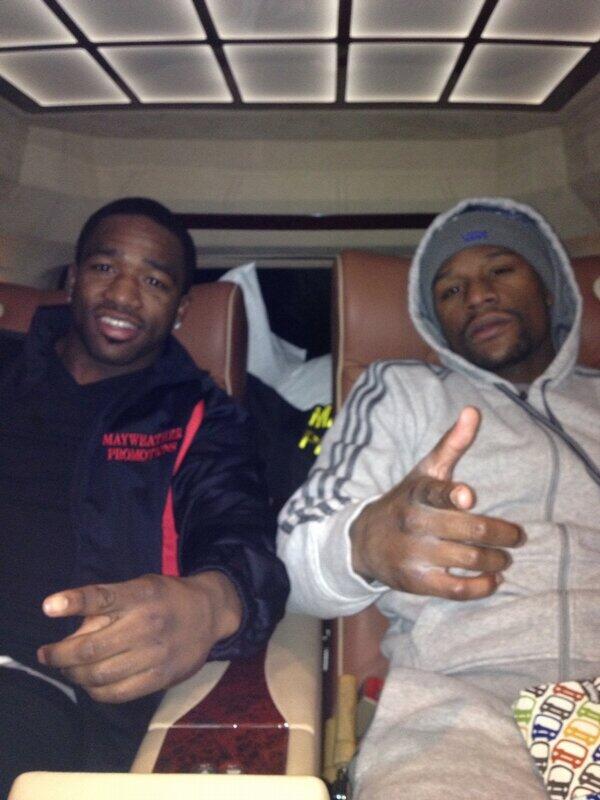 Adrien Broner and Floyd Mayweather. After his loss to Maidana on Saturday, December 14, 2013, Mayweather encouraged Broner on Twitter by stating, "Hold your head up champ. I love you. A true champion can take a loss and bounce back, my lil brother."
Maidana, who received a hero's welcome back in his native Argentina after the fight, which was held in Texas, is stating he now wants to fight the champ, Mayweather, who is undefeated. Can't blame the man, but the public is begging for a Mayweather v. Pacquiao bout.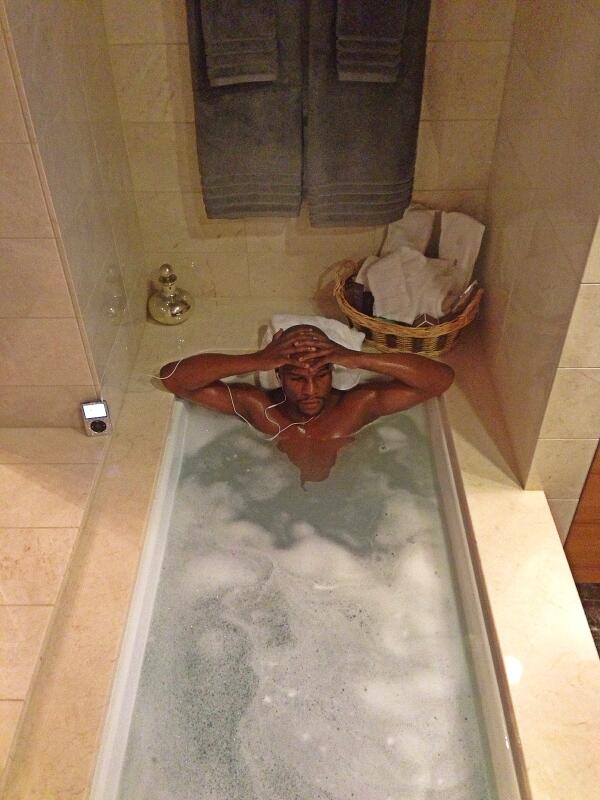 Floyd Mayweather
Prior to the fight, some criticized Broner for his braggadocio and lack of humility. People stated he took things for granted due to his success and partied too hard. When you look at men like Ali and Usain Bolt, they are not only athletes, but entertainers and showmen (and there's nothing wrong with that). However, there is a difference between being a showman and a sideshow. Broner has become a sideshow.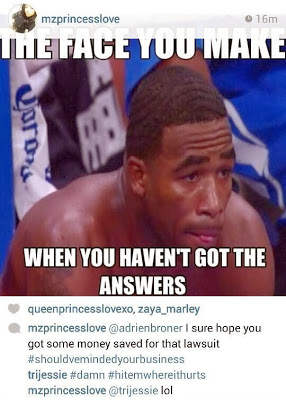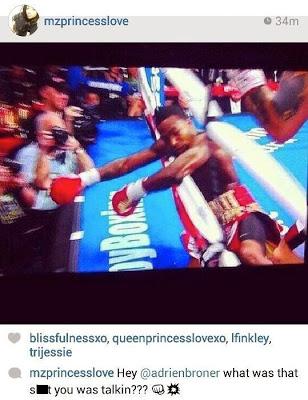 After Broner's defeat to Maidana, Mayweather's ex-girlfriend Queen Princess Love took a jab at Broner, for dissing her nude selfies
When it comes to business, men like Ali and Bolt have been focused and determined in their resolve to win. Broner needs to strike that balance between athleticism and entertainment. Broner is a gifted boxer, but things got a bit out of control in his camp. He needs to refocus. And at the end of the day, there's no shame is losing. It happens to many, but you get back up again.
The fact of the matter is any athlete or team can be beaten on any given day if the circumstances and conditions are right. Victory is never guaranteed. You must work for it. Athletic ability certainly compensates for much, but the will to win is often the overriding factor. Never take it for granted.
RELATED ARTICLE