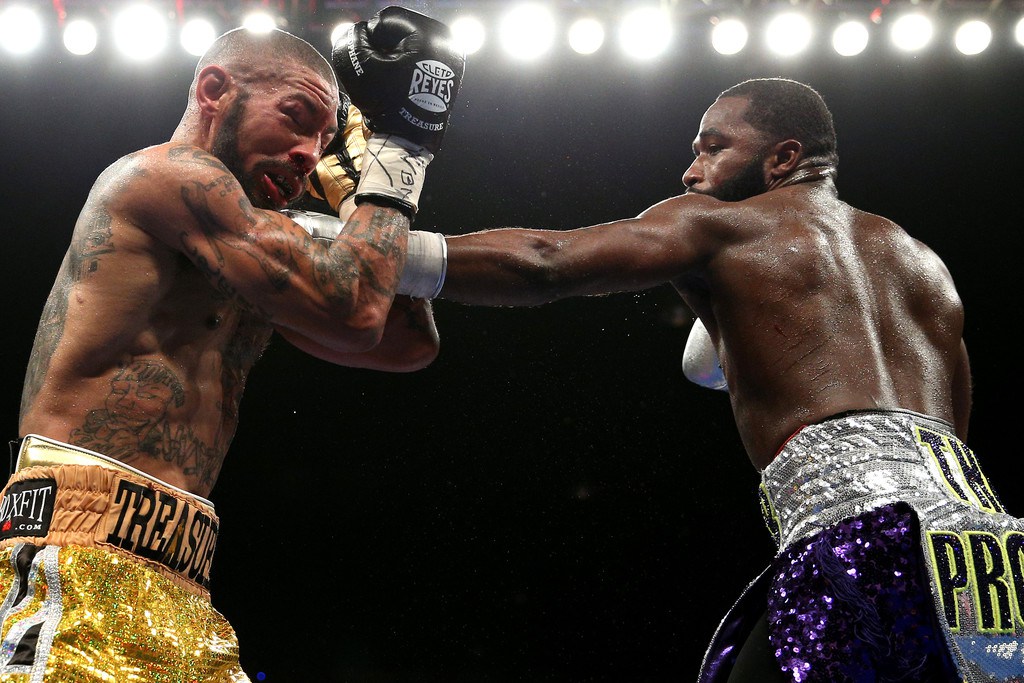 Ashley Theophane and Adrien Broner

Troubled boxer, Adrien Broner, 26, scored a 9th round stoppage over underdog, Ashley Theophane, 35, in Washington, DC this past Friday night. Broner hit Theophane with a low blow to his genitals, which caused him to put his hands up and hunch over. The referee misinterpreted it and in a controversial decision being slammed on social networking, gave Broner the stoppage. Theophane tried to explain to the referee he was not asking for the fight to be stopped. However, the referee refused to listen, ending the bout prematurely.
While Broner did dominate for much of the fight, you never know, Theophane may have scored a knock out, clipping him when he was momentarily off guard. Theophane did not look to be in mortal danger. Therefore, the fight could have continued. Maybe Broner will give him a rematch, but he doesn't usually extend that offer to opponents he has already fought.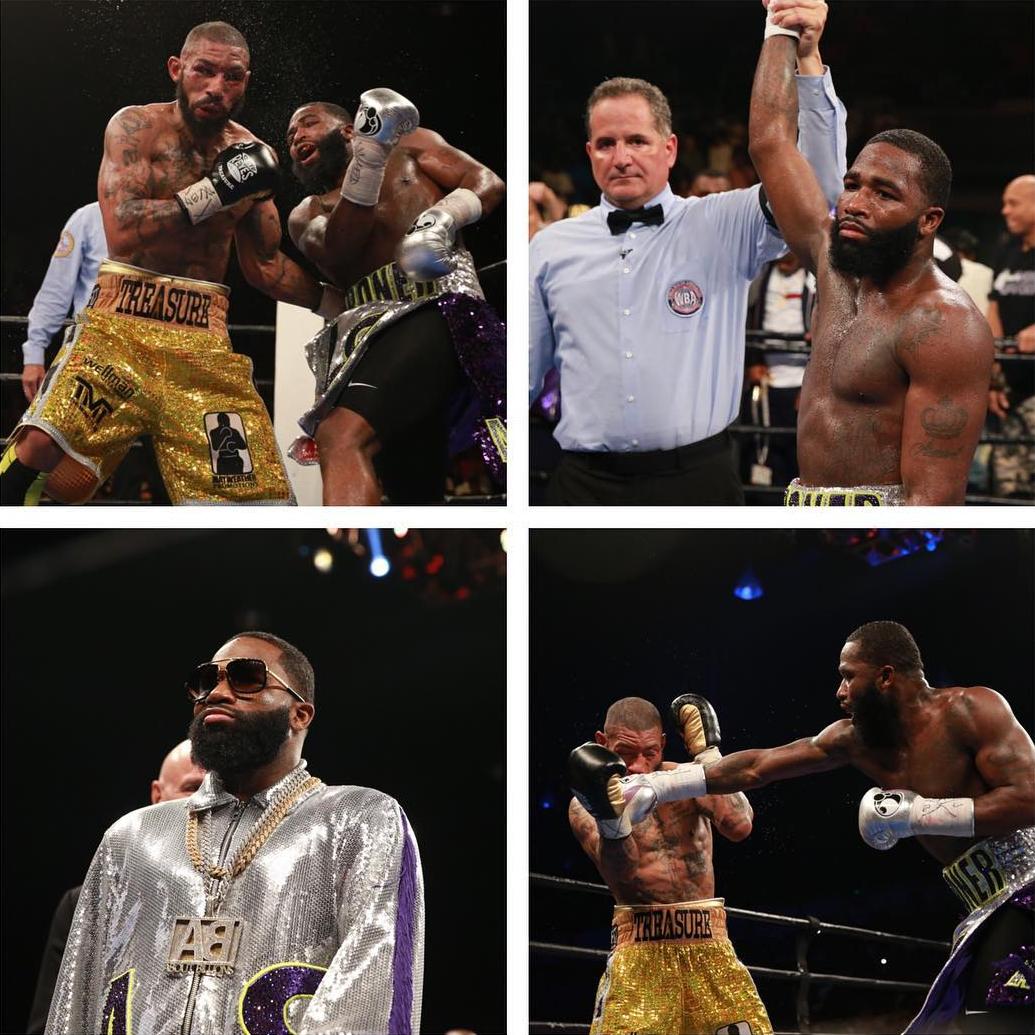 Photos from the Broner v. Theophane fight
How did Broner dominate in this fight? Broner took out his rage for former mentor, Floyd Mayweather, on the latter's protégé, Theophane. It was like Broner snapped and kept picturing Mayweather instead of Theophane in the ring. It was like a case of sibling rivalry gone wild. Broner is exhibiting signs of jealousy and abandonment, as Mayweather, who once took Broner under his wing as his heir apparent, has embraced Theophane and Gervonta Davis instead as his new boxing protégés, signing both to Mayweather Promotions.
Broner was signed to rival Golden Boy Promotions, but has now started his own company, About Billions. Mayweather understandably put his boxer's signed to Mayweather Promotions first. Broner was genuinely hurt and tearful about comments Mayweather made criticizing his lifestyle and the negative attention it attracted. This was his motivation for fighting the way he did during the Theophane bout.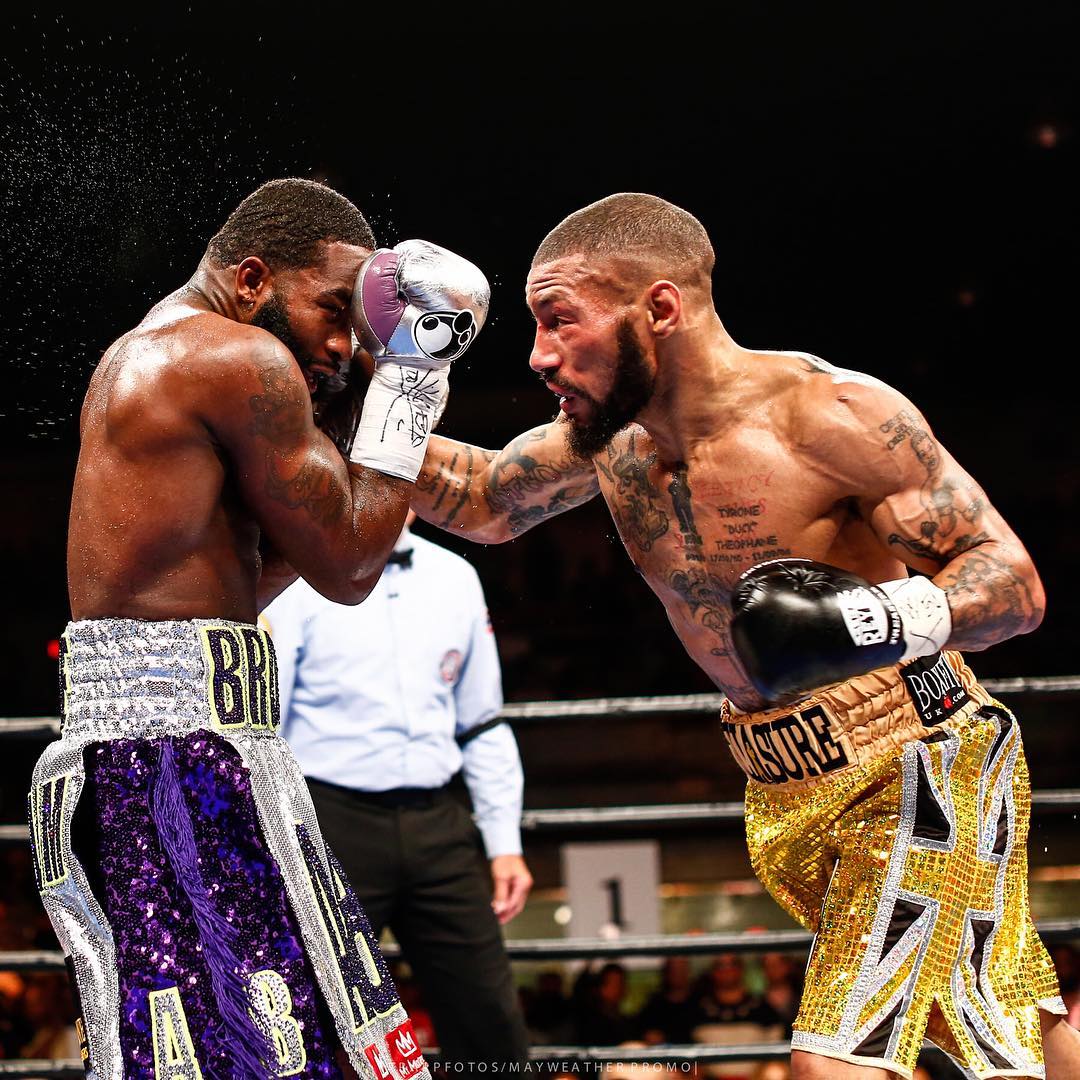 Broner v. Theophane fight

It was another story regarding the Broner vs. Theophane fight. It was not a clean win for Broner, who had already drawn criticism from fight fans for failing to make weight for the fight. Broner missed the 140 pound limit, weighing in at 140.4, whereas Theophane accurately made weight. Broner was given 2-hours to shed the additional weight, but didn't even bother to return to be weighed again.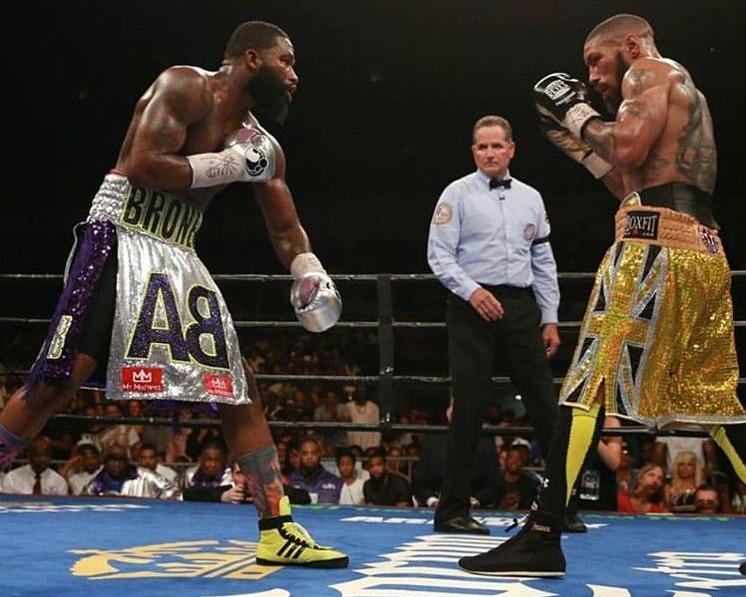 Broner v. Theophane fight

As a result, Broner, was stripped of his WBO belt. Even with his win last night, the title still remains vacant, meaning he is not the champion. All over .4 pounds which is being interpreted by many online, who have voiced the opinion in articles and on social networking that Broner is not taking his job as a boxer seriously.
In past fights, Broner was apparently
training at Pizza Hut
(LOL) as he posted a photo of himself eating fast food and bloated, which you can only do to limited degrees when not in training camp (this led to boxer Marcos Maidana beating the hot wings and pepperoni right out of Broner in the former's win). It's a shame that Broner does not take his job more seriously, as the Judiciary Report has maintained for years that he has boxing talent (credit where credit is due).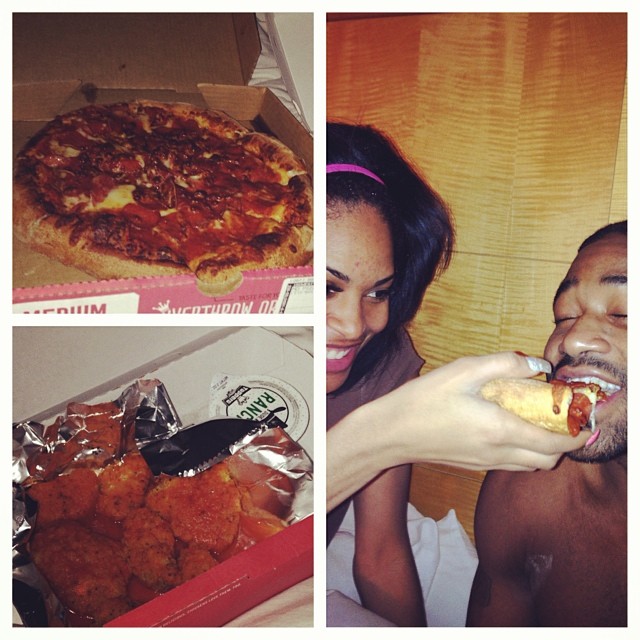 Adrien Broner being fed fast food by his fiancée in 2014
In a tweet on the website Twitter, I stated two weeks before the fight that Broner looked too big for the bout. Broner didn't look out of shape. The muscle definition was there. However, he was top heavy. Broner's torso was too big for his weight class and as a result, 2-weeks ago he did not look like a lightweight boxer. Broner looked more like a middleweight. Broner was also retaining water in the face and torso, clearly due to alcoholism (Broner was arrested and convicted of drunk driving last year and sentenced to 6-months probation and community service).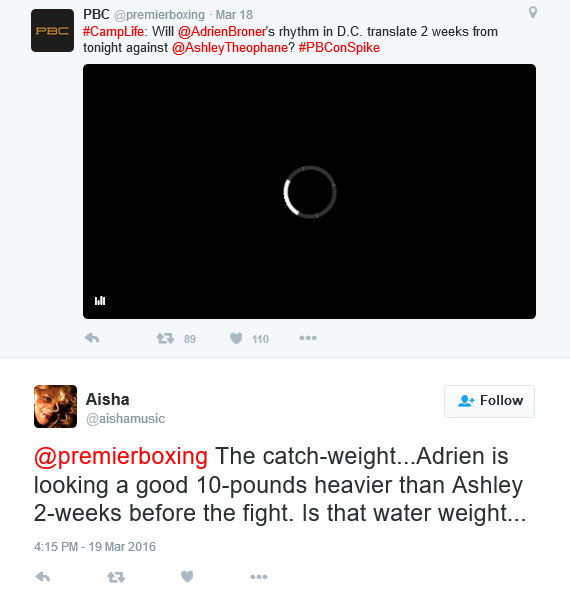 My tweet on Twitter 2-weeks prior to Adrien Broner not making weight, being stripped of his title and fined $50,000

Broner's trainer was unable to fully correct this issue in time for the fight, as Broner did not make weight, resulting in him being stripped of his title, as mentioned above. Broner's eyes have also been looking very sad and troubled these past few weeks, due to personal and legal issues outside the ring: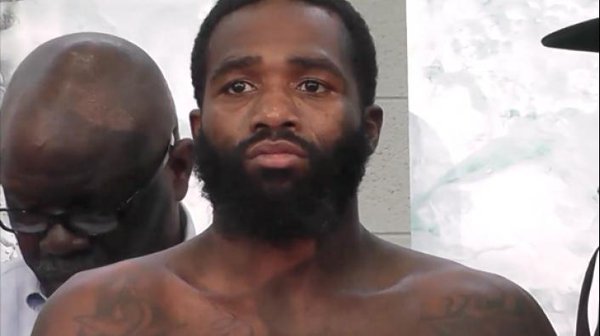 Adrien Broner

Theophane is also a good boxer, but I would like to see him increase his punching power. Theophane needs an expansion of his punching power. There are exercises one can do, focusing on the center of balance and inertia coupled with resistance, in pulling up punches, especially from one's core, then firing them off. Then after much practice, it becomes instinctive. Athlete who perform on instinct have better results in play.
For failing to make weight, Broner had to paid Theophane $50,000 in order for the fight to continue as scheduled. Therefore, Theophane will get his purse plus the additional $50,000. Not bad for a night's work (that was actually months of hard work work).
In the month leading up to the fight, I watched training videos posted online for both Theophane and Broner. Theophane worked much harder than Broner and put way more into training camp. I am of the belief, Theophane, put too much into the training camp and it took its toll. By fight night he looked exhausted before the first bell had even sounded. He looked anemic in the days leading up to the fight due to his rigorous roadwork and overall hectic training schedule. I'm my humble opinion, the road work, sparring sessions, conditioning and strength training went to excess.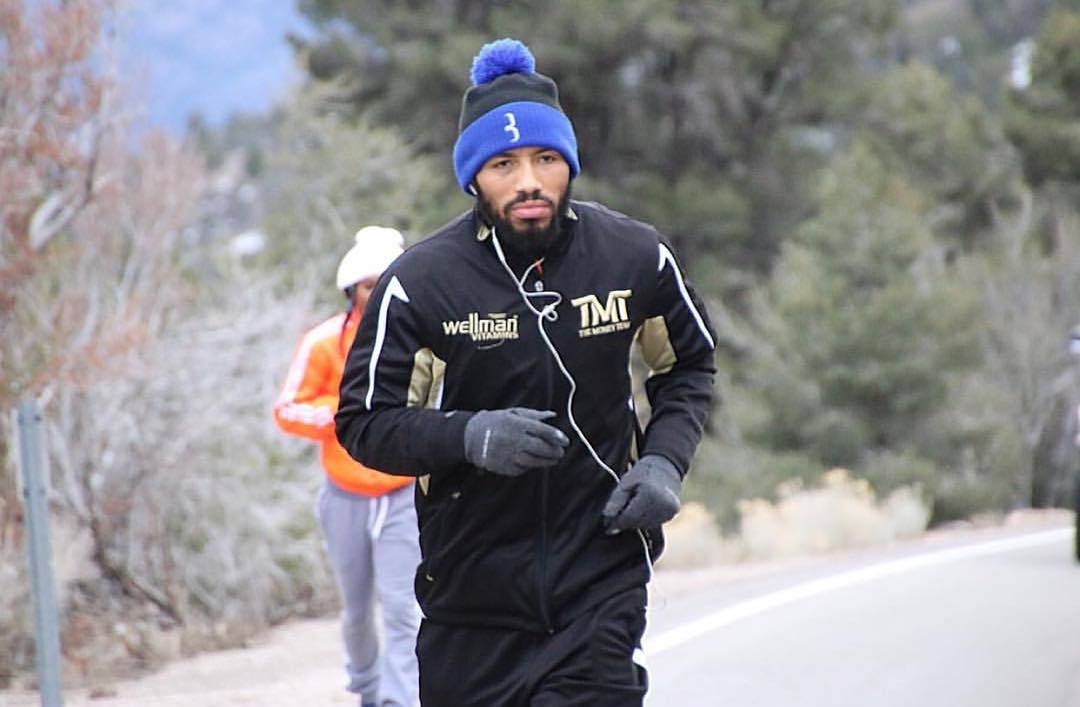 Ashley Theophane ran for many miles in the Nevada mountains on a regular basis in preparation for the fight
A few days before the fight Theophane posted a photo of him running many miles and he looked gaunt. He also appeared emotionally drained from the training camp and comments being made, as from the outset he was the underdog and received a significant amount of taunting from Broner, those in his camp and his rival's fans. He took it to heart and you can't afford to do that. In boxing, such taunts are a mind game.
Theophane is to be commended for his gargantuan effort. However, Mayweather in the last couple years of his career commented on "training smarter" in relation to camp being less strenuous in certain ways, but more effective. A balance needs to be struck regarding many boxers and what goes into training camp, so they don't overdo it and harm their hearts. This is especially true for heavyweights, as they are larger, tend to lift massive weights and do road work, all of which can overwork the heart, creating damage.
At the end of the bout Broner called out Mayweather for a fight. This led to Mayweather laughing till he cried (and on camera). Broner was also laughed at and booed by the crowd, then mocked on social networking for his comments regarding fighting Mayweather. Ironically, Broner also stated he grew up poor eating "cornflakes and water" which was the same thing Theophane had stated about himself months prior.