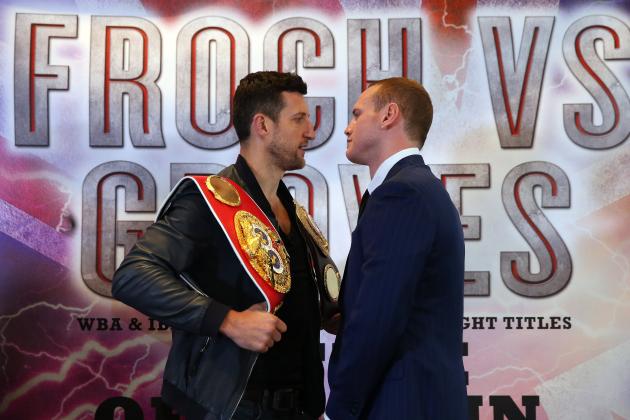 Carl Froch (left) and George Groves
British boxer George Groves, is scheduled for a May 31, 2014 rematch against champion Carl Froch, in London's legendary Wembley stadium. Taking a page from the Floyd Mayweather school of boxing, Groves has decided to take a more hands on approach to his career. Groves applied for a boxing license in Britain to become his own manager, in a move that has been granted by the commission. Groves, presumably with the help of a lawyer, is negotiating his own contracts.
Groves stated of the bold move, "I may not be the smartest man in west London but I do know that an 80,000 crowd brings in £5million. Then there's the television and so on. So I'm not going to accept £100,000 or £1m." Groves was reportedly offered $1,600,000 to fight Matchroom boxer, Froch, but held out for more. As an athlete, you have to earn all you can while you can, especially in sports like boxing and football, where injuries can really sideline careers.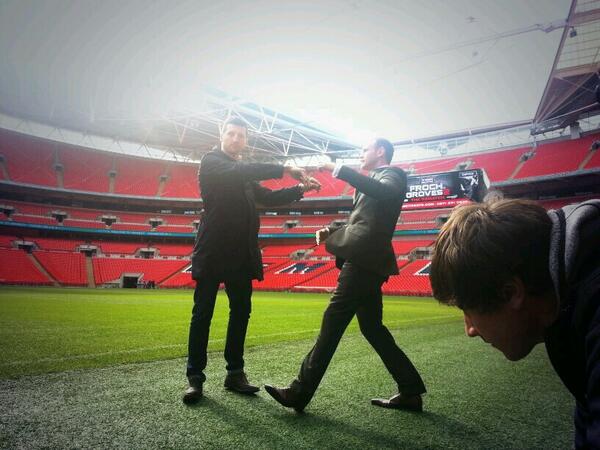 Froch pushing Groves
If Groves is of the belief he has the acumen to be his own manager and make the most astute, financially savvy and sound decisions, why not. He will make more money in doing so, provided he pursues the right deals inside and outside the ring. Froch v. Groves, in addition to the undercard featuring boxers like gold medalist Anthony Joshua, promises to be an interesting and entertaining night of boxing.
STORY SOURCE
Groves: I don't trust anyone to manage me

April 4, 2014 - George Groves has applied for a manager's licence from boxing's authorities because he doesn't trust anyone to look after him following his controversial fight with Carl Froch. Londoner Groves was unhappy after being stopped by referee Howard Foster in the ninth round at the Manchester Arena and battled hard to secure a rematch, set to take place at Wembley Stadium on May 31.
It took a protest to the International Boxing Federation in New York to force another world super middleweight title bout - and it led to Groves deciding that he is better off sorting out his own business. "He's in a bad place" George Groves believes he has the psychological advantage over Carl Froch as the pair prepare for their rematch at Wembley. "I know I would have beaten him the first time if it hadn't been improperly stopped," he told talkSPORT." Now there's no way Carl can beat me.
"He says he can't even stand to hear my name spoken and he can't look at me for the stare-down photographs which are part of being a professional and selling a fight. "He's seeking help from a sports psychologist because he's in a bad place." "You have to have a manager to be a boxer and you can no longer just appoint yourself as your own manager like the old days," he explained to the Daily Mail. "So I formally applied to the British Boxing Board of Control for a manager's licence.
"It's taken a while because first they said I hadn't done the form properly, then I hadn't sent the two photographs. But it's all done now. "I'm taking charge of my own business because I don't trust anyone at the moment." Promoter Eddie Hearn reportedly offered Groves £1 million for the Froch rematch, but Groves wasn't interested as interest in the fight hit fever pitch...