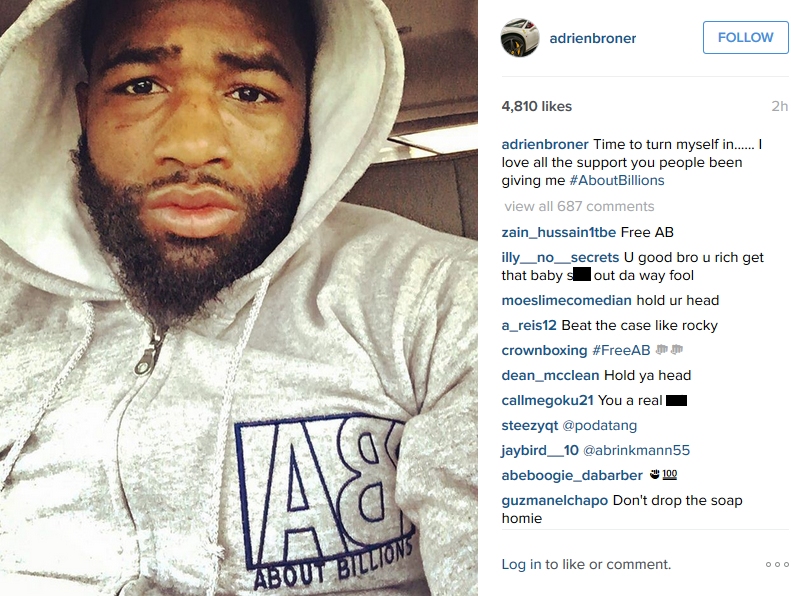 A troubled looking Adrien Broner posting on Instagram about turning himself in to police
Troubled 26-year-old boxer, Adrien Broner, has surrendered to police in his native Cincinnati, Ohio, on armed robbery and assault charges. Broner posted $100,000 bail and was released pending trial. In January 2016, Broner was gambling outside a Cincinnati bowling alley and lost $8,000. In an attempt to win his money back, Broner asked the unnamed man, who won the bets to continue gambling with him.
When the man refused, Broner went to his car, retrieved a gun, brandished the weapon, then punched him in the chin twice. The man's chin split open as he was knocked unconscious. Broner then took the $8,000 back from the man and an additional $2,000 from his pocket, then fled the scene. The man was taken to the hospital and given 60 stitches.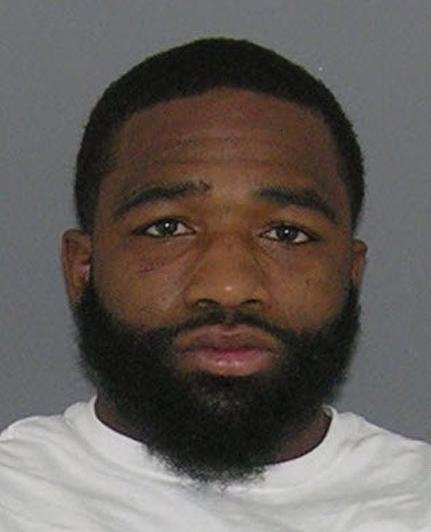 Adrien Broner's mug shot from his most recent arrest


A warrant was issued for Broner's arrest on March 24, 2016. Broner made an arrangement to turn himself in today. Broner is fresh off his controversial stoppage victory on April 1, 2016, against boxer, Ashley Theophane, which scored the biggest boxing ratings in Spike television's history. 1,013,00 viewers tune in to watch the fight in America. The fight also aired on Spike in Britain.
This was not Broner's first brush with the law. Broner was arrested last year for drunk driving and sentenced to 6-months probation and community service. In 2007, when Broner was a minor aged 17, he was arrested on three felonies for robbery and assault. When he turned 18-years-old, Broner was arrested for assault and battery. At age 18, Broner was also arrested for carrying a concealed weapon. At age 19 Broner was arrested for witness intimidation and aggravated menacing. In 2012, Broner was arrested for assault and battery. In 2013 Broner was arrested again for assault and battery.
STORY SOURCE

Adrien Broner's Arrest Record : A Courthouse Regular
March 24, 2013 7:23 pm - Adrien Broner is unquestionably a top talent in the ring, where he has dominated all opponents with ease to this point. Despite that he is just as well known for his interesting antics outside of the ring, especially in recent weeks. Just last week he was arrested and charged with an Assault and Battery in Miami-Dade County, Florida. In this it is well documented that he got into an altercation with a few men to where he allegedly "bit" a man on the arm during the fight...
His documented troubles began shortly before his 18th birthday in 2007 where he was arrested and charged on 4/3/07 with an Aggravated Robbery, and 2 counts of Felonious Assault and Battery (despite being a minor, due to the severity of the crime he was charged as an adult). All 3 of those charges were Felonies. He was able to be free'd after making a bail of $100,000 cash, but during this period he violated his bond when he was once again charged with Assault and Battery (a misdemeanor version) on 8/17/07. This charge was dropped nearly 3 weeks after.
Broner was acquitted of the 3 major charges as well that October, but this was only the beginning. In September of 2008 he was charged with Carrying a Concealed Weapon (another Felony), but once again was acquitted jury a jury trial 12 months later. During this time while awaiting trial he was unable to stay away from trouble again, being charged with an Intimidation of a Witness and an Aggravated Menacing in December of 2008. But this was dismissed 3 months later due to a lack of feasible evidence. That also counted as a violation of his bond.
He was able to stay out of the courtroom after this for nearly 3 years while he rose thru the ranks as an A-list prospect. But he was arrested once more just a few months ago on 12/21/12, for yet another Assault and Battery. This charge is still pending, and his next court date will be held in the upcoming future on an unspecified date. During this time once again he failed to live by the guidelines involved with his bond, with his recent Miami arrest...