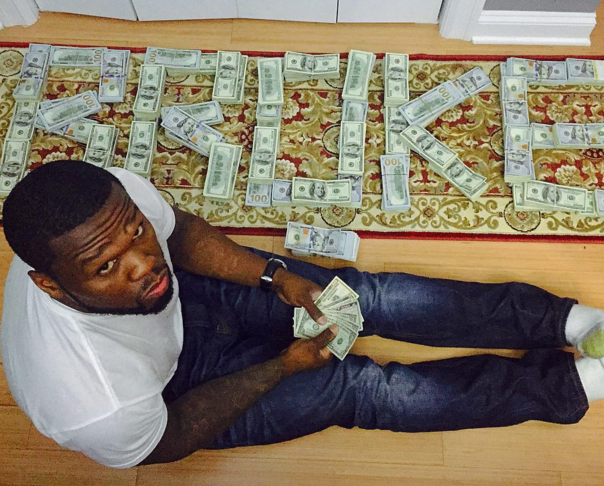 50 Cent posing with an estimated $50,000 on Instagram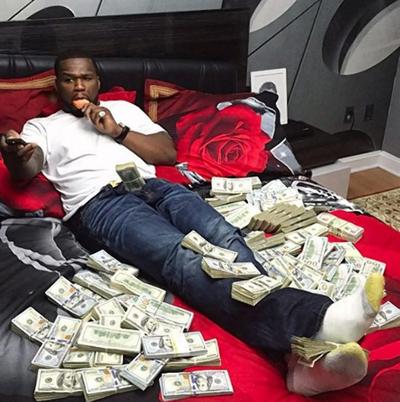 50 Cent posing with an estimated $250,000 on Instagram
Three days ago, the judge presiding over the case, Ann M. Nevins, issued a ruling ordering 50 Cent back to court to explain why he posted a photo on his social networking page spelling out the word "Broke" using $250,000 in cash. The ruling was issued due to one of 50 Cent's creditor accused him of bankruptcy fraud last week, after witnessing photos of the rapper posing with stacks of cash. 50 Cent has also hidden the fact he owns a custom built mansion in Africa, the trademark to his stage name and has been making cash from performances, not disclosed to the court. These acts constitute bankruptcy fraud, which is a felony. He's been hiding money and assets the entire time.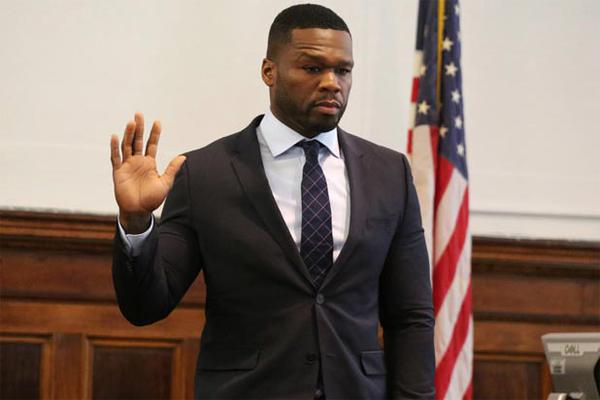 50 Cent has been showing off online as his ego can't stand people thinking he is broke (when he is not)
The July 22, 2015 article "
50 Cent Says He Is A Fake In Bankruptcy Court With A Net Worth Of $4,400,000 Not $150,000,000 But Is He Hiding Money And Assets
" has now been proven correct, "He is hiding money and assets. He can afford to pay the judgments and have money and assets left over for himself. He just finds it extremely difficult to part with $22,000,000 to pay court judgments over his poor choices. Therefore, his bankruptcy case is not legitimate. This is not what bankruptcy is for. Bankruptcy is for people in genuine financial distress, who need legal relief, not for millionaires hiding assets in attempting to get out of multi-million dollar court judgments caused by their stupidity and arrogance in violating other people's rights. Bankruptcy fraud is also a felony investigated by the federal government and is punishable by 5-years in prison and $250,000 in fines."
STORY SOURCE

'Broke' 50 Cent ordered to court after flashing cash online
February 20, 2016: 8:36 PM ET - 50 Cent has posted lots of photos surrounded by cash -- while he's in bankruptcy court. The rapper "50 Cent" is heading to court to explain why he's declaring bankruptcy -- while posting pictures of himself surrounded by cash on Instagram. Curtis J. Jackson III filed for bankruptcy in July. He claims that he still makes millions, but that a flood of expensive lawsuits is killing him.
The guy who got famous for his 2003 album called "Get Rich or Die Tryin‍" has poked a lot of fun at his financial situation. But now U.S. Bankruptcy Judge Ann M. Nevins is worried the rapper is being outright dishonest. Since October, 50 Cent has posted several photographs on Instagram of him playing with cash. In one, he's in bed surrounded by dozens of stacks of $100 bills -- easily $50,000 in that picture alone. In another, he stacks the Benjamins to spell out "B-R-O-K-E." ...
In court on Thursday, the judge told the rapper's attorney: "I'm concerned about allegations of nondisclosure or a lack of transparency in the case." CNNMoney listened to audio recordings of the Hartford, Connecticut hearing. News of the hearing was first reported by The Wall Street Journal.
"There's a purpose of having a bankruptcy process be transparent, and part of that purpose is to inspire confidence in the process," the judge said, adding that bankruptcy court is where "an honest but unfortunate debtor can come into court and seek relief." "When that process becomes very public, the need for transparency, I believe, is even higher," she told the rapper's lawyer, James Berman...