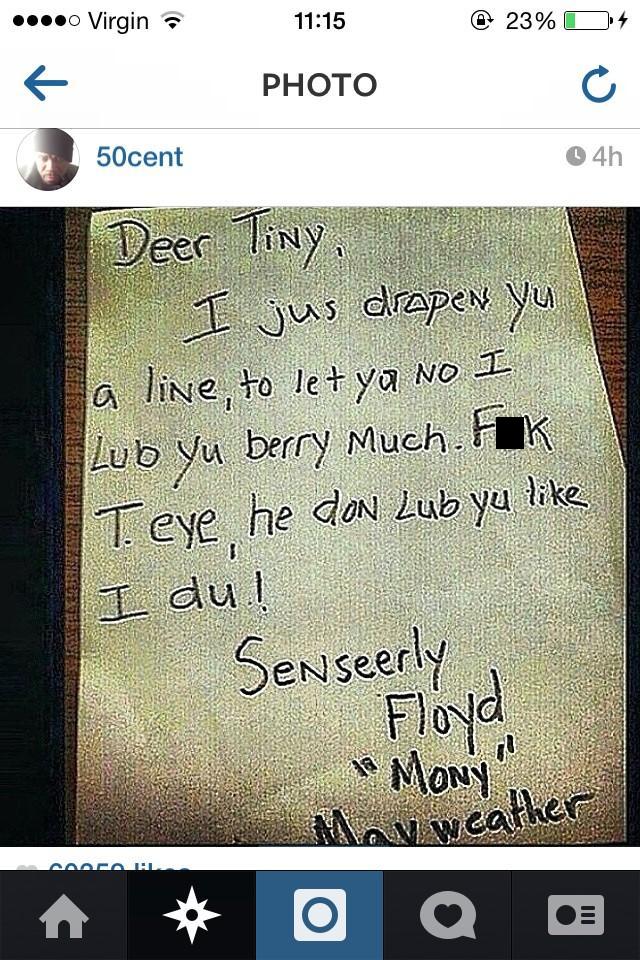 50 Cent's post on Instagram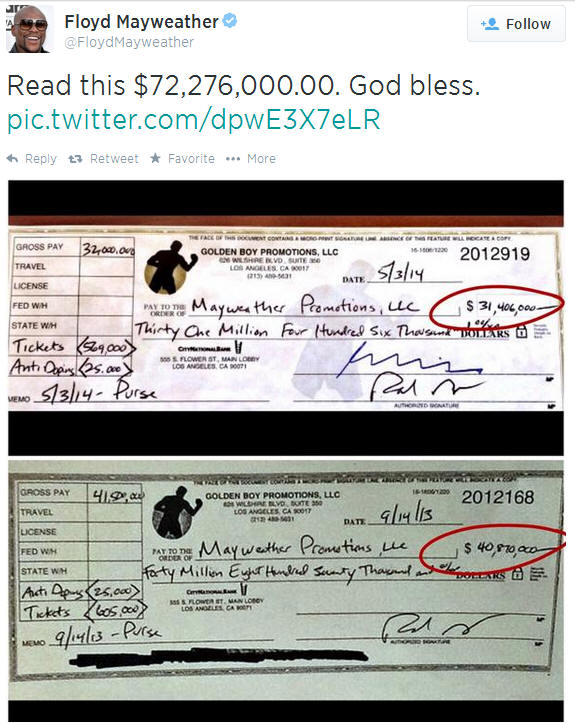 Floyd Mayweather's tweet addressing 50 Cent's insults
50 Cent posted an item to his Instagram mocking Mayweather. The caption on 50 Cent's post read, "You put up a check. That must be for a blogger. You know I got money." The question is, which blogger is 50 Cent talking about. You trying to say bloggers are broke? We're not. I've got $10 in the bank and I resent that comment (I'm kidding about the $10).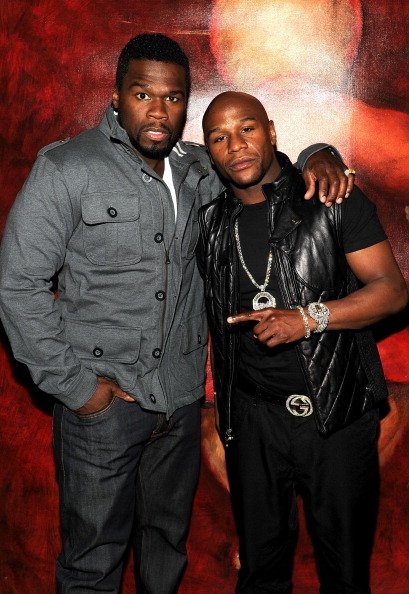 50 Cent and Floyd Mayweather
The fake note 50 Cent wrote and posted on Instagram, was poorly written and contained many spelling errors, under the pretense it was authored by the champ and addressed to reality star, Tiny, wife of gun-toting rapper TI. There is bad blood between TI and Mayweather, as the rapper is of the belief the boxer had sex with his wife Tiny. Mayweather denies the allegation.
STORY SOURCE
Floyd Mayweather Responds to 50 Cent After (Pseudo) Ice Bucket Challenge—See the Photo!
Sat., Aug. 23, 2014 3:13 PM PDT - Floyd Mayweather's response to rapper 50 Cent is so money. The hip-hop star had on Thursday shared a video showing himself forgoing the now-viral ALS Ice Bucket Challenge, taken by scores of celebrities, and issuing a new one—he said if the boxing champion would read one page from a Harry Potter book, he would donate $750,000 to charity.
On Saturday, Mayweather posted a photo of two checks that would probably not be accepted as a mobile deposit. "Read this $72,276,000.00. God bless," he said. "I guess you want people to see your math is better then your reading," 50 Cent tweeted in response to the photo.
He also posted an expletive-filled video posted on his Instagram page (warning: strong language). "You put up a check. That must be for a blogger. You know I got money," he said...