Unbelievable! Beyonce's Fans Want Karrueche Tran Dead Over A Joke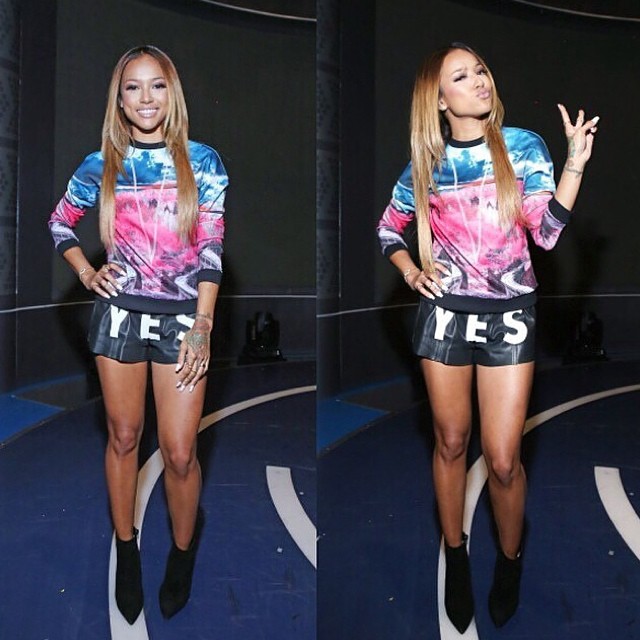 Karrueche Tran at the BET network's "106 & Park" show on Monday
Karrueche Tran, the girlfriend of singer Chris Brown, made an appearance on the BET network's "106 & Park" show on Monday and it turned controversial when she read a joke off a teleprompter. The comment centered on social networking jokes, regarding singer Beyonce and rapper Jay Z, not combing their daughter Blue Ivy's hair.
Fanatics apart of Beyonce's fan base known as the "Beyhive" began sending Tran death threats. They also sent BET violent threats and complaints. Someone even started a xenophobic petition to have mixed race, half Vietnamese, half black Tran deported (with some ordering her back to the illicit sex trade abroad, a slur on her Vietnamese heritage), though she was born and raised in America.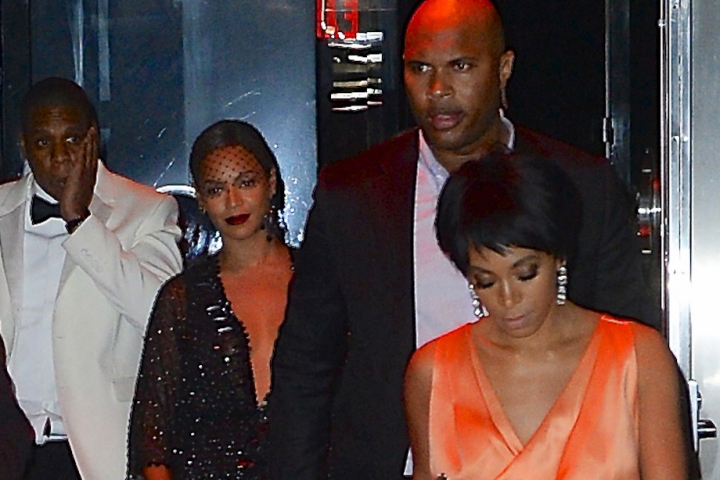 Jay Z, Beyonce, her bodyguard Julius and her sister Solange, who had just beat up the rapper over cheating with singer Rihanna
For the record, sending someone a death threat is a crime and anyone who does that is unbalanced and needs to be jailed. You need to reevaluate your life and priorities and get your act together when you reach the point that you want someone dead over an innocuous joke, which is free speech covered by the Constitution.
Tran apologized for the joke on social networking, but also appropriately expressed her offense at death threats that were sent to her, "Past two days have been extremely draining.. As I geared up for a big day for myself - hosting a live show.. I never expected things to turn out this way.. I apologize to any and everyone who felt offended in any way by the comments made by BET executed through me.. I would never disrespect anyone's child in any way and anyone who knows me knows that I LOVE Beyoncé. My comments have been in complete shambles.. yes I am human too and yes I do make mistakes.. But all this negativity and death wishes are quite a lot.. Definitely a lesson learned from here forth.. Again, on behalf of MYSELF, my sincerest apologies #BeyHive."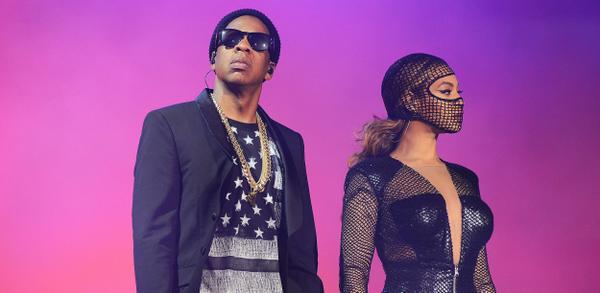 Jay Z and Beyonce
BET's Stephen Hill also apologized stating on Twitter, "Last night on 106 & Park their was a stupid, unthoughtful joke made about a young child. We apologize publicly to the child's parents (and have done so privately) and we have taken punitive actions with those responsible. It was very bad judgment and we will serve you much better in the future. And please don't hate on Karrueche; it was not her fault. We also apologize to her for putting her in that position."
"106 & Park" has been suspended for 5-days, which is uncalled for on every level. It was done in a bid to assuage the massive egos of Jay Z and Beyonce. The couple has repeatedly attempted to foster fanaticism in people, which is idolatrous and ungodly, in trying to elevate themselves to the positions of gods.
The couple's PR team has even placed articles in the press and blogosphere, elevating them above the President of the United States, Barack Obama and his wife, Michelle Obama, which is disrespectful. I really shouldn't have to ask this, but how crazy do you have to be to think being a singer or rapper is greater and more important than being the head of state of a nation. Fame really fools people.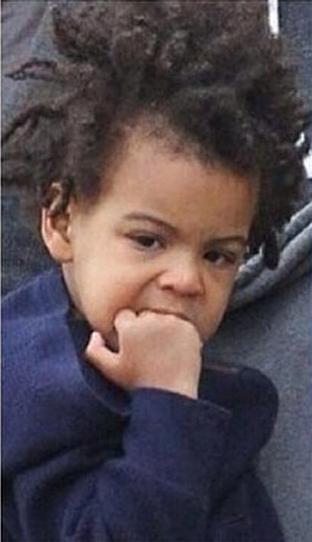 Blue Ivy
At the end of the day, people need to be fair and balanced and get a grip on reality. In a democracy, people are entitled to express themselves. Freedom of expression is a guaranteed right. I've read people say worse about the children of the President of the United States and no one lost their paycheck.
The mere fact someone made a small, truthful joke and some want to murder the person for it, says is negative and hateful - not to mention, far worse than any hair joke. You think about that, while you neglect your own families to behave like fanatics over two stars who only want your money. To Beyonce and Jay Z, take a good, hard look, because this is what you represent.
PHOTO LINKS