WARNING: Video contains explicit language
Undefeated welterweight boxing champ, Floyd Mayweather, previously denied having a sexual relationship with married reality star, Tiny, the wife of rapper T.I. The denial came after T.I. tried to hit Mayweather at a Los Angeles restaurant but missed.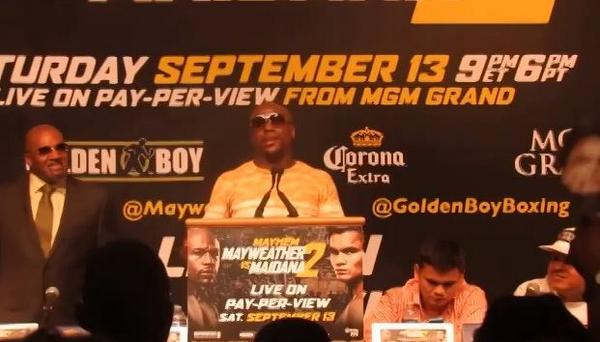 Floyd Mayweather at press conference this week
Today during a press conference for his rematch against boxer, Marcos Maidana, someone in the audience asked him about TI. Mayweather derisively laughed, "What about the bitch? I was f***ing his b***h." Mayweather is not specific if this was before or during Tiny's marriage to T.I. This insult comes after Tiny blanked Mayweather at the BET Awards in Los Angeles a few weeks ago.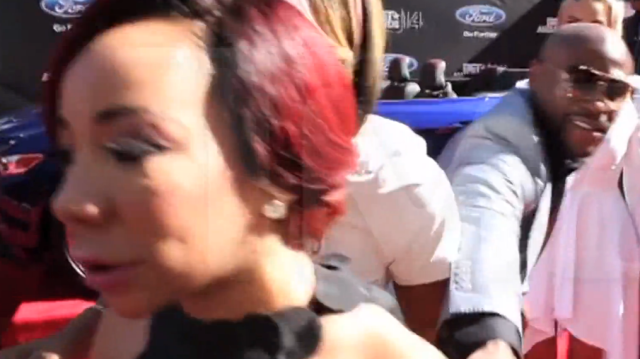 Tiny avoiding Mayweather as he motions for her whilst saying hello, due to husband T.I. offended him and led to the athlete making claims he had sex with her
Tiny has not responded to Mayweather's claims. Her chronically cheating husband, T.I. has not responded either. Mayweather should not have gone public with these claims, as adultery is spiritually wrong and unethical and will brings bad things into your life. Not to mention, T.I., who went to prison on gun charges, could fly into a rage and beat his wife or try to shoot you. I hope this will not happen.