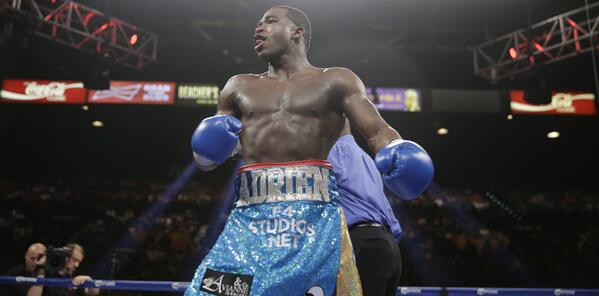 Adrien Broner
Boxer, Adrien Broner, has been suspended by the WBC for offensive racial remarks he made about Carlos Molina, after their bout on the Mayweather v. Maidana undercard in Las Vegas, Nevada on May 3, 2014. Broner won the fight and issued an ungracious speech calling himself the "CAN Man" stating he is an AfriCAN AmeriCAN" who "beat the f*** out of a MexiCAN." As stated previously on the Judiciary Report, Broner's comments were disgraceful and distasteful [
Boxer Adrien Broner Apologizes For Mexican Comment (Video)
]. On May 3, 2014, I also stated on Twitter that Broner should apologize for his racially insensitive statements. He later did, but not soon enough, as the WBC suspended him. He is banned from the listings and all activities.
Broner needed a wake up call, sadly it happened at the expense of Molina and others, who were offended by his statements. For several months the Judiciary Report has been stating Broner is living recklessly, squandering his sporting talent and needs to rein in his wild behavior. Months later Broner's mentor, Floyd Mayweather, went public with statements indicating he has repeatedly told his protégé that he needs to get his act together. Broner is young and rich and some singers, actors and athletes from all over the world, have trouble adjusting to fame and wealth and the responsibilities that come with it.
Even before this incident that led to Broner's suspension the Judiciary Report wrote, "Broner needs guidance and a makeover. Not his looks, but his lifestyle and mindset. He seems lost at times, even overwhelmed. You're a millionaire. Spend the time and money to expand your mind and horizons. Read more books to gain knowledge and increase your understanding of the world we live in. Watch documentaries about politics and world history. Stop wasting your time on fruitless things that are deteriorating your life and career" (
Adrien Broner Slammed By Fans On Social Networking For Partying And Not Training Enough
).
It was a sincere plea for Broner to become more serious, composed and sophisticated. It's not a matter of being bourgeoisie. The mere fact of the matter is once you become rich and famous, if you are not smart about it and adopt and more mature and sensible worldview, it will destroy you. Many newly rich and famous people have fallen due to this.
Broner has filmed himself in threesomes, running around his house naked, burning money, wiping his butt with U.S. currency and issuing detrimental quotes that have damaged his name. None of this is appropriate or helpful behavior. If you do not understand how to manage your money, you will be robbed and taken advantage of by some on your team, in your personal circle and or con artists. If you do not know how to handle yourself and are lacking media training, you will issue disastrous quotes (as Broner did).
If you are promiscuous, you will contract sexually transmitted disease and sire children you are unable to mentally, emotionally or financially take care of, greatly damaging your offspring's lives and giving them serious issues in the process. With fame and wealth comes responsibility and Broner needs someone to sit him down and get these points through to him before he self-destructs. You have to learn to grow.
You can be a tough and formidable boxer without saying and doing things that hurt others. There's nothing wrong with humility and being nice to people. At the end of the day, I want to see Broner pull things together and become the better man I know he can be. I don't think he means harm, he's just in over his head and is overwhelmed by the fame and money he has accumulated. He has athletic talent and is in a position to do a lot of good and he should commit his time to fulfilling his true potential.
RELATED ARTICLES