Freddie Roach, the successful trainer of well-liked boxer, Manny Pacquiao, has slammed his client's fellow champion, undefeated superstar, Floyd Mayweather, stating he keeps providing excuses in attempts at running from a fight with the new WBO titleholder. Yes, Roach went there! Oh, this is getting good!
Roach insists Pacquiao is and has been ready to fight Mayweather anytime, any place. He states it is now up to Mayweather to commit. Roach stated he feels public demand for the match up has somewhat waned over the past two years. However, Pacquiao defeating worthy rival, Timothy Bradley, has greatly renewed interest.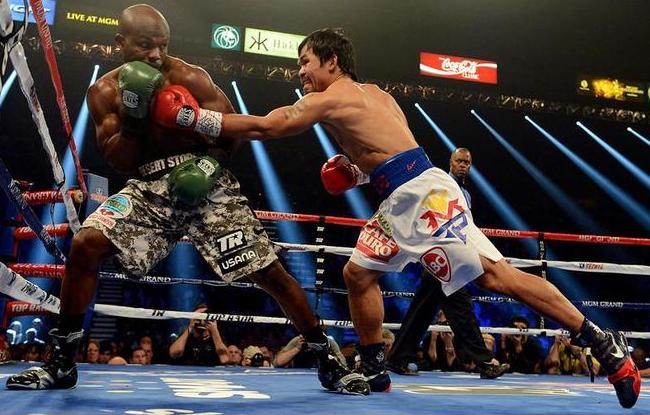 Timothy Bradley and Manny Pacquiao
Roach stated to the Telegraph newspaper, "We'd love to fight [Floyd] Mayweather but there have been so many excuses. He really doesn't seem to want to fight us, but we want that fight. I think my guy beats him...It was not the best I have seen Manny perform, but I'm not annoyed with him, I'm annoyed at myself for not seeing Bradley's plan coming..."I've stopped getting angry about Mayweather refusing to fight my guy, but we've agreed to everything - a 60/40 split of the purse, blood testing, whatever it is... and then he comes up with something else."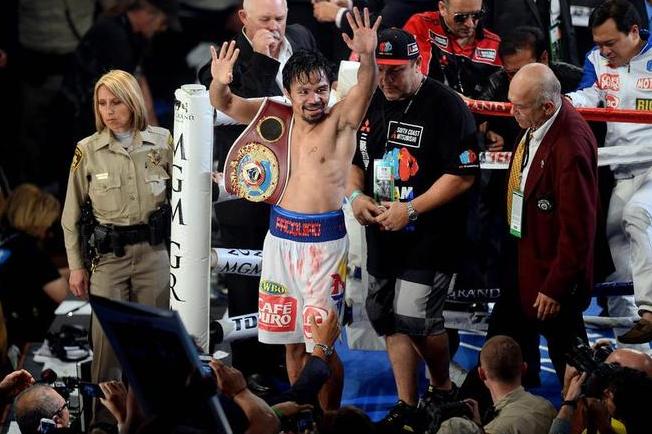 Manny Pacquiao
Roach further stated, "The problem he has is history will judge this. The thing is he is the one who won't fight us. Manny is going to go down in history as a great fighter, the greatest fighter of his era. Mayweather is going to go down as a great fighter, but the guy who never fought Manny Pacquiao."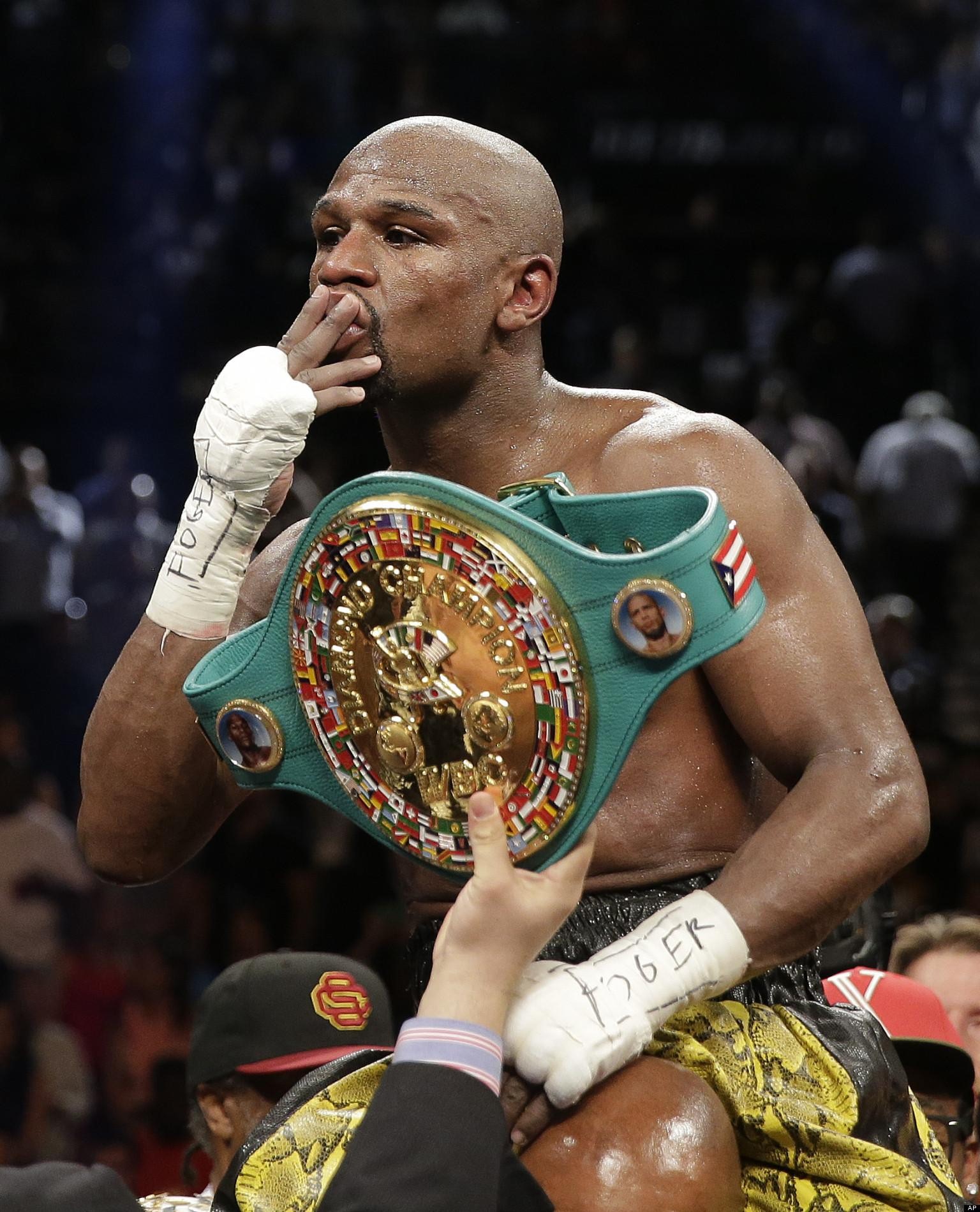 Floyd Mayweather
Mayweather has been silent on Paquiao's unanimous victory in the Bradley fight this past weekend, though many have sought his opinion on the bout. He is also withholding comment on Roach's recent statements, accusing him of ducking a fight with Pacquiao. However, Mayweather is not one to bite his tongue for long.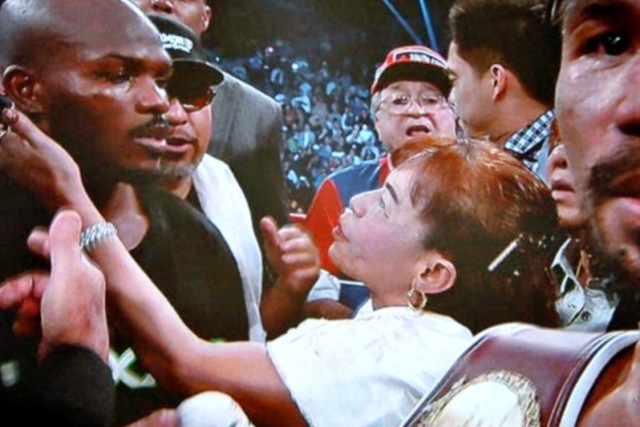 Timothy Bradley (left) Dionesia Pacquiao (center) Manny Pacquiao (right)
Side Bar: People joked on Twitter that Manny Pacquiao's mom, who was in the audience during his fight, put a hex on Timothy Bradley, cause he lost the fight and injured his calf. Y'all are wrong for that on Twitter (LOL). Last week I stated on Twitter that she was fervently praying for her son, with a prayer card and cross (rosary) around her hand. She confirmed it yesterday. I said a prayer for Manny last week too before the fight.
STORY SOURCE
Freddie Roach: 'so many excuses' coming from Floyd Mayweather to avoid facing Manny Pacquiao
7:02AM BST 14 Apr 2014 - Manny Pacquiao's Hall of fame trainer Freddie Roach has accused Floyd Mayweather Jnr of "making excuses not to fight" the Flipino Congressman but that his charge is "ready anytime" to face the American. On Saturday night here in Sin City Pacquiao was clinical in earning a unanimous decision in his rematch with Timothy Bradley, avenging his controversial 2012 loss in their first meeting, to claim the WBO welterweight crown...
Mommy Dionesia says no hex on Bradley, only a sorry
Sunday, 13 April 2014 22:53 - MANILA, Philippines — Dionesia Pacquiao, mother of champion Manny Pacquiao, clarified online trends and speculations that she was casting a spell on his son's opponent, Timothy Bradley, during their match in Las Vegas on Sunday.
"Rosary lang. Habang nagbakbakan sila, nagpe-pray ako para sa kanya. Sabi ko sa Panginoon na, sana pabagsakin niya si Bradley," Dionesia said in an interview with dzBB on Monday. News outfits said Dionesia, wearing a white gown, stole the show during the much-anticipated rematch.
She was spotted pointing fingers seemingly at Bradley, glaring menacingly, kissing a prayer card while reading aloud while the two fighters traded blows. Dionesia, a fervent Catholic, said her prayers seemed to have worked after she saw her son gaining ground as Bradley was losing his footing. "Nakita ko na, four rounds na ... ang paa ni Bradley, 'pag papunta kay Manny, gano'n gano'n na e. Sabi ko, praise the Lord!" she said...
Dionesia was afterwards seen on camera approaching Bradley and speaking with him. "Sinabihan ko siya na, 'I'm sorry, Bradley ... sports, boxing lang ha'," she recalled. "Tumatawa si Bradley sa akin. Humarap siya sa'kin, tawa ng tawa. Sabi niya, 'No problem, mama, I need more time'," Dionesia added...
Fight Week Conditioning with Manny Pacquiao
When boxing star Manny Pacquiao (55-5-2, 38 KO) steps back into the ring this weekend against Timothy Bradley, he'll be faster and more explosive than he has been in years, thanks in large part to the return of strength and conditioning coach Justin Fortune, whose old school, power-and-speed based approach helped Pacquiao gain a reputation as a knockout artist on his rise to superstardom...
MANNY'S POWER WORKOUT
Pacquiao's strength and conditioning routine is different most days of the week but many of the elements he tackles most often are contained in this full-body thrash devised by Fortune.
Exercise Sets/Reps (or Time)
Plyo Push-Up Circuit 3/101
Plyometric Cone Drill 1/3 min.
Battle Ropes 4/3 min.
Jump Rope 1/10 min.
Manny rarely exceeds one minute of rest between any sets or exercises to simulate fight night recovery demands.
1 Manny shoots for three sets of 10 reps on each of the four exercises (see below) but terminates a set the instant he feels like he is slowing down. "It's all about speed," Fortune says. "You want your hands touching the floor or the platforms for as little time as possible."
2 Fortune sets up five cones in a cross, or an X, with one of the cones at the center. Each cone is spaced 1-2 feet apart. Starting in the center cone with his feet together, Pacquiao hops quickly to the forward cone and back to the center. Landing softly, he quickly switches direction to a cone at his side or behind him. He works on a variety of patterns for three straight minutes.
3 For his work on the battle ropes, Pacquaio performs several variations – hands together, hands apart, long waves, short waves and side-to-side – for three, one-minute rounds.

Plyo Push-up Circuit
Variation 1: Manny starts with his hands spaced narrowly on the floor, just inside of two stable platforms, each 4-10" high, depending on the day. From there, he explodes up and lands softly with his hands on top of the platforms. He pauses only briefly before lowering himself into another push-up, exploding at the top and returning his hands to the floor between the platforms. Each time up and each time down count as reps, so his aim is five up and five down for one set.
Variation 2: Starting in push-up position with his left hand on the platform and right hand on the floor, Manny descends into a push-up and powers his way laterally over to his right so that his left hand is now on the floor and his right hand is on the right platform. Pacquiao pauses only briefly before descending into a push-up and reversing direction explosively to his left. Each lateral bound is one rep.
Variation 3: Starting with his hands on the floor between two platforms, Manny "walks" his hands up to the top of both platforms, putting one hand up, then the other. Each time he returns to the floor counts as one rep.
Variation 4: Performing the standard plyometric push-up with a shoulder-width hand spacing, Manny aims to get as much air as possible on each rep...