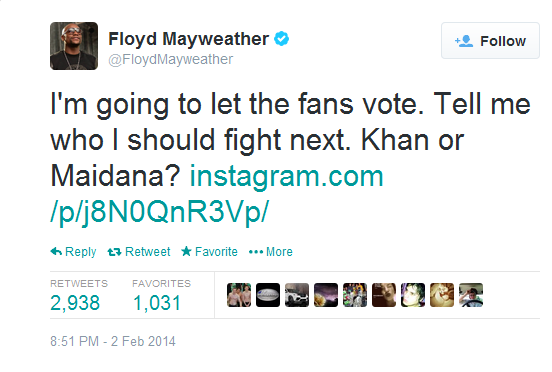 Floyd Mayweather's tweet on Twitter
Top ranked boxer Floyd Mayweather took to social networking today informing fans he is asking the public who he should fight next, Amir Khan or Marcos Maidana. Many flooded Mayweather's social networking pages with their responses regarding their favorite match up. Of course, Manny Pacquiao is everyone's top choice, but as his contract with Mayweather's adversary Bob Arum will not expire before May 2014, the month of Mayweather's next fight, Khan and Maidana are top choice.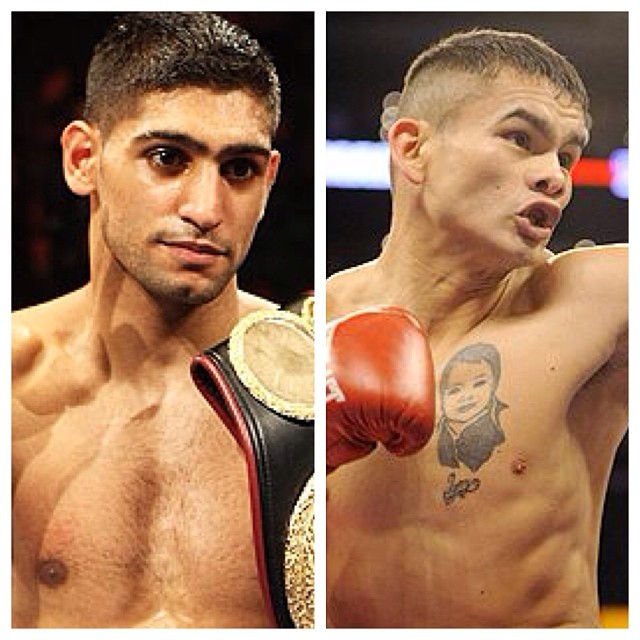 Mayweather posted this photo to his Instagram page of Amir Khan (left) Marcos Maidana (right)
Maidana recently beat one of Mayweather's Money Team members, Adrien Broner. However, it was not without controversy, as his corner (Alex Ariza) was seen discreetly slipping Maidana a pill during the fight. The website TMZ stated the incident is being investigated by the Texas Boxing Commission. Until that incident is sorted, Khan should definitely be the first choice.