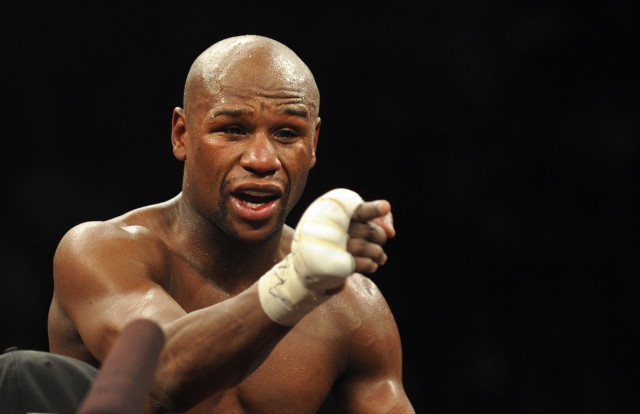 Floyd Mayweather: I'm gonna bust you up over what you did to my homie Adrien (Broner)
Floyd Mayweather has gone on record regarding his planned May 3, 2014 Las Vegas fight against Marcos Maidana. Mayweather stated, "Marcos Maidana's last performance immediately brought him to my attention. He is an extremely skilled fighter who brings knockout danger to the ring. I think this is a great fight for me and he deserves the opportunity to see if he can do what 45 others have tried to do before him - beat me."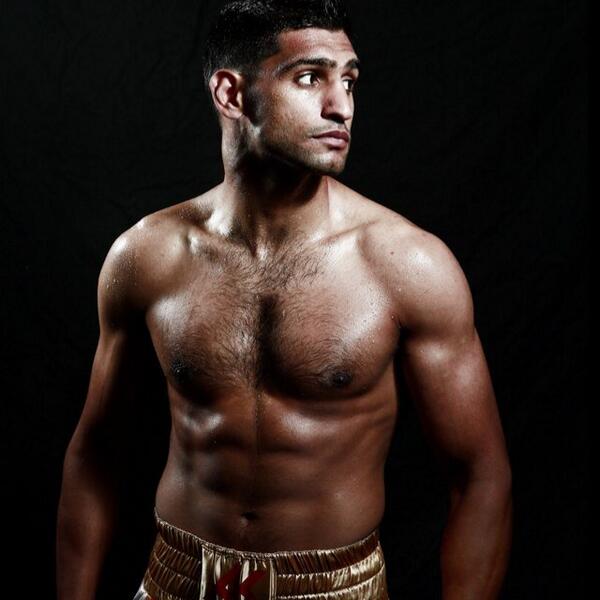 Amir Khan
Maidana stated, "I am extremely happy to be facing Floyd Mayweather because it will give me the opportunity to show the world that I am the best welterweight in the division. I just handed a great defensive fighter his first loss and I plan to do the same to Mayweather. I don't care whether he's the best and undefeated. I will bring some real Latino power to him on May 3rd."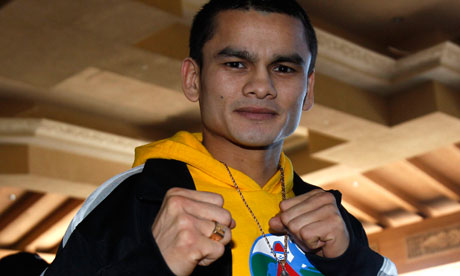 Marcos Maidana

However Amir Khan, the winner of the fan vote, who was overlooked in favor of Maidana, confirmed he did win the poll, had signed a contract with Mayweather Promotions and has lost money waiting on the champ. Khan had turned down a December 2013 fight against Devon Alexander, costing him money in light of Mayweather canceling the fight with him. However, Khan has been offered $5,000,000 to fight fellow Briton, Kell Brook. The offer was issued by British boxing promoter Eddie Hearn. It's a decent offer for a good payday, especially considering Khan has a baby on the way. He must plan for his future, as does any athlete. In response to Mayweather's announcement, Khan stated:
Following the announcement by Floyd Mayweather that he will be facing Marcos Maidana on May 3rd I would like to clarify my situation for my fans and members of the media. Despite having signed my part of the agreement to fight Floyd in early December, I've been preparing myself for some time that the match up with him wasn't going to happen, as I announced on Twitter a few days ago. Therefore, this announcement did not come as a surprise.
I am, however, very disappointed with Floyd and his team for not providing any explanation as to why he delayed the announcement for so long and ultimately avoided the fight with me. Clarification, if he was not fighting me, would have allowed me to look over my options and pursue another path, rather than the ultimate delay to my career this has caused. It has been a very frustrating period as I'd been due to fight in December against Devon Alexander, however, I was strongly advised to not take this fight as I would be facing Floyd this May – and therefore signed my side of the contract on this belief.
Floyd was keen to engage with the fans and so decided to let them choose who he should fight in his next bout. I clearly won his official poll, by a significant margin, but for unknown reasons he decided to ignore the fans vote and failed to keep his word. Disappointing many fight fans who took the time to vote. I genuinely wish Marcos and Floyd all the best for their fight – two great fighters. As a team we have now moved on and are looking at different options.
I've been training very hard since my last fight. I'm a fighter who wants to face the very best out there and have never ducked any opponent. I'm focused and ready for my next outing - we currently have a few options on the table at the moment and my team are working alongside Golden Boy Promotions to announce my next fight within the next 10 days. I can't wait to get back in the ring and am determined to put on a great show for my loyal fans who have waited a long time to see me back in action – and I'm very excited about what's yet to come this year. Thank you for all your continued support."
STORY SOURCE
Floyd Mayweather: Marcos Maidana is an extremely skilled and dangerous fighter
Tuesday, 25 February 2014 - AFTER weeks of speculation, Floyd Mayweather at last confirmed that he will take on Marcos Maidana in a welterweight unification showdown on May 3... "In Marcos Maidana, Floyd Mayweather may be in for his toughest opponent ever," said Richard Schaefer, CEO of Golden Boy Promotions. "Maidana is the type of fighter who will find out if Floyd still belongs on top of the pound-for-pound list. He's strong, tough and aggressive. He in giving Adrien Broner his first loss, he showed that he won't be intimidated by talk, a big fight atmosphere or an unbeaten record. I give Floyd a lot of credit for stepping up to the plate and testing himself once again. He is a true warrior, and the fans will be the winners on May 3rd."