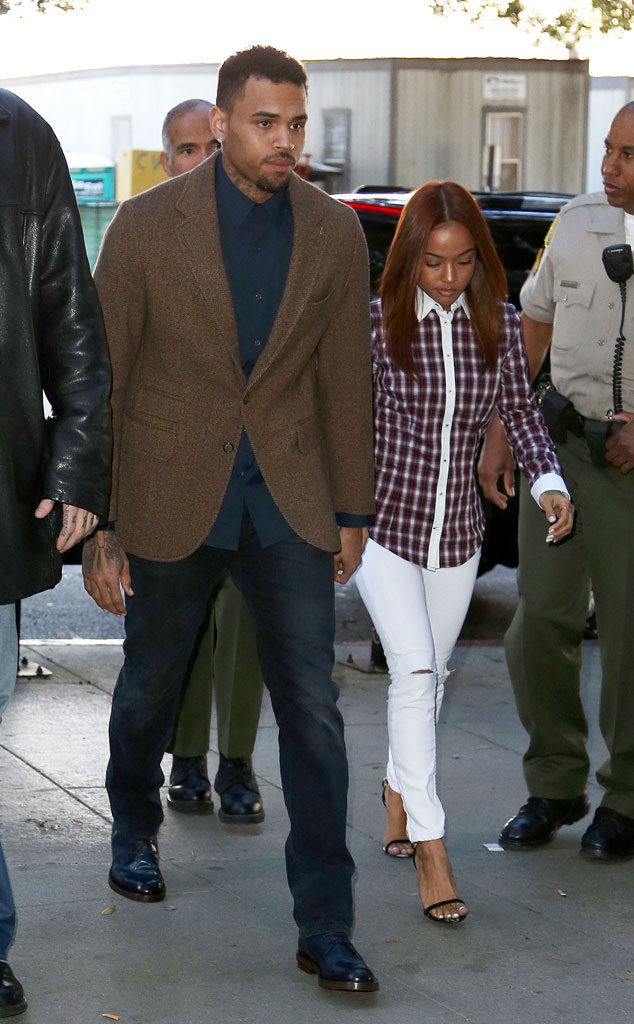 Chris Brown and Karrueche Tran
As reported yesterday, Chris Brown's former manager, Tina Davis, whom he fired, is holding on to the computer hard drive containing his new, unreleased music. This is highly questionable behavior, as she does not own the masters nor did she write or produce the music. To hold the hard drive or use its content in any way without permission is to commit criminal copyright infringement. Davis needs to give Brown the hard drive.
If Davis is worried about what she is entitled to under her contract with Brown, that is a matter that she needs to resolve with the record company. Trying to maliciously hold up his career via unlawfully holding on to his music, due to having been fired and sexually spurned is illegal. Not to mention, if the facts surrounding her behavior came out in court (preferable in a sealed case as it doesn't need to be in the public domain) any reasonable judge would invalidate the contract she had with Brown, especially due to what allegedly occurred when he was a minor. Not to mention, new allegations of Davis sending Suge Knight to assault Brown. Knight has open files with the FBI, IRS and DEA. Davis is not thinking wisely to have the aforementioned dealings with him. She must want a file too.
Davis is bitter on two levels 1.) Brown is (was) her only successful artist at
Phase Two Inc
2.) She's been in love with Brown for a decade. So, the paycheck and the penis just walked out the door (okay, I'm wrong for that joke).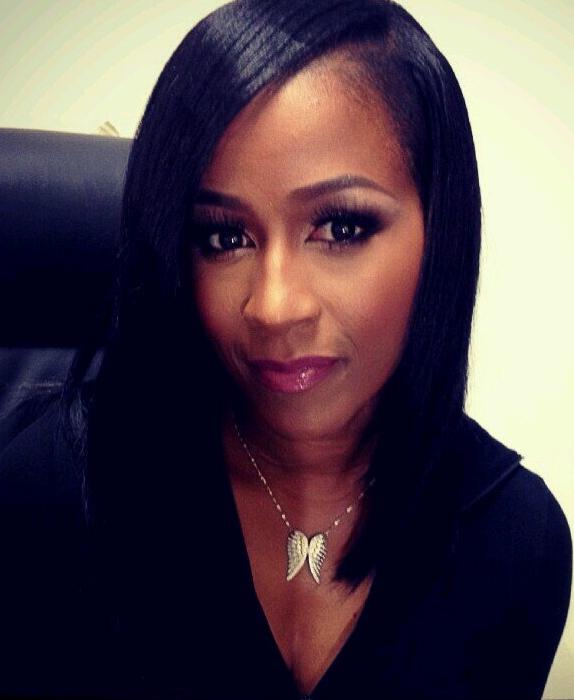 Tina Davis
For years it has been alleged that Davis, 45, initiated an inappropriate sexual relationship with Brown, 24, when he was 15-years of age and considered a minor in the eyes of the law. Brown's mother entrusted Davis with her underage son and rumors persist she sexually took advantage of Brown when he was 15 and she 36. A 36-year-old woman should not be attracted to a 15-year-old boy. It's just not natural. If he had been 20 and she 41, it would not have been illegal. But she knew he was not of age, which is a red flag (people, do not leave your underage children with others you do not know very well - you never know what could happen).
Davis watched as Brown went on to super stardom and became a man, continuing to have feelings for him. She operated with the mindset that she made him who he is (she didn't, but did contribute to his success) and should be the one with him. However, Brown's romantic interests have been elsewhere from the start. First Rihanna and now Karrueche Tran.
Davis kept tabs on Brown and repeatedly interfered in his personal life, which further supports allegations her feelings towards him have been sexual. There was no valid reason for her to be meddling in his personal life in this manner. For years she has been behaving like a woman scorned, not a manager with a business dispute.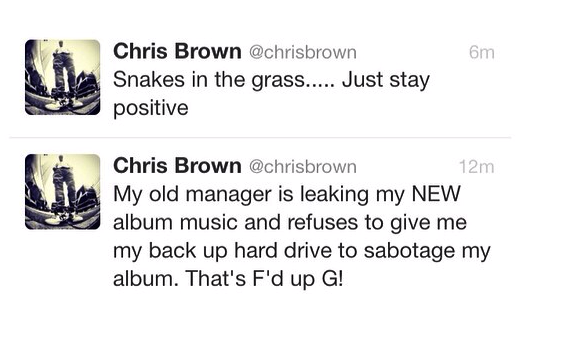 Chris Brown's tweet
As I see it, the only time a manager should really get involved in the love life of an artist is if they are dating someone involved in flagrantly bad behavior, which could lead to prison, public disgrace or the entertainer being ripped off by a scammer. Even then, you have to watch what you say or write to the artist regarding the matter. It has to be more along the lines of, "Be careful, because so and so is involved in criminal activity being monitored by the authorities, which could bring you down and damage your career by association" not "you better drop her." You should give the people you manage options, not orders.
However, Davis was operating like she was boss and being cheated on by her man as well, when the public knew Brown was dating Rihanna at the time. That was weird. Now, I admit, Rihanna is a bad influence, but Davis was behaving like a jealous woman, not a concerned manager. There's a difference.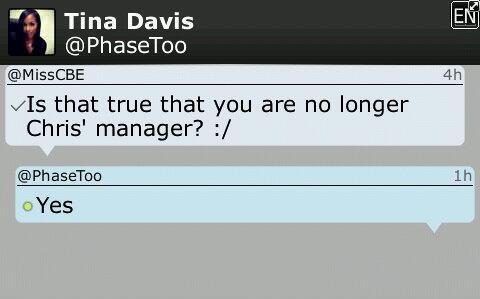 Tina Davis confirms Chris Brown has fired her
In 2009, TMZ accused Davis of sending the sexual text message that sparked the domestic violence incident between Brown and Rihanna, leading to his arrest. Rihanna had hit Brown on two other occasions, witnessed by others, prior to the fight in the Lamborghini after the Grammy party. On the night of the fight between Rihanna and Brown, she began hitting him in rage (over the text) causing him to snap and hit her back.
Both singers come from broken homes where domestic violence had been present. Rihanna should have kept that in mind before she started hitting Brown, as that night changed both their lives in an indelible way. She is also a hypocrite for growing angry over a text, when she's been having sex with Jay-Z and other industry men and women for career favors from the time she was an underage minor. She had no business being jealous when she was and continues to do the exact same thing. Kettle calling the teapot black.
STORY SOURCE
SR Exclusive: Chris Brown to Tina Davis: "YOU'RE FIRED!" *UPDATE*
Tuesday, February 25, 2014 - In 2012, Sandrarose.com broke the news that Def Jam VP of A&R Bu Thiam was replacing Tina Davis as Chris Brown's manager. I also told you exclusively that Davis, who is in her late 40s, was reportedly involved in an inappropriate relationship with Brown when he was 15. After a series of career setbacks and PR nightmares for Brown, Bu was brought in as a key member of Brown's management team. But Davis was not let go due to a contractual agreement.
All of that changed today when, according to my very well-connected source, Brown FIRED Davis after suspecting her of setting him up for a violent confrontation between Brown and Suge Knight! "She's not coming back. It's a wrap!" said my source. "[He] found out she was the one who set him up!" Suge Knight reportedly is affiliated with the Bloods, a notorious street gang out of Compton, California. It's been long rumored that Brown rolls with the Bloods — but Brown steadfastly denies the rumors that he is gang affiliated.
You may have read about the recent violent confrontation between Brown's camp and Suge Knight on other blogs. According to my source, the confrontation occurred about 2 weeks ago. Stay tuned for more details on this breaking story…