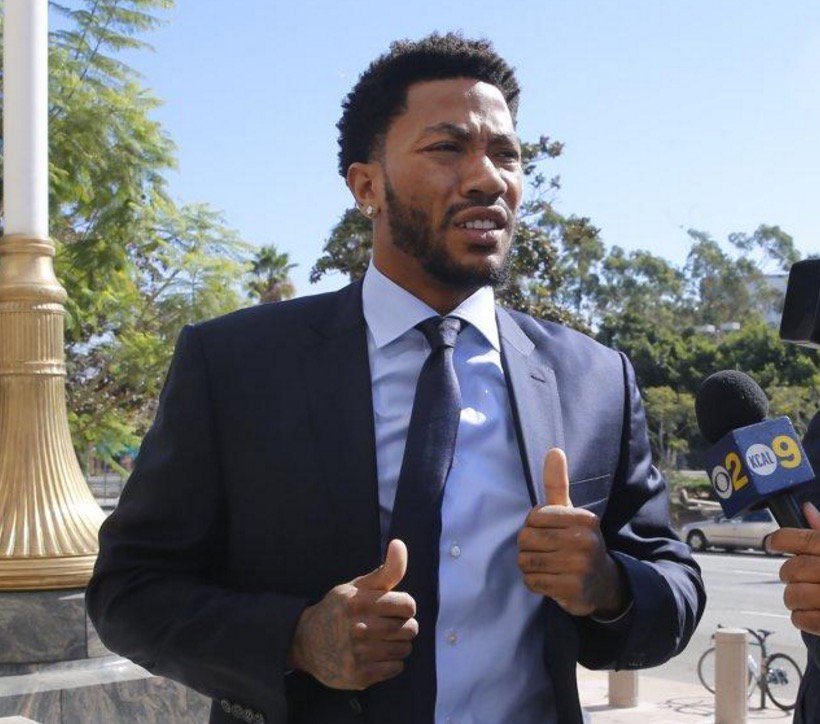 Derrick Rose in disbelief as he enters court
NBA basketball player, Derrick Rose, has been set up big time by a scheming groupie, who has bedded other ballers in trying and failing to become a rich pro-athlete's wife. After dating Rose on and off for 20-months, bringing him women for group sex and carrying sex toys to his house, she is claiming he raped her and at least two of his friends gang raped her as well with his consent.
The New York Post wrote, "During cross-examination, she admitted to lying at least six times during her deposition or in text messages to Rose." It also does not look good that she waited over 2-years to file a police complaint and only did so well after filing a massive lawsuit in a cash grab against Rose on some very dubious claims. The police complaint was filed when the public questioned why she opted to sue first rather than go to the police.
The judge presiding over the case expressed anger that the accuser and her lawyer withheld important text messages from the court that reveal on the day of the alleged gang rape she sent Rose texts stating "I need u" and "I want u here." After the alleged gang rape, Rose's accuser also texted him asking for money for a sex toy she brought to his home.
She also stated in a text about a woman she brought to him for group sex, "She was mad at me babe why u have me bring a b***h and u ain't fina f**k her." A close friend of the gold digger accusing Rose and his friends of rape, testified that when she asked her if she was raped she said "no" and that she was angry over a money issue concerning Rose.
In light of the foregoing information, if
I were on the jury and read those texts from the accuser to Rose, I would vote not guilty. You don't contact your alleged rapist stating romantic things of that nature. Those are things you state to someone you are in a sexual relationship with and plan to keep bedding. If a real rape victim decided to send text messages to a rapist it would state something like "I'm gonna chop your willie off" or "I hope you get arrested and your cellmate violates you like you did me." Though I don't recommend victims contact their rapist. It is best to contact the police as soon as possible and get in touch with a hospital for testing.
In other Derrick Rose news, the investigator looking into the matter for the Los Angeles Police Department has reportedly committed suicide. Nadine Hernandez reportedly killed herself yesterday at the home of a Los Angeles Police Department lieutenant. She was found with a gunshot wound to the head and later pronounced dead at the hospital.
STORY SOURCE

There are reasons to doubt the story of Derrick Rose's accuser
October 10, 2016 | 3:48am - The Post asked two sports lawyers their opinion about the Derrick Rose case. Daniel Werly believes Rose's rape accuser will have a tough time proving her case. Daniel Wallach, however, says Rose's testimony may not play well with the jury. This trial boils down to one issue: whether the accuser consented to intercourse with Derrick Rose and his friends.
Because there is a complete absence of any physical evidence, such as a rape kit or corroborating medical report — a fact that favors Rose — the jury must decide whom to believe based on witnesses, none more important than the basketball player and his accuser.
Before calling a single witness, Rose's lawyers have already planted seeds of doubt in the accuser's story. During cross-examination, she admitted to lying at least six times during her deposition or in text messages to Rose. She also sent Rose five texts that day in August 2013 between 1:40 a.m. and 2:03 a.m., inviting him to her apartment and saying things such as "I need u" and "want u here."
When Rose's lawyer asked the accuser what she and Rose were going to do, she responded — in what has been described by trial-watchers as perhaps the least believable testimony to date — "Watch a movie or just [go] to sleep, communicate or talk." Then there's the fact that she waited more than two years to report the incident to police — and only did so after her civil suit was filed...
October 11, 2016 | 12:39pm - The Los Angeles federal judge overseeing the $21.5 million civil rape trial against New York Knicks guard Derrick Rose said he is seriously considering a mistrial after the NBA star's lawyers claimed that the accuser had hidden critical evidence. "Let me be very blunt with you. You have been very careless with these exhibits," Judge Michael Fitzgerald said Tuesday morning.
The judge was referring to three lewd text messages between the accuser and Rose sent just hours before and after the alleged rape. They discuss a massage therapist whom the accuser brought to a party at Rose's house the night of the alleged sexual assault and bely her claim that she was in no mood for group sex.
Rose and two pals are accused of gang-raping the woman on Aug. 27, 2013, at her apartment after she left the NBA player's Beverly Hills home. The three men say the sex was consensual. The judge said the missing texts give "credence to the allegations which are now being made by the defense" — that the accuser lied about the rape. "It might very well be a mistrial," the judge said. But he added that he was hesitant to call off the trial because the jury has already spent a week on the case and the NBA regular season starts on Oct. 25...
http://nypost.com
Detective investigating Derrick Rose rape allegations dead in possible suicide
October 12, 2016, 12:47 PM - WHITTIER, Calif. — A Los Angeles detective who recently acknowledged a criminal investigation into claims of rape by NBA star Derrick Rose died after she was found shot in a California home Tuesday night, reports CBS Los Angeles. Nadine Hernandez, 44, was found around 2:45 p.m., after police responded to reports of a shooting. Paramedics transported Hernandez to a hospital where she later died. A firearm was recovered at the scene, police said.
Whittier police said in a statement that the incident is being investigated as a suicide. "However, this is an ongoing investigation and we will continue to collaborate with the Los Angeles County Coroner's Office as part of our investigation," the department said....