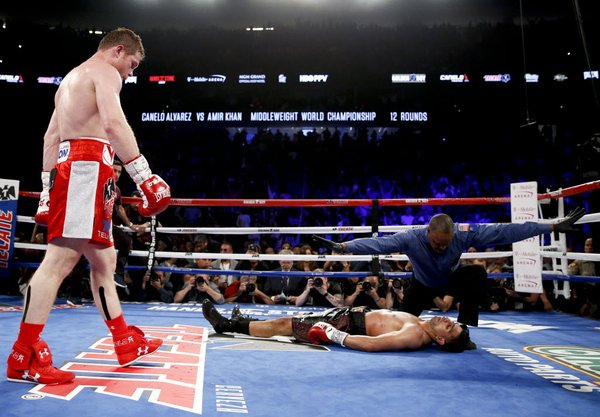 Canelo Alvarez knocks out Amir Khan last month in Las Vegas for WBC middleweight title
The AIBA has issued a ruling allowing professional boxers to compete at the Olympics. A number of high profile boxers are against the decision, labeling it dangerous, while a few pugilists, such as Manny Pacquiao and Wladimir Klitschko are in favor of it. Professional boxers have a huge advantage over amateur boxers. As stated in the column previously, when you look at the videos of a boxer during his amateur days, compared to his professional career, about 20 fights in, you will see a significant difference and improvement.
Boxer Amir Khan who was born, raised and lives in Britain, wants to fight for his father's native Pakistan at the Olympics. The Pakistani Olympic committee is excited about the news. However, as some have pointed out, Khan may not be eligible. Years prior, Khan's brother, Haroon, fought for Britain at the Olympics and later tried to represent Pakistan. He was declined due to Olympic rules. Britain has done a lot for Khan. No disrespect to Pakistan, but if he is to go to the Olympics, Khan should fight for Britain.
Britain currently has 13 world champions and would have a massive advantage if they sent their professional pugilists to the Rio Olympics in Brazil. However, based on a statement online, the British Olympic committee does not seem to be in favor of sending their professional boxers, wanting to give the amateurs a chance.
STORY SOURCE

AIBA decides to allow Pro boxers at Olympics
IANS | Lausanne (Switzerland) June 1, 2016 Last Updated at 17:00 IST - Participation of Indian boxers in Rio Olympics at stake after AIBA warns India Two Ugandan boxers qualify for Rio Olympics Vikas Krishan all set for AIBA Pro Boxing debut Olympics dream over for boxers.
Mary Kom, Sarita (Roundup) Male boxers will not wear protective headguards at Rio Olympics
Star Indian boxer Vijender Singh has been handed a golden chance to represent the country at the Rio Olympics after the International Boxing Association (AIBA) confirmed on Wednesday that professional pugilists will be allowed to compete at the quadrennial extravaganza.
In a vote on Wednesday, 84 of the 88 member-federations of the AIBA approved a rule change allowing professional boxers to compete at the Olympics. AIBA chief Ching-Kuo Wu informed the media that a total of 26 Olympic berths across all weight categories will be up for grabs at a qualifying tournament for professional boxers to be held in Venezuela next month...
Last Updated: 01/06/16 4:14pm - Khan's comments came after the International Boxing Association (AIBA) announced on Wednesday that professional boxers would be allowed to compete in Brazil this summer. Khan subsequently turned professional and in 2009 outpointed Andriy Kotelnik to win the WBA world super-lightweight title.
The 29-year-old - whose most recent fight ended in a brutal knockout defeat to WBC middleweight champion Saúl Álvarez - hailed the ruling by boxing's governing body. "It's a decision which I welcome," Khan said at a press conference in Karachi. Khan represented Great Britain at the 2004 Olympics in Greece.
"It will help boxers and if I am permitted as per rules and from my promoter then I would love to compete for Pakistan. I will be very happy if I can compete in the Olympics. I want to serve Pakistan." Khan's father, Shah, hails from a village close to the capital Islamabad but migrated to Britain, where Amir was born in 1986.
Pakistan Boxing Federation secretary Iqbal Hussain said he was thrilled at the prospect of Khan representing the country. "I have to check the rules whether Amir can compete or not but it would be a huge boost for us if it happens because he is our hero," he said. Khan's younger brother, Haroon, was blocked from representing Pakistan at the 2012 London Olympics as he had represented Great Britain at junior level.