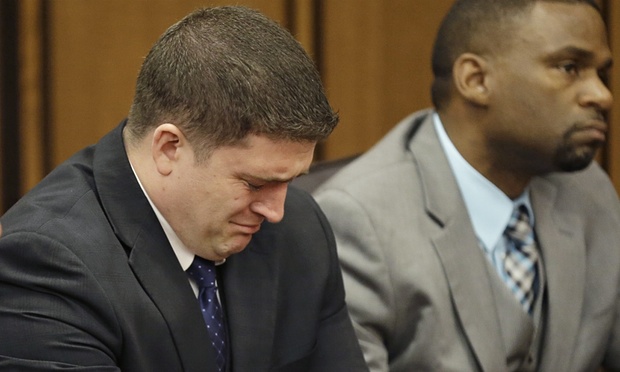 Michael Brelo (left)
Recently, I read about a 2012 case in Cleveland, Ohio, where the police opened fire on a car containing a man and woman, 30-year-old Malissa Williams and 43-year-old, Timothy Russell, suspecting they were involved in illegal drug activity. A call to dispatch to run the couple's license plate revealed the car was "clean." However, a police officer began tailing the couple's car anyway, in what turned into a high speed chase. The officer signaled for other cops to join the chase. When they cornered the couple in a middle school parking lot, within 20 seconds the officers opened fire on the couple (much like police sped right up to 12-year-old Tamir Rice and opened fire within seconds, killing the innocent boy).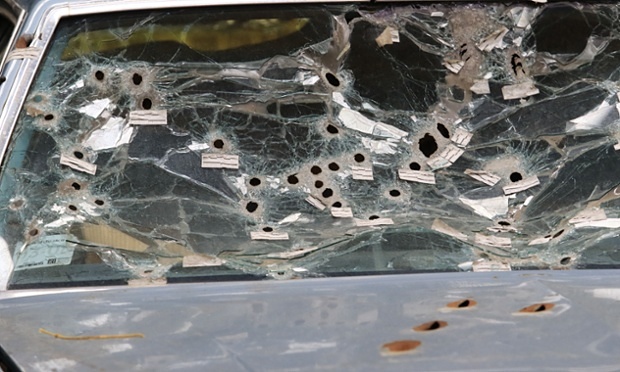 Malissa Williams and Timothy Russell's bullet riddled car
One officer, Michael Brelo, stood on the hood of the car and fired 49 bullets into the vehicle, which is psychotic. To riddle a car with 137 bullets, shooting each victim over 20 times, sends a horrible message to the public. Brelo was placed on trial and acquitted, as it could not be determined if one of the 49 bullets he fired into the car caused the fatalities. That was a poor excuse for letting a murderer walk free, in conduct indicative of the cop outs and loopholes being invoked to erode justice and the public's human rights in American in a number of national cases.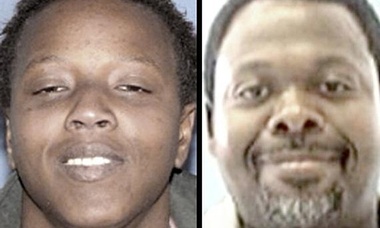 Malissa Williams and Timothy Russell
Brelo and his fellow officers in the incident should have been fired and sent to prison, as they participated in murder. Brelo in particular has mental problems to have gone that far and is a danger to the public. Whether or not the couple had been involved in drug activity (they were not) no one deserves to be killed in such a manner. It is extreme violence. These heavy handed tactics by some, not all police, is leaving an alarming number of Americans dead, particularly black people, in preventable tragedies.
STORY SOURCE

Cleveland officer not guilty over deaths of two people shot at 137 times by police
Saturday 23 May 2015 13.43 EDT - Last modified on Sunday 31 May 2015 16.36 EDT - A Cleveland police officer who stood on the hood of a car and fired his gun 49 times through the windshield at two unarmed passengers was on Saturday found not guilty on two counts of voluntary manslaughter. Officer Michael Brelo was also found not guilty of felonious assault, and discharged. He remains on unpaid leave.
The federal Department of Justice announced a review of the decision. In a statement to which civil rights division head Vanita Gupta was one of three names attached, the DoJ said: "We will now review the testimony and evidence presented in the state trial … to collaboratively determine what, if any, additional steps are available and appropriate." Protests followed the verdict, as civic leaders called for calm...


First These Cops Shot 140 Bullets at a Black Couple. Then They Complained About Reverse Racism...and a federal judge just shut them down.
Tue Dec. 8, 2015 4:29 PM EST - The windshield of the car driven by Timothy Russell on the night of November 29, 2012. Following a high-speed chase, Cleveland police officers fired 140 shots at Russell and his passenger, Malissa Williams.
Today, a federal judge threw out a yearlong case centering on a peculiar claim: When non-black cops shoot and kill black people in Cleveland, they face stiffer repercussions than black cops who kill black people. Nine police officers—eight white, one Latino—claimed that they were subjected to "reverse discrimination" and "mental anguish" after a controversial 2012 incident in which they killed two unarmed African Americans in a fusillade of nearly 140 bullets. The suit, filed just days after a Cleveland police officer shot and killed 12-year-old Tamir Rice, alleged that the officers were singled out due to their race and were unfairly punished while the state investigated the shooting. Their claim of victimization, ruled Judge James Gwin in response to the city's request for summary judgment, was "illogic."
The events behind the case occurred on the night of November 29, 2012. According to the Ohio Bureau of Investigation's report on the incident, a plainclothes officer named John Jordan saw a black man and a black woman sitting in a parked car in East Cleveland. He suspected they were "involved in illegal drug activity," so he called in the vehicle's license plate. The dispatcher told him it was "clean," but Jordan decided to search the vehicle anyway, he later admitted to investigators. When the car's driver, 43-year-old Timothy Russell, drove away, Jordan followed and pulled him over for failing to use a turn signal. When the officer got out of his unmarked car, Russell took off. In the space of 18 seconds, 13 cops fired nearly 140 rounds at the car. One officer jumped on the hood and shot through the windshield at least 15 times.
RELATED ARTICLES