Wladimir Klitschko and Tyson Fury at press conference
British heavyweight boxing champion, Tyson Fury, 27, who is set to face WBA, WBO and IBF world champion, Ukrainian pugilist Wladimir Klitschko, 39, this Saturday in Dusseldorf, Germany. During a press conference and interviews this week, Fury sounded off on a number of things. The jokes were in abundance as Fury tried to irritate Klitschko by leaning over and whispering in his ear "Ooh, you smell nice" then proclaiming to the press that his rival "Smelt of perfume. Women's perfume."
On a more serious subject, Fury has gone on record complaining about the use of steroids in sports. Fury stated in an interview this week, "I can look at a man and tell you if he's full of drugs by one glance at his body with his top off. Boxing has got a big problem with drugs. Why don't they make drugs totally legal in sports and then it would be fully fair? You can't tell me these sports people aren't taking drugs when they look like Greek gods. You can train for 100 years and your body will never look like that. But if a man wants to pump himself full of drugs it's only shortening his life."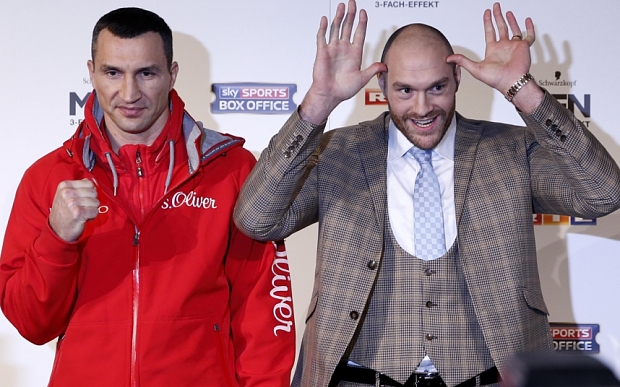 Wladimir Klitschko and Tyson Fury at press conference
Fury complained that he trains often and his body does not look chiseled. Fury stated, "I've trained all my life, I'm fighting for the heavyweight championship of the world. But my body is like jelly, it's a natural body you see" (LOL). Fury has shaped up thanks to a new trainer. He looks firmer, slightly thinner and a bit more defined, but by no means does he have a very muscular body.
Some thought Fury was calling Klitschko "Drago" from the "Rocky IV" film, regarding the Russian boxer who was pumped full of steroids (
'Rocky IV' Highlights The Advantages Of Contrasting Training Methods
). When pressed about his steroids comments to the BBC, with some wondering out loud if it was a dig at Klitschko, who is very muscular, well defined and solid, Fury stated the comment was meant in general.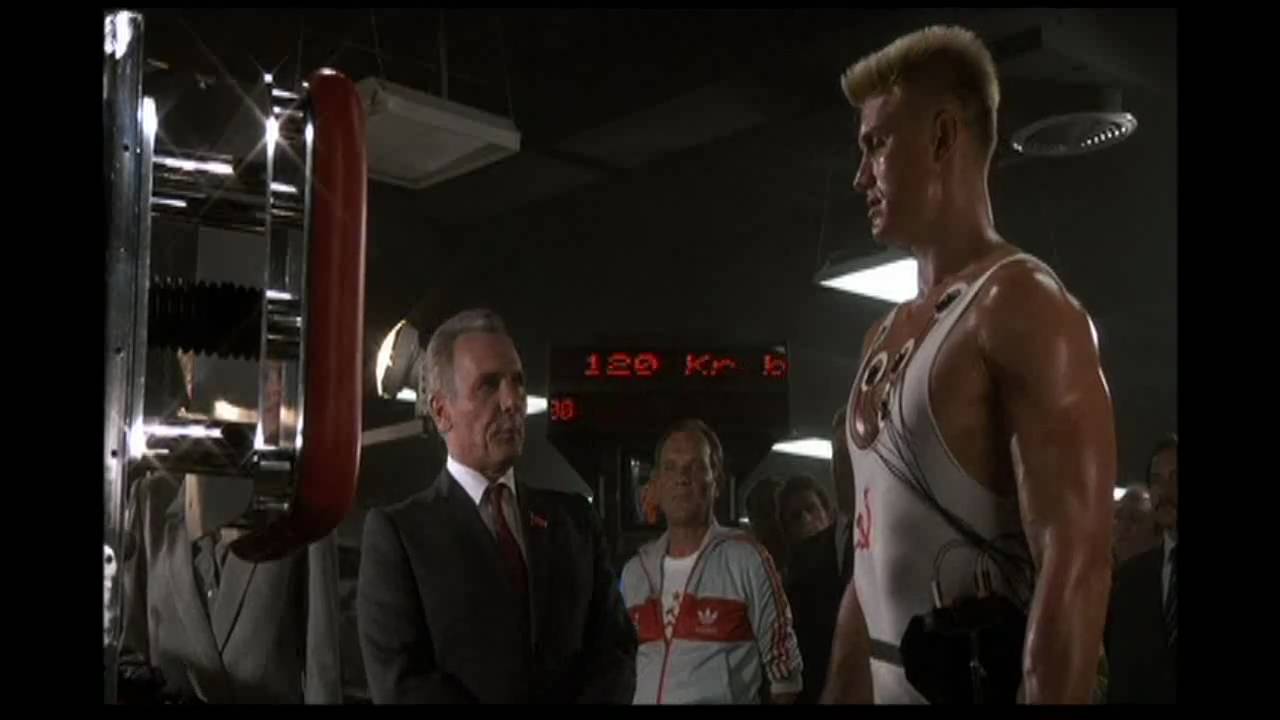 The character "Drago" from the "Rocky IV" film
Steroids and all forms of performance enhancing drugs should not be legalized in sports. It is very dangerous for the health. As stated in past columns (
Steroids Shortens Your Penis And Life
), steroids wreaks havoc on the heart (and the penis, which women will not be happy about LOL). Studies have confirmed these facts. So many wrestlers and bodybuilders that have used steroids died young from heart attacks. It's not worth it.
If steroids were legalized it would lead to greater consumption, whereas now drug cheats are trying to hide it by only using it at certain times. Steroids are poison. Pumping that into one's body frequently will promote heart attacks and cancer. Nothing beats hard work and doing things the right way.
STORY SOURCE
Legalise drugs in sport, says world title challenger Tyson Fury
Posted on: 05:19 PM IST Nov 24, 2015 - Tyson Fury, the British heavyweight boxer who fights for the world title in Germany on Saturday, says boxing has a "big problem" with doping and that the only way to combat it is to make drugs legal in all sports. In the latest in a round of interviews publicising his challenge for Ukrainian Wladimir Klitschko's three world titles in Dusseldorf at the weekend, the controversial Fury said he could tell if any sportsman had been doping...
Robert Smith, general secretary of the British Boxing Board of Control, told the BBC on Tuesday that he did not believe doping was a major problem in the sport. A statement from board said it was "committed in its fight against drug use in professional boxing" and has "an extensive programme of out-of-competition testing and in-competition testing."
RELATED ARTICLES