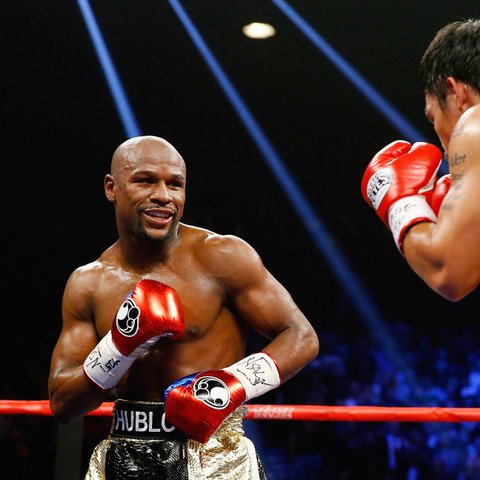 Floyd Mayweather and Manny Pacquiao
Undefeated boxer, Floyd Mayweather, angry at the renewed bad publicity surrounding him, has reneged on an offer to fight rival Manny Pacquiao in a rematch, after winning the unanimous decision over him a week ago in their widely watched bout. Mayweather had stated to ESPN's Stephen A. Smith that he is open to a rematch with Pacquiao.
The news of the rematch delighted many on social networking. However, Mayweather changed his mind after a stream of bad publicity calling the first fight fixed and his mood was worsened after negative exposure via a serious $20,00,000 defamation lawsuit by the mother of three of his children, Josie Harris. Mayweather is now calling Pacquiao a "sore loser" and a "coward."
It should be noted, Mayweather has changed his mind many times in the past about fighting Pacquiao, but did so anyway in what was a record breaking, lucrative bout. Mayweather loves money and will unlikely leave another $180,000,000 on the table in not having a rematch with his top rival Pacquiao. Mayweather has become very wealthy from hard work in the gym and boxing ring, as has Pacquiao. They earned their money fair and square. A rematch would be a wise financial decision.
Do I have any regrets about ordering the fight? No. It was an entertaining experience, under card included. However, I would like to see Mayweather set a better example outside the ring as a wealthy young black man (go to anger management, refrain from domestic violence and stop keeping a stable of girlfriends).
Though he has not finished school, he is no fool (it would be beneficial to him if he obtained his high school diploma via private tutoring). Anyone who listens to Mayweather speak should be able to discern that. However, people are watching him and he has to do better regarding his personal life.
RELATED ARTICLES