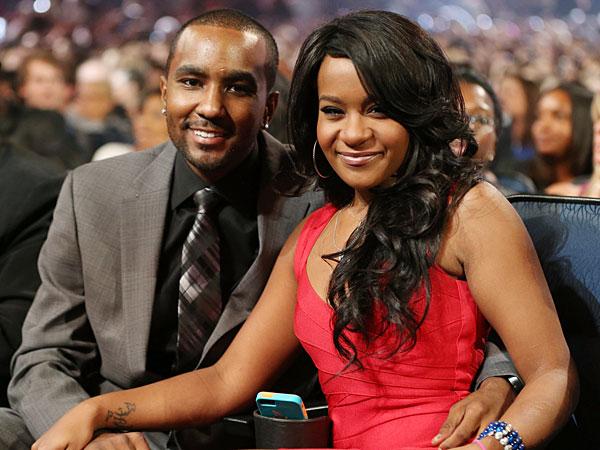 Nick Gordon and Bobbi Kristina
TMZ is reporting, Nick Gordon, the boyfriend of comatose Bobbi Kristina Brown, is set to spill his girlfriend's secrets on the Dr. Phil Show. Based on industry records, people are often financially compensated for appearances on television talk shows. Gordon has been living the high life off the Houston estate and is desperate for cash now that he has been financially cut off and evicted from Bobbi Kristina's luxury townhome.
In the weeks leading up to Bobbi Kristina overdosing and drowning in her bathtub, she had a number of fights with Gordon, who was abusing and using her over the $20,000,000 fortune her mother, Whitney Houston, left behind. Gordon had punched, kicked and slapped Bobbi Kristina on different occasions. On the morning of her injury, according to the couple's drug dealer, Max Lomas, Gordon cleaned up blood before paramedics arrived.
Gordon had threatened and harassed Bobbi Kristina's aunt, Pat Houston, who is the executor of Whitney's will, demanding a greater allowance for the couple. Gordon also posted threatening items on social networking aimed at Houston, replete with images of his guns. In another incident, Gordon beat up members of the Houston family.
Dr. Phil should ask Gordon about his drug use, acts of domestic violence against Bobbi Kristina, threats of violence against Pat Houston, physically fighting members of the Houston family and inconsiderate insults against his girlfriend's father, Bobby Brown, at what is the lowest, saddest point of the singer's life.
Dr. Phil should also ask Gordon about his lavish spending of Bobbi Kristina's money, bragging about an expensive Lamborghini on social networking and showing off other expensive items when he has no means of financial support other that his girlfriend he was abusing and cheating on.
In closing, Dr. Phil should also ask Gordon why he claims on social networking that he did CPR on Bobbi Kristina for "15 minutes" when the standard of care and medical emergency response time in Alpharetta, Georgia is not slow. Please explain this time gap. What was going on in that house while Bobbi Kristina was medically unresponsive. The couple's drug dealer is insisting he did CPR on Bobbi Kristina, not Gordon. Why all these discrepancies.
RELATED ARTICLES