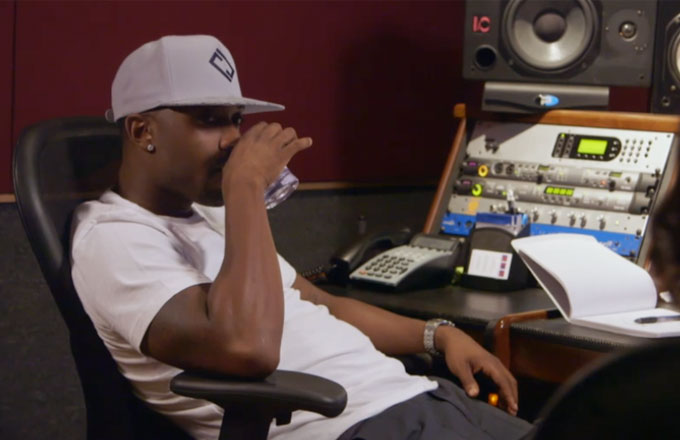 Ray J drinking in the studio after telling off Teairra Mari
Singer, Teairra Mari and her former friend, Hazel, who is working on becoming a rapper, are being insulted by their respective exes on the reality show "Love And Hip Hop Hollywood." Teairra Mari dated rapper and co-star Ray J on and off for 9-years.
Ray J insulted her in this week's episode, for showing concern for him, after he was arrested in Beverly Hills for touching a woman's rear and vandalizing a cop car, by kicking out the window, while he was allegedly drunk. Ray J snapped and cursed at Teairra, then stated, "Whatever I had for you is way in the past and that's where I'm gonna keep it." Ray J further stated he "didn't cheat" because they "wasn't together" and were only "f*****g around."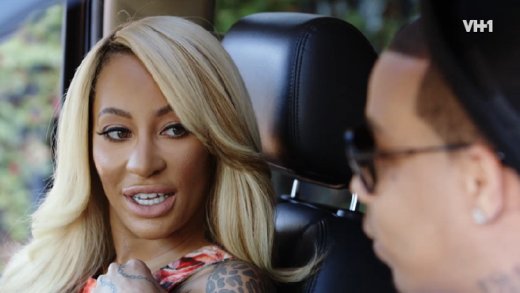 Hazel and Yung Berg right before the fight
Hazel fared even worse, as the man she is so in love with, after hooking up with him for sex on and off over the course of 8-years, music producer Yung Berg, told her off for using his beats to write a song about the terrible state of their relationship. The problem is Hazel believes there is a relationship. Berg does not believe there is one. He refuses to own up to her publicly and sees her occasionally for sex.
Berg angrily stated, "She writing this record about me" and it is "an open love letter to me." Hazel referred to it as a "four page letter" which is also the title of a 1990s Aaliyah song. Berg further fumed, "You ain't never been my b***h." He informed Hazel "You can't use my material for that" and called her wack. To get back at Hazel, Berg cruelly stated regarding her former friend turned rival, Teairra Mari, whom he is also working with, "I believe in her more than I believe in you" (Berg is now trying to bed Teairra).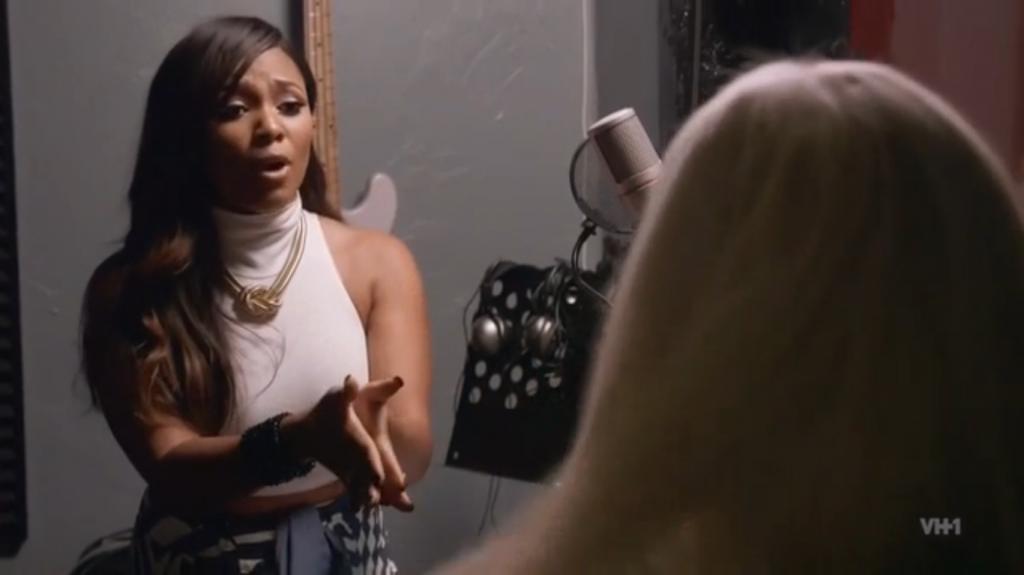 Teairra Mari and Hazel when they were friends
Hazel flew into a rage and started hitting Berg, before the show's security pulled her off him. Berg grabbed her purse and vindictively emptied the contents on the street, then walked off. Hazel then angrily threatened, "I know too many people in these streets. You'll get more than your chain snatched f*****g with me."
I hope Hazel and Teairra Mari finally realize the type of men they are dealing with and move on. Neither Ray J or Berg, respectively, will publicly own up to dating or being in a relationship with either woman, opting to use them for sex, while looking for women they deem better. That's a bad warning sign.