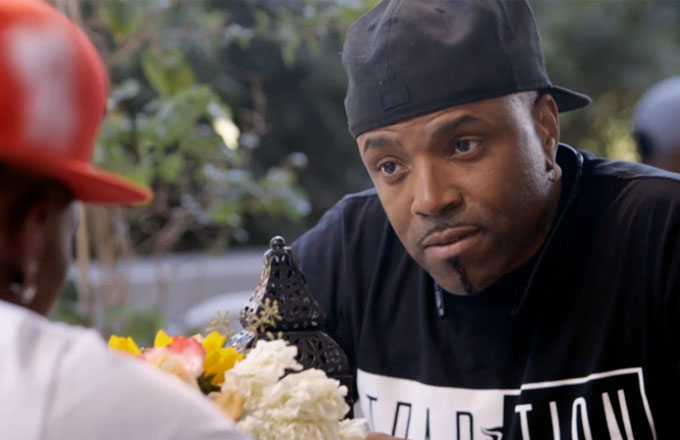 Soulja Boy and Teddy Riley
This week's episode of "Love And Hip Hop Hollywood" featured legendary music producer and singer, Teddy Riley, interrogating rapper Soulja Boy about dating his daughter Nia. Riley asked Nia to let him speak to Soulja Boy alone at the restaurant table, prompting her to excuse herself and go.
Riley, who became famous in the 1980s as a member of the singing R&B trio Guy, as well as producing many hits for various artists, was promiscuous to the point he fathered 10 children by different women. Prior to their first meeting at lunch, Nia informed Soulja Boy that her dad has 10 children, which left him in stitches.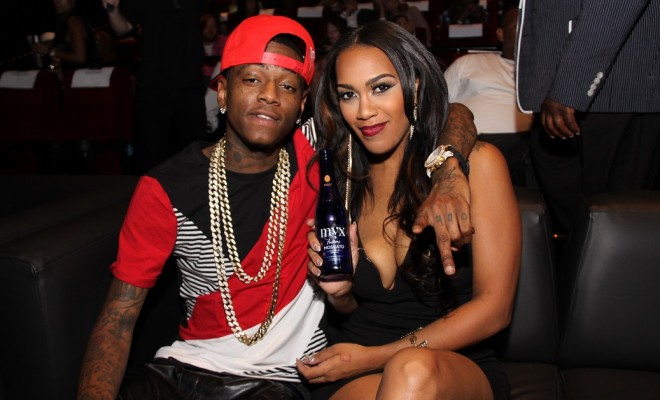 Soulja Boy and Nia Riley
Riley grilled 24-year-old Soulja Boy who has dated Nia on and off for 8-years. Riley was puzzled as to why he has never met the rapper, after his daughter dating him for such a long time. Riley cut right to the point and asked Soulja Boy if he slept with his daughter on the first date. This prompted stuttering from Soulja Boy which should have indicated yes, but he managed to mumble out a no.
Riley also reproved Soulja Boy in stating, "I've seen you on You Tube with females videotaping you under the influence of drugs and alcohol." He was speaking of promiscuous Soulja Boy's sexual conquests. Riley began staring him down, as he was not amused.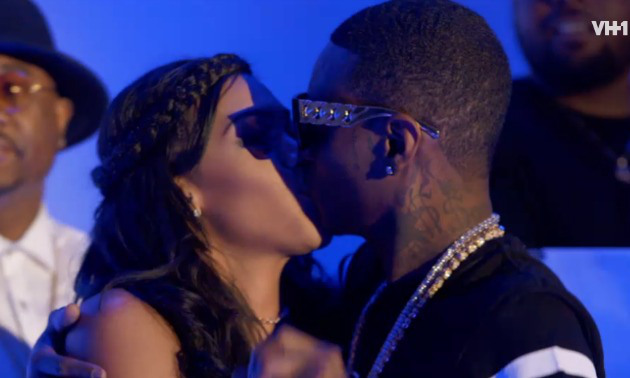 Soulja Boy and Nia Riley
The Judiciary Report has consistently maintained that people need to be careful regarding what they put on their social networking sites. There have been a number of reports from mainstream news outlets indicating potential employers are taking submitted applications and running the applicants names through social networking sites such as Twitter, Facebook and Instagram, among others, to gain an accurate picture of the individual.
To show off online, for people, many of whom you don't even know, then damage your professional and personal life as a result, is regrettable. It may seem like fun at first showing off online, but it can come back to haunt you in many ways that on the surface you can't imagine.

"Love and Hip Hop Hollywood" cast
Potential employers, sponsors, love interests and the family members of those you are dating or want to date, check social networking. If they see reckless items online regarding drugs, alcohol, sex, you with a different lover or love interest every other week or month, hateful statements or unprovoked vicious attacks on others, it will cause them to flat-out reject you. It can get you rejected from your dream job or the person you want most. It can change the course of your life, because people will interpret this as who you are. Think about it, what else do they have to go on if they don't know you.
Therefore, clean up your social networking pages and make them look presentable. Putting too much information out there can prove detrimental, depending on the nature of what is being placed online. When people visit your social networking pages, let them see a smart, skilled, responsible person in control of their life and faculties. Let employers or sponsors see someone they would want to hire for a good job, which means money in your bank account. Let the opposite sex see someone great and decent they would want to love in a relationship.