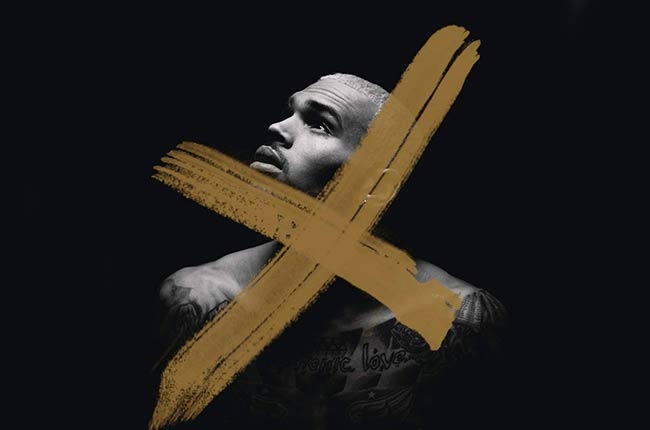 Chris Brown
Just as singer Chris Brown begins to get his life and career back on track, trouble strikes again. Beleaguered Brown recently hosted a party at a Los Angeles night club Supperclub and things went wrong. A fight broke out between people in Brown's entourage and others in attendance, who came there looking for trouble, leading to one man being stabbed. Police are investigating.
This incident occurred one month after witnesses in another night club, 1OAK, reported Chris Brown was the intended target of a drive by shooting, similar to the ones that killed rappers Tupac and the Notorious B.I.G. at the height of their fame. Brown escaped last month's night club shooting unharmed, as well as the incident that transpired this past weekend.
However, former rap music mogul, Suge Knight, who was in close proximity to Brown during the first club melee last month, was sent to the hospital with six gunshot wounds, stemming from the incident. Knight is expected to make a full recovery, but is refusing to talk to police, refusing to ID the shooter that has been caught on camera. No one that attended the club event Brown hosted last month has been willing to identify the shooter to the police or press.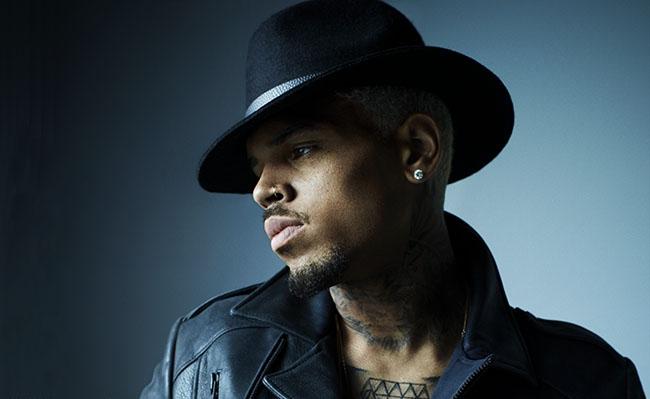 Chris Brown
Brown recently pled guilty to a Washington, DC assault charge, regarding local man, Parker Adams, in a bid at avoiding returning to jail. Brown apologized to the court but did not admit liability. Adams filed a $3,000,000 lawsuit against Brown and his bodyguard Chris Hollosy.
Yesterday, Brown's new CD "X" debuted at #2 on the Billboard charts, with 143,000 copies sold in its first week of release. The numbers are moderate and indicate the album will go gold in America. "X" also debuted in the top ten of numerous world charts. Brown's hit single released this past summer, entitled "Loyal" has sold an estimated 2,000,000 copies worldwide.
The CD "X" had a number of scrapped release dates over the past several months, due to Brown's legal problems and issues with his former manager illegally withholding his master recordings needed for the project. Brown also unfollowed a number of his fans, some of whom vowed not to buy "X" as a result. These issues definitely affected sales.
Case in point, in August 1994, Brown's label, Sony, had a huge hit with the song "Here Comes The Hot Stepper" by Ini Kamoze. However, Sony waited several months to put together a CD to capitalize on the song's worldwide success. By the time they finally released the accompanying album of the same name, it was January 1995. So much time had past, the lead single had already hit its peak and the full length album did not sell well as a result. By right, with the way sales works, that should not have happened.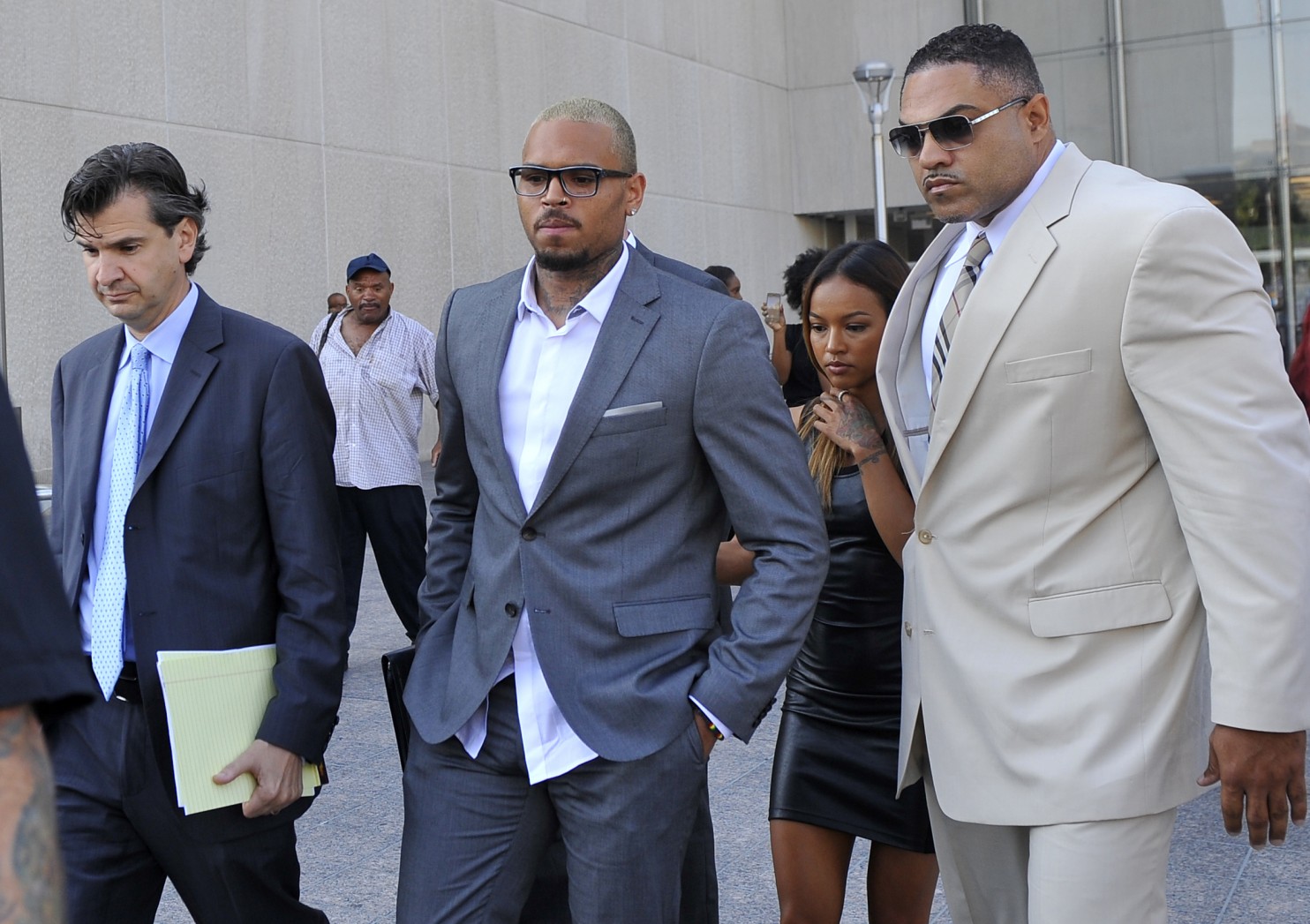 Chris Brown (center) and his girlfriend, Karrueche Tran, leaving court
Brown and his ex-girlfriend, Rihanna, who were involved in a highly publicized domestic violence dispute in 2009, have made peace with each other (yet her fans calling themselves "The Rihanna Navy" keep attacking him, his girlfriend, Karrueche Tran and anyone who writes anything remotely normal about the couple on social networking). Brown stated of Rihanna, "Me and her are friends. We have a great understanding, there's no issues. We've been friends for almost 10 years and I don't think that's ever gonna change."
Brown has also made peace with former rival, Drake, who also dated Rihanna, who initiated a club fight between the two men, "I think for me it was more of a mature thing. What I portray in my music is all positivity and who I am as an artist is all positivity because in the world there is so much negativity on a day to day basis. I just feel like it was necessary to put all the old b******t behind us."
Things seem to be turning around for the singer…then this latest stabbing at a night club involving members of his crew occurred. Brown has made enemies in the music industry for rebelling against the system. He also has enemies such as nefarious rapper Jay Z, who does not mean him well. Rihanna's love for Brown has caused this jealously from Jay Z, who she has been having sex with for several years in exchange for career favors, despite the fact he is married to singer Beyonce.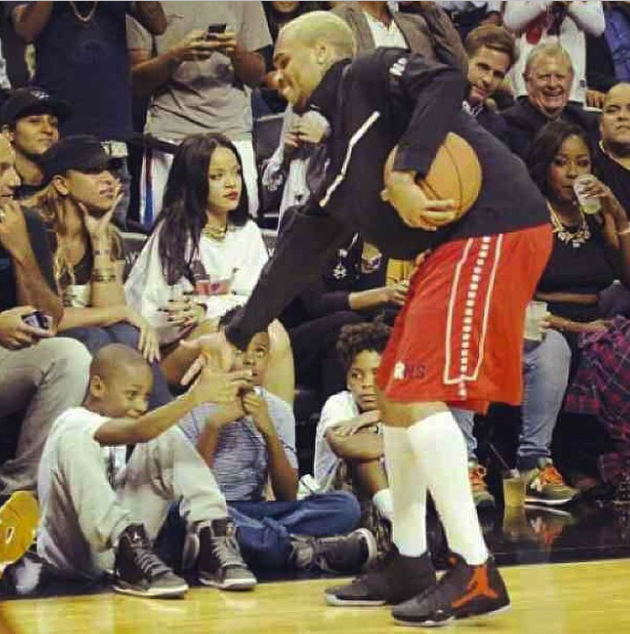 Rihanna attending a charity basketball game Chris Brown played in last month
At the end of the day, Brown needs to stop hanging out with gang members he went to for protection against certain music industry criminals, as they have FBI files and so will he in relation to them, if it continues. Brown also needs to stop hanging out with certain music industry bigwigs, because it is attracting trouble. Brown needs to lay low if he wants to survive.
At the end of the day, the music industry can be quite negative. People have been killed in regrettably incidents that should not have occurred. There is a criminal element running through the industry that should not be there, as it has nothing to do with entertainment and everything to do with greed for power, fame and money not their own.
RELATED ARTICLES