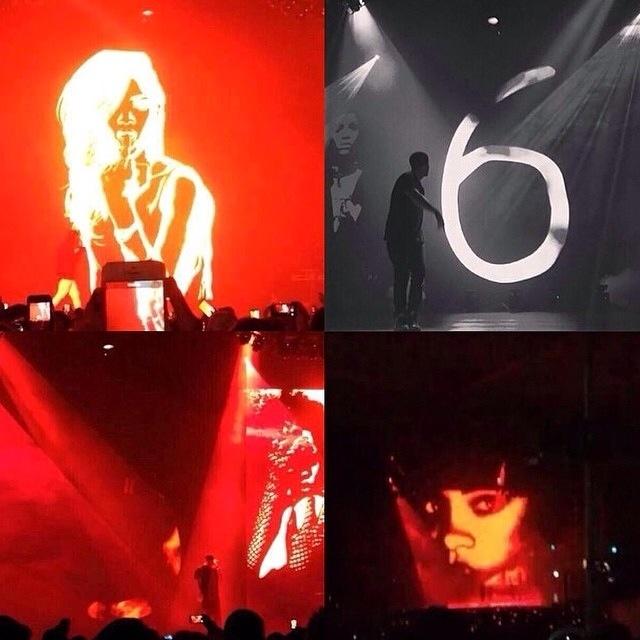 Photo from Drake's concert portraying Rihanna as a devil
For well over a year the Judiciary Report wrote Chris Brown and Drake should do a duet about Rihanna and the mess she put them through whilst dating one to make the other jealous. Rihanna used rapper Drake to get at the love of her life, singer Chris Brown, in what culminated into a club fight where many were injured and both male artists sued (among others).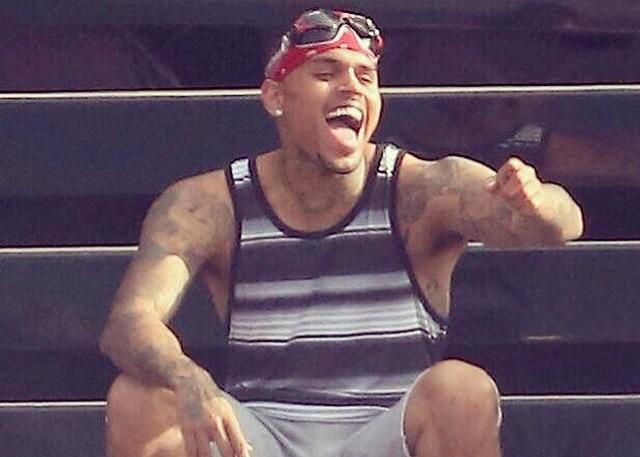 Chris Brown
This past weekend Drake performed at the OVO Festival in his native Canada. He performed a song entitled "Days In The East" with a picture of Rihanna in the background as the devil with the number 6 on her. The number 6 represents the devil in theology. It's no secret Rihanna is in the devil worshipping Kabbalah cult and has done some very deplorable things for fame.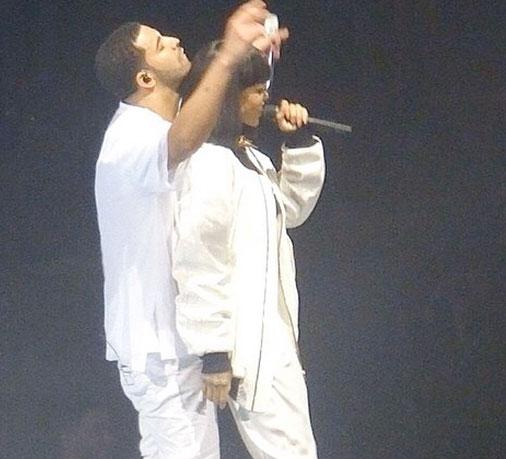 Drake and Rihanna
Rihanna has promoted the devil in photos, music and videos. She has also participated in satanic sexual rituals at the Kabbalah Center in exchange for career favors in Hollywood. All that drug taking and drinking she and Lindsay Lohan are doing is because the Kabbalah Center have exposed them to some very sick things and passed them around among its members. Do not follow their example, as they are going to crash and burn from doing this madness. God doesn't like ugly.
STORY SOURCE
Did Drake Insinuate Rihanna Is The Devil At His OVO Festival? (Video)
Posted by Eleven8 on August 5, 2014 at 10:13am - Drizzy refuses to let that hurt go! Last week we reported that Drake and Chris Brown were scheduled to perform a new song at Drake's annual OVO Festival in Toronto but because Brown likely couldn't get clearance to enter Canada, he cancelled. The song they were said to perform was rumored to have hints of Rihanna tea in it.
Well, last night Drake carried on anyway, but made it a lot more blatant that he was coming for Rih Rih. While performing his song "Days In The East" on stage, images of a fiery Rihanna blazed on the screens. Each image followed by the number "6". Now, here's where things get tricky. Drake's forthcoming album is titled "Views From The Six" and some say that the burning 6 is a reference to his album/Toronto. While that may be true, it doesn't explain the use of Rihanna's image for a song with lyrics such as "Why am I the one you wanna get into it with for the drama? / I've got a lot to say, and that's the last thing a nigga wanna hear right now". Some speculate the song was about Rihanna...