A verdict was rendered yesterday in the Rupert Murdoch News Corp phone hacking case in London, England, regarding a
story I broke first
that became a global scandal. Via a formal, online complaint I retained a copy of and posted to my website, I reported Murdoch, his company News Corp, it's U.K. subsidiary News Group Newspapers/News International and his fellow Kabbalah Center cult member, Madonna, to the Metropolitan Police for illegal wiretapping (phone hacking) and computer hacking, among other things.
I spoke to a Metropolitan Police constable over the phone about it as well in October 2005. 6-months later the Metropolitan Police made the first arrests in the case when they discovered Rupert Murdoch's employees were illegally phone hacking the British royal family. One of Murdoch's private investigators, in addition to another man who worked for Murdoch, newspaper employee, Clive Goodman, were convicted and sent to prison for the offenses. The case was rebooted in 2012, with a string of new arrests.
Yesterday, Andy Coulson, Murdoch's former editor at the now shuttered News Of The World newspaper, who later became communications director to affable British Prime Minister, David Cameron, was found guilty of phone hacking. Years ago, I warned Cameron had made a mistake hiring Coulson, because based on what I'd heard, Murdoch used him and others to spy on the Prime Minister and British national secrets (April 13, 2011 Judiciary Report article "
Has Rupert Murdoch Ever Spied On A World Government For Another
" and July 19, 2011's "
News Corp Continued To Pay Andy Coulson After He Quit To Spy On British Government
").
Yesterday, Cameron apologized for hiring Coulson. Yesterday, the Independent newspaper in London reported, "Today, the Prime Minister (David Cameron) said he took 'full responsibility' for Coulson's appointment, and that he had received assurances which have now proved to be false...the Labour leader Ed Miliband responded to the verdict by saying Mr Cameron had 'brought a criminal into the heart of Downing Street.'"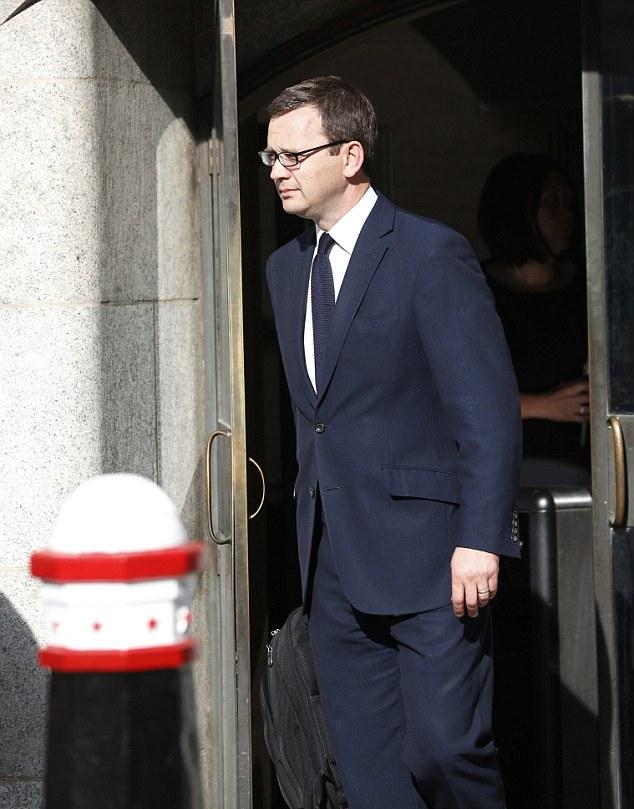 Andy Coulson
I have nothing against Cameron (or Miliband for that matter). It's puppet masters Murdoch and Madonna I have off. They are the ones behind the criminally commissioned phone hacking that others have illegally gone along with. As I reported on this site two years ago, during a trip to London on business that began in April 2012, I encountered Andy Coulson one week after arriving in town (April 28, 2012 Judiciary Report article "
News Corp's Andy Coulson From The Phone Hacking Scandal Is Struggling With Mental Illness
").
I was staying in the London suburb Dulwich at my cousin's house. My cousin's a brilliant doctor, who has lived in Dulwich for over 20-years. I was on the main road outside the street my cousin lives on and saw Coulson walking in my direction. He was slowly walking with his bicycle beside him. I saw him looking at me (he knew of me from my websites that all of News Corp has read regularly for years, showing up in site statistics, then I made the police complaint against them over phone hacking and computer hacking).
When Coulson and I made eye contact, I maintained no facial expression (and no I don't use botox) and didn't say a word to him, but he angrily started muttering to himself whilst staring at me, then looked down and continued audibly muttering, slowly walking up the street (why was he walking his bicycle instead of riding it). In that moment I realized he had become mentally-ill, as so many other members of the Kabbalah Center are schizophrenic.
The Metropolitan Police still has an open investigation into computer hacking, in regards to the British arm of News Corp in London and arrests have been made. Coulson's colleague at News Corp, Rebekah Brooks, who was also Murdoch's mistress, was found not guilty, having been painted as a hapless, bumbling editor, who didn't know what her staff was doing. However, she did and in time the truth will come out. Brooks knew what was going on the whole time.
Brooks has bullied, threatened, terrorized and ruined stars and politicians in Britain in unprovoked acts. She richly deserves the fall from grace she has experienced, which she is complaining about in the press. However, it's not over. I have more scandals to break on Madonna, Murdoch and company, who are in my forthcoming book and film "
Justice and Truth
." The worst is yet to come for Madonna, Murdoch and company.
STORY SOURCE