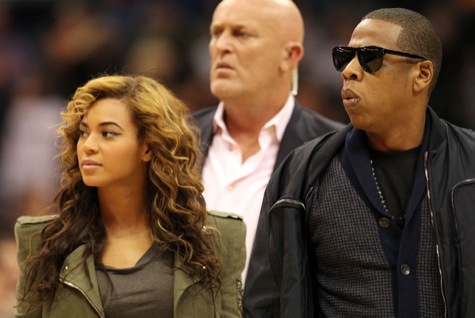 Beyonce (left), Jay-Z (right) and their bodyguard who was killed by police in Miami
Norman Oosterbroek, 43, the very violent head of security for illuminati/Kabbalah rapper Jay-Z, his wife Beyonce and fellow members Kanye West and Lady gaga, was tasered to death by police after breaking into a home in Miami, Florida butt naked. Police were called when Oosterbroek was observed breaking into a home on Old Cutler Road, an affluent section of South Miami and Coral Gables. Did I mention he was butt naked. Wonder who else's home he's broken into in Miami.
Ironically, when I was interviewed by the
the FBI
twice in 2005, regarding the Kabbalah criminal copyright infringement case and phone hacking scandal, which I
broke first
(via a
police complaint
to the Met Police in London), I did tell the FBI agents about the problem I was experiencing regarding break-ins, where the thieves didn't steal jewelry or electronics, but kept going to the desk in my home studio and stealing offline copyrighted discs with original songs, films scripts and book manuscripts, among other things, that I'd authored. Three of the break-ins occurred while we were at home. Each time they kept going for my home studio, as I had stopped authoring new copyrights on my computers that connected to the internet, because
two computer security companies
stated in writing the computers are being hacked and the contents illegally copied.
During one break in, the intruder picked the backdoor lock to my home studio and made his way inside. He fled when my mother began screaming for me to call 911. During another break-in, the intruder smashed the back window to my home studio and began trying to make his way inside, when my aunt began screaming as she saw him. He fled as a result. Other break-ins occurred when I was not at home and discs were stolen. It's gotten to the point, I don't leave any copyrighted CD or DVD discs with my new copyrights on them at home.
After the break-ins, weeks later each time, the items on my CD and DVD-ROM discs, only privately stored in the Library of Congress and in my home, kept coming out attributed to Madonna, her label Warner and their affiliates via a copyright attorney Robert Jacobs at Sony (Beyonce's label).
Police reports in Miami support these claims and the FBI was informed in writing as early as 2005 and furnished with copies of the police reports. The Miami Shores Police where I used to live stated they could not take up the case, because the FBI took it over having federal jurisdiction.
Kabbalah's former private investigator,
Anthony Pellicano
, who I complained to the FBI about in 2005 (he was arrested 4-months later and
is currently in prison
), routinely broke into people's homes and cars on behalf of Hollywood stars and hired thugs to do so as well, to install illegal surveillance equipment and or take files and computer items he was not able to have his 4 on staff hackers steal over the internet (via hacking/computer intrusion). The main agent that I gave the information to verbally and in writing is FBI Agent Catherine Koontz.
Similarly, in the phone hacking case in Britain, concerning Kabbalah member Rupert Murdoch, one of his employees turned police witness confessed that they had certain thugs they paid to break into homes to steal files and items they were unable to get their hands on through lawful means for illegal public use (
Rupert Murdoch's News Corp Exposed For Burglaries Into High Profile People's Homes To Steal Information For Profit
).