NSA and FBI privacy abuses were rampant during George W. Bush's time in office and have continued in the Obama years, indicating these agencies have no intention of changing and lining up with the law of the land
In the August 22, 2013 Judiciary Report article "
Judge Rules The NSA Illegally Spied On Americans Confirming The Site's Previous Claims (Video)
" the site made the claim that innocent Americans are being illegally spied on by government employees, who find them attractive among other things. The article mentioned the FBI and NSA, both sister agencies, engaging in this conduct, via shared intelligence databases and tools.
Two days later on August 24, 2013, the Washington Post and other credible news outlets reported NSA employees have been illegally spying on love interests, spouses and girlfriends (see article excerpt below). It has become another scandal.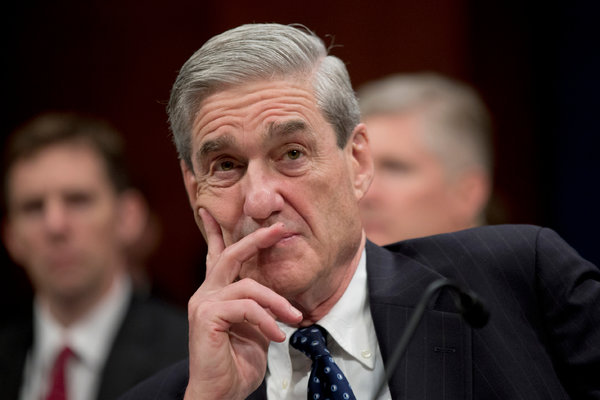 FBI Director Robert S. Mueller is on his way out as the head of the agency after engaging in unprecedented abuses
Three and a half years ago, the in the January 19, 2010 time stamped and copyrighted article "
FBI Collected Thousands Of Phone Records Illegally
" the Judiciary Report stated of the NSA's sister agency the FBI, "Targets selected for surveillance, such as specific scientists, political scientists, inventors, journalists, political bloggers, activists and politicians to name a few, had their privacy thoroughly violated by Mueller and FBI HQ, via the FBI employees he instructed to do so. Granted, some FBI agents of their own accord, abused this privilege to pry into the lives of wives and girlfriends, even women they wanted to pursue sexually."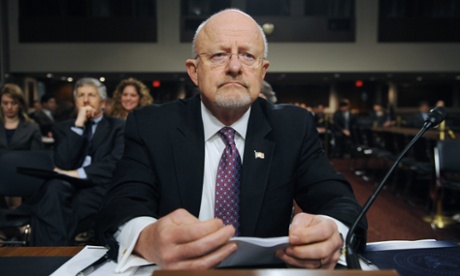 Director Of National Intelligence, over the NSA, James Clapper. He's not as massive a criminal as FBI Director Robert S. Mueller Mueller, but looked the other way to privacy abuses and recently admitted to lying to the U.S. Congress about his misconduct
Once again, the Judiciary Report's previous time stamped, copyrighted claims have been proven true and correct. I do not enjoy writing these types of stories or breaking them for that matter, but what's being done by certain government employees is wholly wrong. I've been a target of illegal surveillance by the government and it is really something I could have done without, as it is exploitative and leaves one feeling very violated.
After the scandal went mainstream, on August 24, 2013 members of Congress announced they are investigating the matter. In closing, if someone didn't do anything illegal warranting government surveillance, they really should not be spied on. It's not fair. It's not a matter of being secretive or having anything to hide, but people deserve privacy. What innocent people say over the phone, do on the internet and in their homes in nobody's business but their own.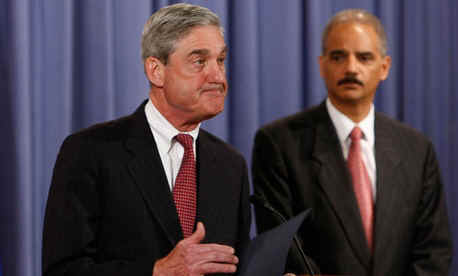 Robert S. Mueller and Attorney General (DOJ) Eric Holder
Background Information:
In 2005 I contacted the FBI about pop singer Madonna stealing from preexisting, voluminous, private Copyrighted Catalog of songs, videos and films registered with the Library of Congress, as
she has done to dozens of others
. Madonna's entire career has been based on criminal copyright infringement, making her the biggest fraud in music history. Madonna also had her Colombo family mafia member and private investigator Anthony Pellicano illegally wiretap and hack me (which is how she illegally obtained copies of my Copyrighted Catalog).
Pellicano and Madonna's Kabbalah cult also began sending thugs and cult lunatics to harass, stalk and threaten me with mafia threats, death threats and threats of terrible physical violence (They did this again last week in menacingly stalking, approaching me and demanding to know what songs, videos and films I have been writing recently, as they are unable to hack my computer containing the very valuable newer copyrights, due to the laptop not connecting to the internet. Madonna is contractually obligated to record and release another album soon for her flatlined career, destroyed by my requests on my sites such as the Judiciary Report for a boycott of all her products, which thanks to you the public succeeded in a massive way - all her projects have flopped ever since).
In November of 2005, the FBI in Miami called me in for two interviews, where I told them about Madonna and Pellicano's criminal conduct and that of fellow Kabbalah cult member
Rupert Murdoch
, which resulted in the phone hacking scandal when I filed a police report on the matter with the Metropolitan Police in London, England. Four months later Pellicano was arrested and is still in prison. However, because Madonna is a celebrity, who issued a bribe, she was not arrested and as a result, the FBI is hiding Freedom of Information Act (FOIA) files regarding her criminal conduct towards me, stating in writing they are not going to release them due to the nature of the files. Anytime the government refuses to release a file, much like the FBI recently rejected CBS' request for FOIA files on Benghazi, just know the contents of said documents are very bad).
After they had success with the Pellicano case based on what I wrote to and told them, some of which was used in his indictment verbatim, as the FBI loves arresting people in or affiliated with the mafia, due to the fact it gets press attention and more financial funding from Congress, the FBI latched on and began illegally
mining my phone calls, emails and computer contents
for tips without my consent and using them in making arrests (see highlighted link for article on the subject). After I went public with this claim about the FBI, it was later revealed they have been doing this to other
writers and bloggers
as well for scoops to base federal investigations on, which is illegal and unconstitutional (not to mention lazy).
Had it not been for Madonna's criminal conduct towards me (and that of her Kabbalah cult) I would not have discovered and broken so many stories on the government for covering up her illegal and dangerous conduct that has imperiled and damaged my life in many ways.
*The Judiciary Report has broken government stories first such as
FBI Collected Thousands Of Phone Records Illegally (Patriot Act Abuses)
and
New Scandal Erupts Regarding The FBI And Justice Department Monitoring Calls Of AP Reporters Confirming Previous Site Claims
and
News Report: The IRS Targeted Christians
and
FBI Agent Arrested For Accepting A $200,000 Bribe To Derail A Criminal Case The FBI Was Supposed To Be Investigating
and
Another FBI Agent Caught Taking Bribes To Derail Serious Cases (Video)
. For the full list see the
exclusives
page of the site.
STORY SOURCE
LOVEINT: When NSA officers use their spying power on love interests
Published: August 24 at 11:50 - The National Security Agency admitted in a statement Friday that there have been "very rare" instances of willful violations of agency protocols by agency officers. The Wall Street Journal reports that some of those willful violations involved officials turning their private eyes on love interests:
The practice isn't frequent — one official estimated a handful of cases in the last decade — but it's common enough to garner its own spycraft label: LOVEINT. Spy agencies often refer to their various types of intelligence collection with the suffix of "INT," such as "SIGINT" for collecting signals intelligence, or communications; and "HUMINT" for human intelligence, or spying.
The "LOVEINT" examples constitute most episodes of willful misconduct by NSA employees, officials said...
Lawmakers Probe Willful Abuses of Power by NSA Analysts
Aug 24, 2013 12:00 AM ET - Surveillance State: Three Ways You're Being Watched. The leaders of U.S. congressional intelligence committees said they want to probe the intentional abuses of surveillance authority committed by some National Security Agency analysts in the past decade.
"I am reviewing each of these incidents in detail," Dianne Feinstein, a California Democrat and chairman of the Senate intelligence panel, said in a statement, after the NSA confirmed to Bloomberg News yesterday that some analysts deliberately ignored restrictions on their authority to spy on Americans.
"Any case of noncompliance is unacceptable, but these small numbers of cases do not change my view that NSA takes significant care to prevent any abuses and that there is a substantial oversight system in place," Feinstein said.
The incidents, chronicled by the NSA's inspector general, provide additional evidence that U.S. intelligence agencies sometimes have violated the legal and administrative restrictions on domestic spying, and may add to the pressure to bolster laws that govern intelligence activities.
Republican Representative Mike Rogers of Michigan, chairman of the House intelligence committee, is reviewing the cases of intentional misconduct in detail, his spokeswoman, Susan Phalen, said in a statement...