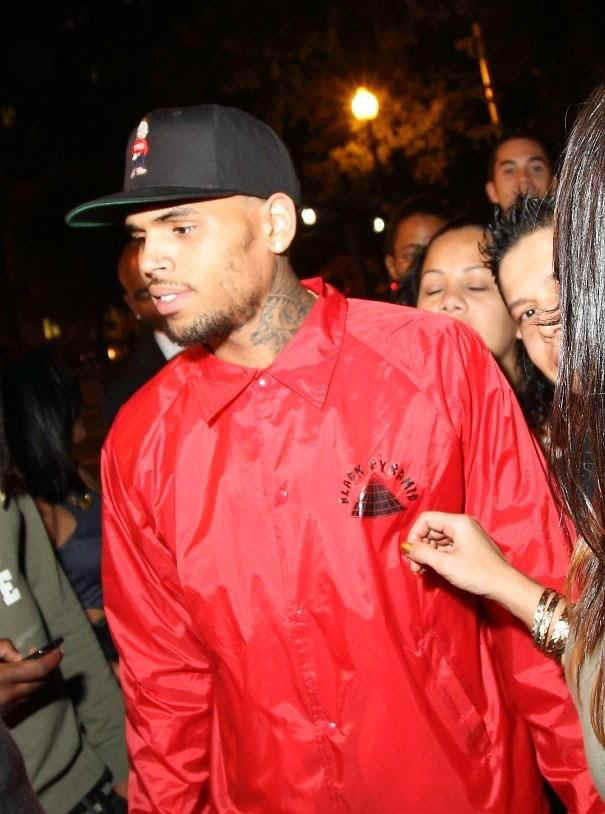 Chris Brown wearing the Bloods' trademark color of red
Chris Brown has been busy this week. A few days ago, the R&B singer referred to the Los Angeles District Attorney charged with handling his probation case as a "racist a*s" in a tweet that has since been deleted from his Twitter page. Then Brown called out one of the
music industry most famous thieves Beyonce
, for stealing dance moves from his show. Brown announced his affiliation with the Bloods (Piru) street gang and slammed Beyonce's husband Jay-Z.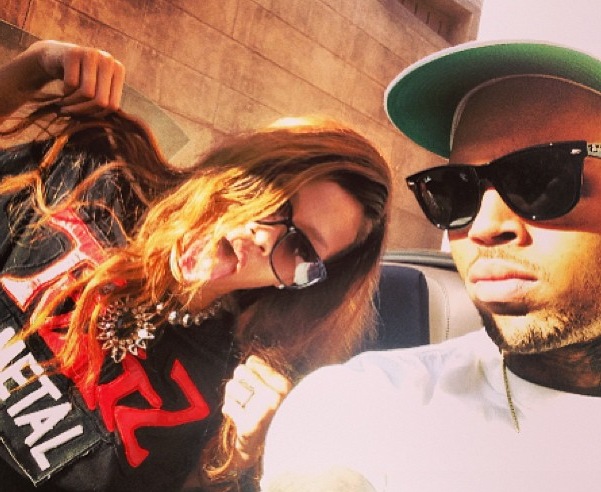 Rihanna and Chris Brown
Some entertainers in the music industry who are being harassed, threatened and terrorized by executives, cults and lawbreaking artists, turn to violent street gangs for protection and as a deterrent to industry folks who refuse to leave them alone.
Jay-Z
Brown and Jay-Z have a very unpleasant history. Jay-Z discovered Brown's on and off again girlfriend Rihanna. Jay-Z has been having sex with Rihanna since she was a teenager. When Rihanna met and fell in love with Brown, Jay-Z resented it. Jay-Z has been jealous of pretty boy Brown since that time, as Rihanna was having sex with Chris for free after falling in love with him, whereas with Jay-Z the sexual favors have always been about career advancement.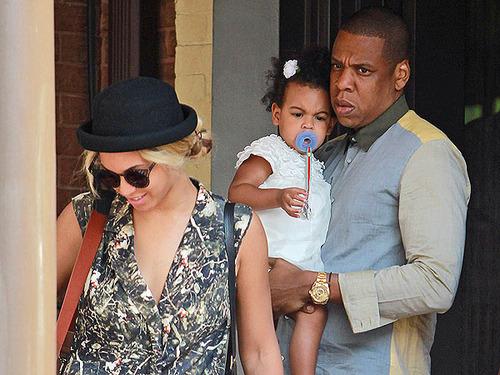 Beyonce, Jay-Z and their daughter Blue Ivy, who always looks angry just like her dad. Chris better be careful that Blue Ivy doesn't jump him with a beatdown.
After the 2009 domestic violence incident between Brown and Rihanna, Jay-Z began sabotaging Brown's career behind the scenes in Hollywood (music industry included) via trying to get him uninvited from events and blacklisted in the industry. Jay-Z has made calls in the industry and spoken to people face to face with the goal of destroying Brown's career. Brown found out about it and dislikes Jay-Z for it.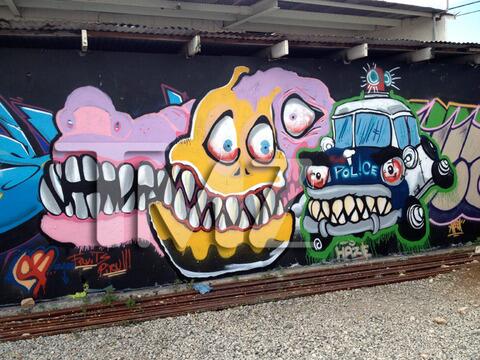 Chris Brown sprayed Bloods' street gang graffiti on wall in Hawaii this week signing it "(Bloods) Fruit Piru" and "F*** da police)"
In other Chris Brown news, two days ago he tweeted, "John Singleton is directing 'The Chris Brown Story (Moive Coming Soon)!!!! We On!." The question is will the movie include a scene recreating the 2009 Rihanna fight and in detail, regarding what truly happened in the car that night.