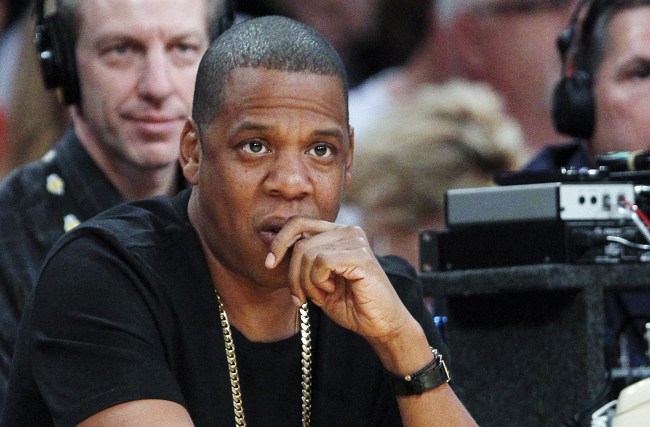 Jay-Z
The bad business acumen of rapper Jay-Z strikes once again. Jay-Z, who has a string of failed businesses, is in legal hot water over his Rocawear clothing label, which he forced former partner and founder Dame Dash out of, taking full credit for his brainchild.
Rocawear has been sued this month by clothing manufacturer iSource of New York. The company had $1,000,000 in clothes made in Pakistan for Rocawear, who accepted the shipment and put the items on store shelves, but refuses to pay iSource the full amount, only remitting $500,000. As a result of the thievery, iSource has filed suit against Rocawear in Manhattan Supreme Court.
Jay-Z is struggling to keep up appearances, as business after business fails. While the sub par Rocawear line is widely available on store shelves, it simply has not been doing well...at all. Availability does not mean sale ability.
STORY SOURCE
Jay-Z's outfit is a 'deadbeat'
Last Updated: 5:06 AM, June 12, 2013 - Jay-Z is a rap mogul worth around $500 million — but his clothing brand Rocawear is in the red, a lawsuit claims. The apparel group allegedly owes $450,000 to wholesale company iSource NYC for urban-style duds made in Pakistan and shipped to New York last April through June, the Manhattan Supreme Court filing states.
The clothing items "were specially ordered goods . . . [with] the 'Rocawear' brand name imprinted on [them]," the Garment District company claims in the suit. "Defendant never returned the ROC goods to iSource." Rocawear paid for about half of the $1 million order, but has yet to cough up the balance, the suit alleges, and iSource wants the rest of the money plus 9 percent interest — because the bill was due last Summer.