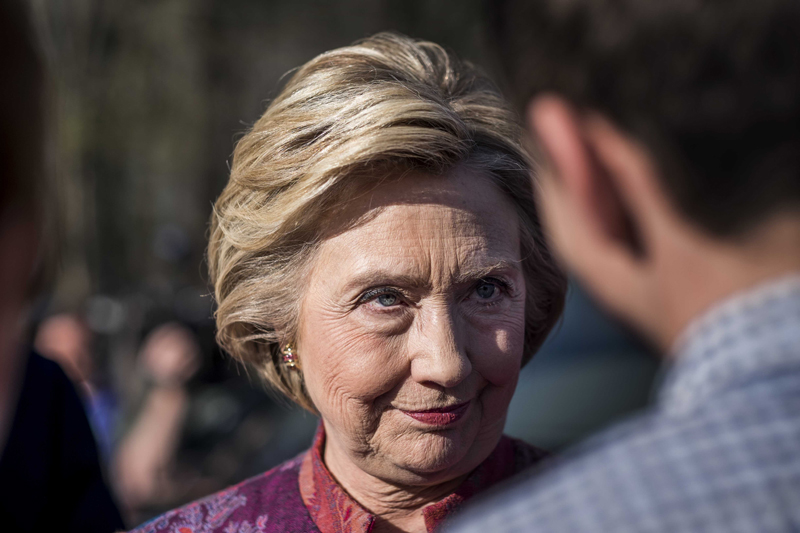 Hillary Clinton
There are reports of mass voter fraud in America, in support of Hillary Clinton. She is the one with the connects and resources to pull it off. There are 4,000,000 Dead and inactive voters in many U.S. states are on voter rolls ready to vote and voting for Clinton. Dead people can't vote, neither can inactive registrants.
The FBI needs to void these fraudulent votes by dead people, because it is squarely their fault a brazen criminal, Hillary Clinton, is the Democrat's nominee for president, rather than the man who earned it, Bernie Sanders, who was the far better choice for America. The FBI has sat on and suppressed evidence of a host of crimes by Hillary Clinton, which includes but is not limited to:
Taking massive financial bribes domestically and internationally
Issuing massive bribes
Lying in Congress
Lying under oath
Lying to the FBI
Mishandling classified information
Failing to report a pedophile which allowed innocent minors to be harmed (Anthon Weiner)
Illegal wiretapping in America and the international community
Illegal computer hacking in America and the international community
Illegal phone hacking in America and the international community
Illegally accessing store, protected email data via hacking
Voyeurism
Illegal interception of U.S. mail
Voter fraud
Wire fraud
Bank fraud
Money Laundering
Tax Fraud
Charity Fraud in abusing IRS tax exempt status
Commissioned aggravated stalking via private investigators
Commissioned aggravated harassment via private investigators
Racketeering in violation of RICO statutes
Misusing U.S. taxpayer money (i.e. criminally sending U.S. military to fly recognizance missions and spy over innocent people's properties)
Then there's the infamous Clinton Kill List (
here and here)
The woman is an outright criminal. The fraudulent votes in early voting need to be cancelled out and completely voided and the remaining ineligible people quickly removed from voter rolls before November 8, 2016. Voter fraud spits in the face of democracy and is a federal crime.
Weeks ago, President Obama, hypocritically claimed voter fraud can't happen via the election being rigged. However, when Obama was running for president in 2008 he warned the public about voter fraud and rigging elections. He is not an honest person and has criminally blocked criminal investigations into Clinton and others at the Department of Justice (DOJ), which created anger among FBI agents and the American public. It is a crime for a president to interfere at the FBI and DOJ, but reports credibly state Obama has done so in violation of the law.
U.S. presidential candidate, Donald Trump, has repeatedly stated the election is being rigged. He's not lying. The Clinton camp has been rigging the election and once again the federal government needs to cancel out the fraudulent votes. The world is watching and it doesn't look good (read the external articles excerpted below under STORY SOURCE and visit their sites, regarding nationwide incidents of voter fraud and rigging).
Years ago, I wrote a review for a film entitled "Hacking Democracy." It referenced Hillary Clinton and discussed how U.S. elections can be rigged, via dumping paper votes and through computer hacking.
This election did not go how I wanted it to at all, but one must respect the process. However, it is not right that Hillary CLinton be allowed to steal the election when she is not the people's choice for president. Turn out to her rallies have been low and paltry in comparison to Trump's events. That's a sign he has more Americans backing him for president. It should be the people's choice, not Clinton's via fraud.
STORY SOURCE

As Obama Ridicules Trump Over Voter Fraud, He Warned Of 'Rigged Elections' In 2008 [VIDEO]
10:51 AM 10/22/2016 - President Barack Obama said this week "no serious person" would believe the presidential election could be rigged. The President, at a joint press conference with Italian Prime Minister Matteo Renzi, went on to attack GOP nominee Donald Trump by saying, "I've never seen in my lifetime or in modern political history any presidential candidate trying to discredit the elections and the election process before votes have even taken place." In 2008, however, then candidate Obama was singing a very different tune.
Speaking at a campaign stop at Kent State University in Ohio, Senator Obama said elections in the past had been rigged when he was asked by a supporter, "I would just like to know what you can say to reassure us that this election will not be rigged or stolen?" As the crowd cheered, Obama answered, "Well, I tell you what it helps in Ohio, that we got Democrats in charge of the machines." The crowd cheered again.
Democrats, including Secretary of State John Kerry, also believe Republicans "rigged" the 2004 election in Ohio. "But look, I come from Chicago," Obama continued, "so I want to be honest, it's not as if it's just Republicans who have monkeyed around with elections in the past. Sometimes, Democrats have, too."
At the 2008 rally, Senator Obama went on to say, "Whenever people are in power, they have this tendency to try to, you know, tilt things in their direction." Obama continued, "That's why we've got to have, I believe, a voting rights division in the Justice Department that is nonpartisan, and that is serious about investigating cases of vote fraud. Is serious about making sure that people aren't being discouraged to vote. That's why the voting rights legislation that was passed a couple of years ago to help county clerks make sure that the machines were in place that were needed, are important. That's why we need paper trails on these new electronic machines so that you actually have something that you can hang on to after you've punched that letter – make sure it hasn't been hacked into. Those are all part of the process of making sure that our democracy works for everybody."
11:40 a.m. EDT October 20, 2016 - The exact number of fraud cases hasn't been disclosed by Indiana Secretary of State Connie Lawson's office, October 2016. Wochit. Another election official says that may be a hasty conclusion. As Republican presidential nominee Donald Trump repeats his message that the general election process is "rigged," the top election official in the home state of his running mate, Indiana Gov. Mike Pence, said she has found thousands more incidents of what she characterized as potential "voter fraud."
Republican Secretary of State Connie Lawson said her office has found voter registration forms containing first names and birth dates different from what voters provided. She said she has handed those altered records over to the Indiana State Police for review. However, a leading election official in Hamilton County, also a Republican, said labeling the discrepancies as fraud was a hasty conclusion. County officials report no widespread issues with voter records.
Lawson's allegations also come just one week after a Tippecanoe County election official acknowledged that the secretary of state's voter data system could be manipulated by those wishing to cause harm. County officials report no widespread issues with voter records. Lawson said the discrepancies were discovered when voters checked online with the Statewide Voter Registration System to see whether they were registered and could not gain access because their names or birth dates had been changed.
"These records were changed on paper forms, at the BMV and online," Lawson said in a news release. "At this time, my office is not sure why these records were changed, but we have evaluated the Statewide Voter Registration System and have found no indication it has been compromised," Lawson said in the statement. "We believe this may be a case of voter fraud."
Though Lawson said thousands of tampered forms were discovered, neither office spokeswoman Valerie Warycha nor State Police would reveal precisely how many. Warycha said a number of registration forms each election are changed by voters themselves to provide updated information. In addition, government employees make a certain number of data entry errors. But she said the number of changed registrations this year was much higher than in past elections, which led officials to believe fraud was being committed.
Lawson's office said it and county election offices have been inundated with calls from voters whose information had been changed. However, it would not disclose how many complaints have been received.
Bangert: An experiment in voter fraud. In Hamilton County, Republican elections administrator Kathy Richardson said she had not received any complaints and said she was miffed how Lawson concluded so quickly that the alleged anomalies might be fraud. "I don't know how you distinguish between people purposely changing their information and those who didn't," Richardson said. "In an election like this, where everyone wants to vote, you are going to get a lot of changes. People change their first names or last names or change their addresses. Especially people who haven't voted in a while."
Registered voters who want to make changes can walk into their local elections office and ask for a new form to make the changes, Richardson said. They don't have to show any identification but must sign an affidavit that they are truthful. They also can make changes online. But that online voter registration system can be manipulated, as Tippecanoe County Clerk Christa Coffey acknowledged in a column last week by Lafayette Journal & Courier writer Dave Bangert.
Oct. 18, 2016 1:53 pm - James O'Keefe is out with this latest bombshell video entitled "Mass Voter Fraud": In the second video of James O'Keefe's new explosive series on the DNC and Hillary Clinton campaign, Democratic party operatives tell us how to successfully commit voter fraud on a massive scale. Scott Foval, who has since been fired, admits that the Democrats have been rigging elections for fifty years.