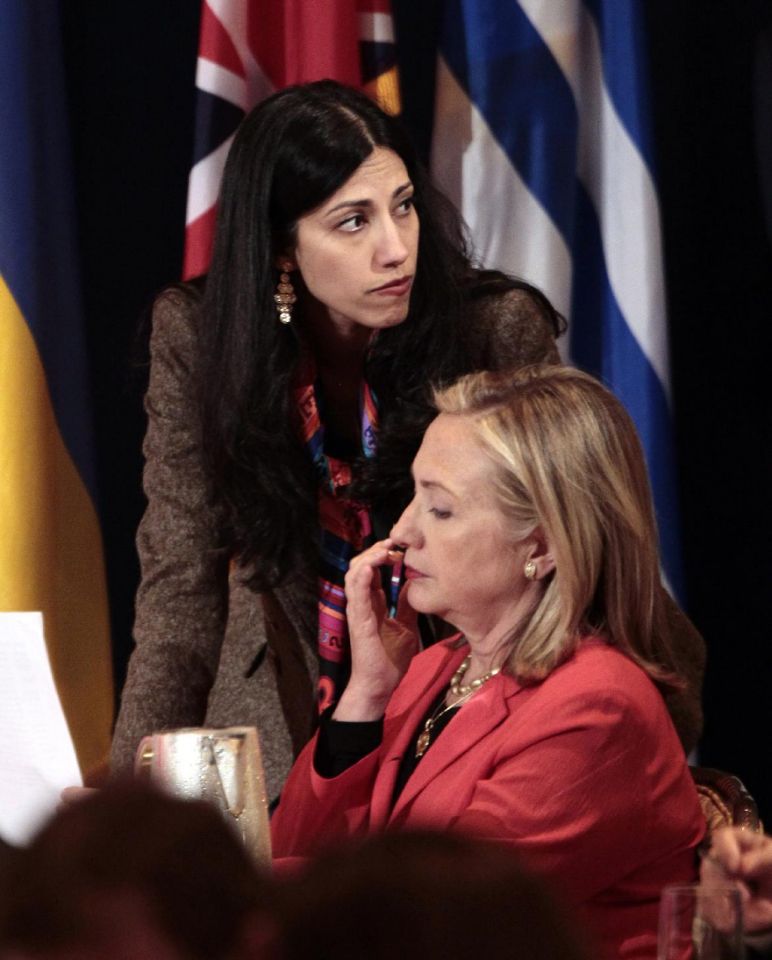 Huma Abedin and Hillary Clinton
Hillary Clinton is pretending to distance herself from her top assistant/sex partner, Huma Abedin, after the FBI reopened the criminal investigation into them mishandling classified files (along with Abedin's husband, Anthony Weiner). The Daily Mail reports Abedin could face 5-10 years in prison.
On Thursday, Abedin attended a fundraising dinner held for Clinton in Washington, DC at the home of Constance Milstein and Count Jean-Christophe de La Haye Saint Hilaire. Abedin accessorized her outfit with a $2,000 "#ImWithHer" handbag, which is Clinton's slogan.
Abedin smiled for the cameras, but once she was safely in her car, a troubled and worried expression covered her face, similar to a deer-in-headlights look. Abedin is cracking under the strain of keeping Clinton's secrets and the FBI breathing down her neck and that of her pedophile husband, who was merely a beard to cover her sexual relationship with Hillary.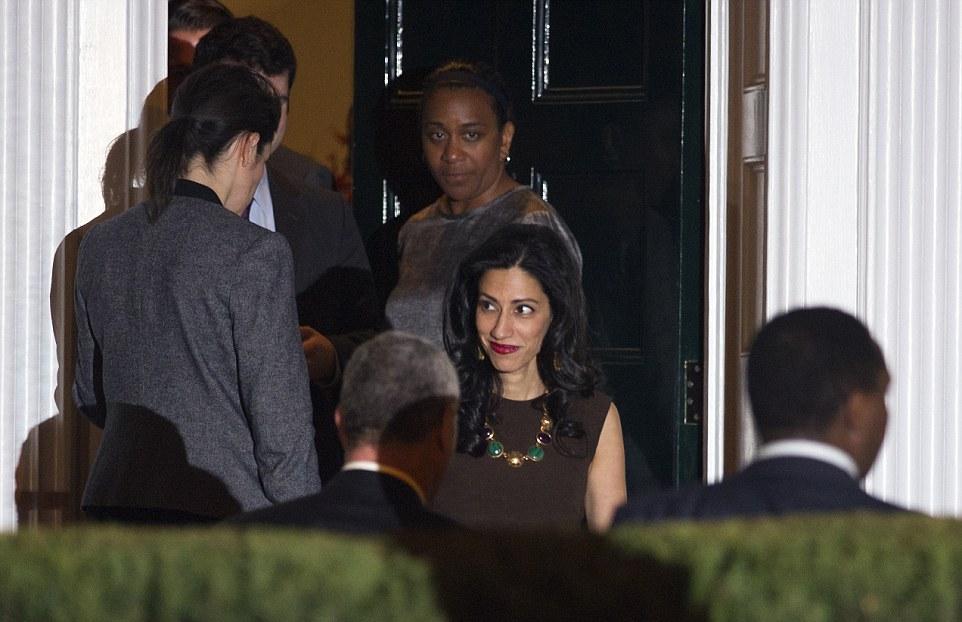 Huma Abedin smiling for the cameras
If Clinton says she didn't know about Abedin's ties to terrorism it will look like a massive security breach that happened due to poor vetting, indicating she is an inept, negligent and unprofessional politician who can't run a country. If Clinton says she did know about Abedin's ties to terrorism it will look thoroughly corrupt, painting the picture of a desperate older woman putting a nation at risk in trying to cling to a younger chick she is obsessed with. Either way, it looks bad.
Abedin's discernible ties to murderous terrorists, who have sponsored gory, deadly attacks against Americans should have immediately disqualified her from employment within the U.S. government. However, because Abedin has been having sex with Clinton for years, she got the job, which is disgraceful (not to mention embarrassing). Hillary, like her husband, Bill Clinton, has no self-control and are clearly ruled by their genitals, consequences be damned.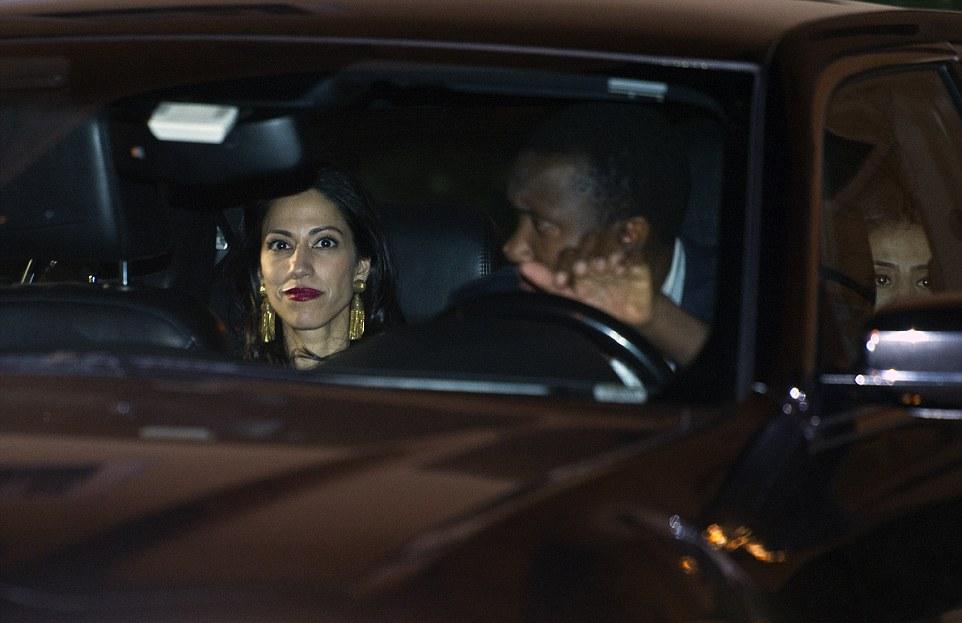 Huma's deer in headlights look inside her car as sister Heba sits beside her sad and teary eyed (Photo Credit: Daily Mail)
There's nothing wrong with hiring Muslims for jobs. There are many law abiding Muslims with no ties to terrorism. To discriminate against a Muslim for being a Muslim is a crime. However, there's a problem when the woman in question, Abedin, who has clear cut ties to terrorism and terrorists might I add, who killed scores of innocent people. Abedin is working in the U.S. government with her criminal boss, Clinton, trying to corruptly inch their way into the White House.
RELATED READING

Huma's last hurrah? Embattled aide hosts Clinton fundraiser with fashion icons Anna Wintour and Diane von Furstenberg as her career (and freedom) hang in the balance thanks to FBI's private email server investigation

Huma Abedin, Clinton's most beloved adviser, held a glitzy fundraiser with the fashion heroines Thursday. She carried a '#ImWithHer' handbag - perhaps a message to Clinton, who dropped her from campaign jet. Last week the FBI found emails from Abedin to Clinton's private server and reopened their investigation.

That's when she was jettisoned from the Clinton campaign jet and left grounded in the New York HQ. Abedin could face 5-10 years in prison, depending on the findings of the reopened FBI probe. Clinton's friends and advisers have said she should be dropped even if she wins the election. Abedin has not yet been charged with or accused of a crime.



Published: 17:53 EDT, 3 November 2016 | Updated: 10:00 EDT, 4 November 2016 - Hillary Clinton might be keeping Huma Abedin at a distance these days, but the Democratic nominee's longtime aide made it clear that she still had her boss's back Thursday night as she hosted her final fundraiser of the campaign.




Abedin - who has been off the campaign trail since the FBI revealed last week that they were investigating previously unseen emails sent from her account to Clinton while she was using a private server - was one of the three hosts who oversaw the Washington DC soiree while Clinton was off in North Carolina making one final push in hopes of securing a victory in the swing state.




She arrived at the event carrying a sparkling, custom '#ImWithHer' handbag by Edie Parker, and was immediately greeted by her two high-profile co-hosts outside the event - designer Diane Von Furstenberg and Vogue editor Anna Wintour, who was also celebrating her birthday. The trio of A-list Democrats brought a sense of glamour to the exclusive shindig, held in the private residence of lawyer and philanthropist Constance Milstein and her husband, Count Jean-Christophe de La Haye Saint Hilaire.




Tickets for the evening started at $1,000 and went up to $10,000, with visitors who contributed or raised over $5,000 being offered a selfie with Abedin - which might well become a collector's item if she leaves Clinton's side post-election...