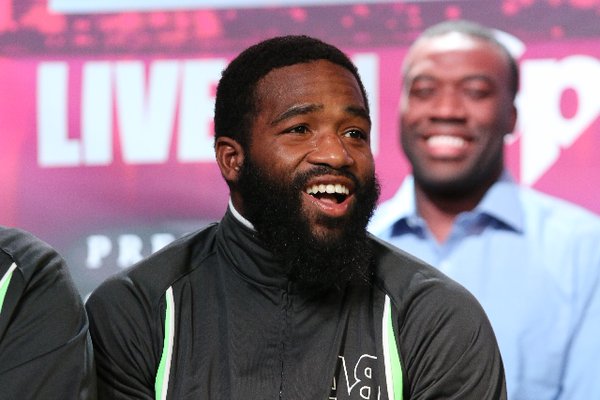 T

roubled boxer, Adrien Broner, who is battling substance abuse issues, threatened to kill himself this week. Broner posted a photo of a gun and the caption, "
I'm going home I love y'all" and shortly after, "3PM I'm doing it I'm sorry to my family and friends but I don't want to be here no more this s**t too much."
However, his family and police intervened and then released statements stating they've located Broner and he is okay.
In the July 1, 2016 article
Judge Should Order Adrien Broner To Rehab For His Own Good
I wrote the boxer needs rehab. Not only is Broner struggling with alcoholism, he is suffering from the effects of knockdowns and blows to the head in the boxing ring, which can create depression (See "head injury" second of article:
How To Reap The Benefits Of Boxing While Avoiding The Pitfalls
). A good doctor and therapist could assist him with the depression. It does not help that he is being harassed by questionable people outside the boxing industry, who have no business bothering this man. He needs to extricate himself from those situations.
Broner has to keep things in perspective. As stated in previous articles, Broner has a beautiful family. He also has a great boxing career with many wins, several titles and millions in purse money under his belt, pardon the pun. There is so much Broner can do with his life. He cannot allow himself to wallow in depression, as it will bring him misery.
Something is troubling Broner and he needs to let that thing go, because it is not worth his life. Broner has six children who don't need to be fatherless. Broner also needs to be thankful the assault case against him was resolved and dismissed, as he could have went to prison for years. There is much to be thankful for in his life.
I've stated it before and I will state it again, Broner needd to drop the negative people from his circle. He needs positivity and hope in his midst. He needs strong minded people who are trying to elevate him, not bring him down. And once again, whatever he thinks is so terrible in his life, he needs to let it go and choose to be happy. That's a general rule for everyone. If anything is making you that miserable that you want to die, it is time to reevaluate the situation and let that problem go.
STORY SOURCE
Adrien Broner OK, despite social media posts indicating he was contemplating suicide
2:57 AM ET - Management for boxer Adrien Broner said the former four-division champion is OK, after he posted a series of messages on his various social media accounts that indicated he was contemplating suicide. "I spoke to [boxing manager] Al Haymon; he said there's nothing to be concerned with here," "Premier Boxing Champions" spokesman Tim Smith told USA Today. "Premier Boxing Champions" is a TV series organized by Haymon's management company.
On Instagram on Wednesday, Broner posted a photo of a handgun with the caption, "I'm going home I love y'all." Later, he posted to Instagram a photo that read: "3PM I'm doing it I'm sorry to my family and friends but I don't want to be here no more this s--- too much." Responding to worries about the Ohio native's well-being, Cincinnati Police tweeted that Broner is safe. @CincinnatiPD is aware of concerns regarding boxer @AdrienBroner. Have looked into this and made contact. All is well. Thx for the concern! — Cincinnati Police (@CincinnatiPD) October 12, 2016...
Wednesday 5:59pm - Adrien Broner suggested that he would harm himself at 3 p.m. today in images posted to his Instagram, although he is reportedly safe and okay. Broner first posted an image suggesting a new start: About an hour later, he said he was "doing it" at 3 p.m.: He then posted a photo of a pistol and wrote that he was "going home": He had one more countdown after 2 p.m.: After 3 p.m., Broner's fiancée Arienne Gazaway said that the boxer was "okay": TMZ reported that "law enforcement sources" in Cincinnati said Broner had contacted them and that he was okay.
Sep 22, 2016 - Former four-division world titleholder Adrien Broner, whose trial on charges of felony assault and aggravated robbery was set to begin on Wednesday in his hometown of Cincinnati, had all charges against him dropped when the alleged victim and star witness failed to show up at the Hamilton County courthouse in Ohio.

Felony assault and aggravated robbery charges against Adrien Broner were dropped Wednesday when the alleged victim failed to show at the courthouse...