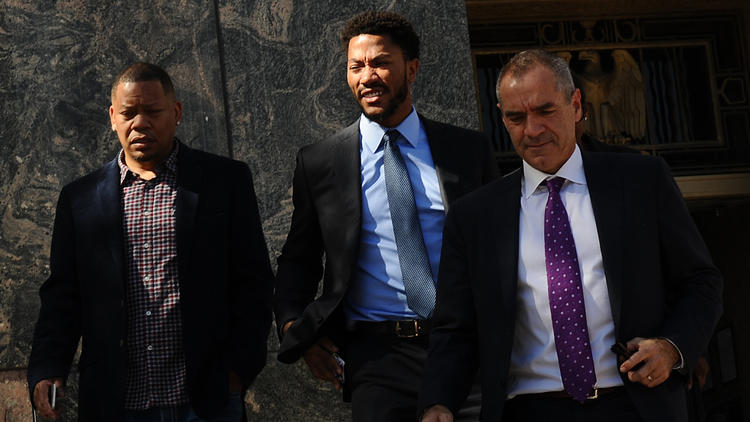 Derrick Rose (center) leaving court today after being cleared of false rape claims
New York Knicks basketball player, Derrick Rose, has been cleared in a court of law of all claims he and his two best friends, Randall Hampton and Ryan Allen, raped his on and off girlfriend. A jury of six women and two men in Los Angeles found Rose, Hampton and Allen innocent of the gang rape claims, brought by a disgruntled groupie the basketball star was in an open relationship with over the course of 20-months. Rose's gold digging accuser also pursued and had consensual sex with other NBA stars, such as Los Angeles Laker, Nick Young, among others.
Rose's accuser knew of the existence of other women in Rose's life, such as the mother of his young son, but consented to servicing him and other men in his circle during group sex sessions. The name of Rose's accuser has been withheld in accordance with the law. However, photos have been posted of her online.
What demolished the accuser's rape claims is text messages showing she was in a consensual sexual relationship with Rose and even brought a woman to his house for him to have sex with her as well. After the alleged gang rape, Rose's accuser texted him her banking information requesting financial reimbursement for a sex toy known as a sex belt that she brought to his mansion for sexual activities.
A sex belt is not a fashion accessory. Based on what is written online, a sex belt is used during penetration to give the man a better grip on his sexual partner while penetrating her from behind. Why would you bring that to a man's house if you did not intend to have sex with him. That was a terrible giveaway that Rose's accuser has been lying about being raped.
The case also revealed she had brought a sex harness to Rose's home, which is another sex toy, which based on information online, is used for sexual penetration. In all the years I have been covering rape cases on this site, I've never heard of a rape victim bringing sex toys to the rape. That alone was enough for me to reject the claims of Rose's accuser. Text messages after the rape where she joked with Rose about him refusing to have sex with a woman she brought to the group sex session was another giveaway she was lying about being raped. A real rape victim would not do that.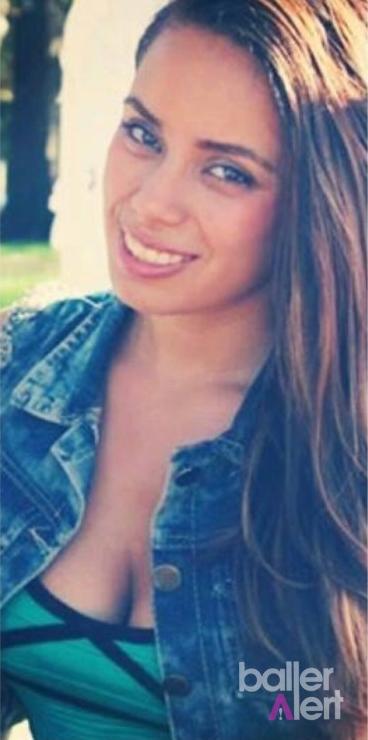 Baller Alert stated this is the woman accusing Rose of rape
Rose's accuser also waited two years to claim she had been raped. Rather than go to the police, she contacted Rose demanding in excess of $10,000,000 or she would go public with the claim. When he refused to pay the extortion money, she went public with the claim via a lawsuit. When the public asked why she did not go to police, she decided to report the fraudulent gang rape.
A close female friend of Rose's accuser also revealed she is a "pathological liar." Her friend revealed they took a vacation in Las Vegas after the alleged rape and when asked if Rose had raped her she responded, "No." The accuser's friend told the court the woman got mad with Rose over a money issue and that was the reason she falsely cried rape. When a person makes up such an outlandish and malicious story in court, they should face significant fines and penalties. Rose's accuser was sworn in under oath and caught lying six times.
Text messages subpoenaed by Rose's lawyers revealed his accuser is a gold digger who has been desperately searching for a rich man to marry, so she could quit her job. Then she lost her job and rather than seeking new, gainful employment, decided to demand millions of dollars from Rose, who had lost interest in her and was spending more time with the mother of his son.
Rose gave his accuser a glimpse into a life of luxury. Rose invited her to his Beverly Hills mansion on different occasions for sex, where she saw a sampling of his wealth. When some people see a successful person who made their money honestly living well, they will be happy for them and be inspired by what they have achieved. However, there are some who will plot to illegally take what another person has worked hard for in life.
The only thing weaker than the accuser's story is Derrick Rose's knees on the basketball court (people on social networking are stating Rose should get some robo-knees). There are many rape victims I believe and have written in support of on this site. However, Rose's accuser is not a rape victim, but an opportunistic woman aiming to financially rip off a man, seeking a quick way to become rich.
The Los Angeles Police Department were quietly investigating the case, but the fact a jury of six women and two men rejected the case in civil court does not bode well for their investigation for a criminal trial. It's alarming to think someone can be set up in this manner and face jail for something they did not do.
The Los Angeles Times
reports a juror named Jared stated of the case, "We actually tried to prove the plaintiff correct before we made our decision. We went over the evidence from the plaintiff's point of view and wrote down everything that was believable. And nothing added up." My sentiments indeed.
STORY SOURCE

Former Friend Of Jane Doe Repeatedly Calls Doe A Liar On The Stand
Friday 9:47pm -A onetime friend of Jane Doe took the stand Friday, testifying for Derrick Rose's side in the civil suit accusing him and two friends of gang-rape in 2013. In her testimony on Friday, Gabriela Chavez repeatedly called her former friend a liar and said she came forward because she wanted to be on the side of truth.
Chavez said she had been friends with Doe since 2008, but they last saw each other in 2014. The last time they talked or texted was earlier this year, she said. Much of her testimony was about a trip she took with Doe to Las Vegas in September 2013, about a month after Doe said in her lawsuit she was raped by Rose and two of his friends in her Los Angeles apartment. Before going over the details of the trip, Judge Michael W. Fitzgerald told jurors that they could only use the testimony "simply as to damages" and that it was not "relevant to which version of events at the apartment is true."
After that warning from Fitzgerald, Chavez launched into testimony in which she called Doe a liar multiple times. She went into the details about the September trip after several pictures of her and Doe in Las Vegas were entered into evidence, showing Chavez and Doe smiling, hanging out by a pool, and in bathrobes. She said that during the trip Doe seemed happy and normal. Doe told her that during the trip that she had sex with Rose and his friends, but was upset that she hadn't heard back. Chavez told the court, "She specifically said he didn't even care that I slept with them."
Chavez said in court that the story as Doe told it didn't make sense to her, so she asked Doe specifically if she was raped. Her response, Chavez said, was, "No, but I did have sex with all of them." During cross examination, Chavez said Doe didn't use the word consensual but "her entire story didn't make sense."
Like the defense's cross examinations earlier in the day, Doe's lawyer Waukeen McCoy peppered Chavez with questions about if she was doing this for money. He asked Chavez several times and different ways if she had tried to get money from Doe for her testimony, which Chavez repeatedly said was wrong, adding, "That's why I'm on the side of truth right now." McCoy asked her so many times about money, Chavez replied to one: "Is that the best you are going to keep doing, asking the same question?"
Many of her answers to questions, like if Doe took a sick day to go to Las Vegas and how she contacted Rose's lawyer, ended with her calling Doe a liar. At one point, she said Doe "lies about everything that comes out of her mouth." Even Doe's desire to stay anonymous was about maintaining lies, she said. "She lies to her family all the time. They don't know the lifestyle she leads in Los Angeles," Chavez said. "And she wanted to keep it that way."
Chavez said Doe at some point had told her about another rape lawsuit, involving Sean Kingston, that had settled and that she too would settle with Rose for money. Chavez said a text message sent to Doe after she heard about the lawsuit being filed—saying "Hey girl. You ok?" and asking if it was Doe or someone else "it happened to"— was just her checking in because she had been wondering if Doe would file.
"She told me quite a few times that she was confused and didn't know what to do," Chavez said, adding that it was because so many people were telling Doe different things. When Rose's lawyer, Mark Baute, asked Chavez if Doe is a "pathological liar," Chavez said yes. She ended her testimony saying she had dinner with Rose in 2015, and the meal lasted a few hours.
RELATED ARTICLES
Crucial Text Messages Left Out Of Derrick Rose Trial Reveals Accuser Texting Him On Day Of Alleged Gang Rape Saying She Wants And Needs Him, Cop On The Case Kills Herself