U.S. Olympic swim team member, Ryan Lochte, has lost three lucrative endorsement deals, over lying about being robbed at gunpoint during the 2016 Rio Olympics. Speedo, Ralph Lauren and Syneron Candela dropped Lochte from endorsement deals in the fall out from the scandal that upset the people and government of Brazil. Lochte created a scandal after he lied during a televised NBC interview, falsely claiming he had been robbed with a gun pointed on his forehead. The Brazilian government investigated his claims and discovered Lochte and three teammates were drunk and engaging in vandalism at a gas station. It was also reported Lochte got into a fight with a security guard at the gas station.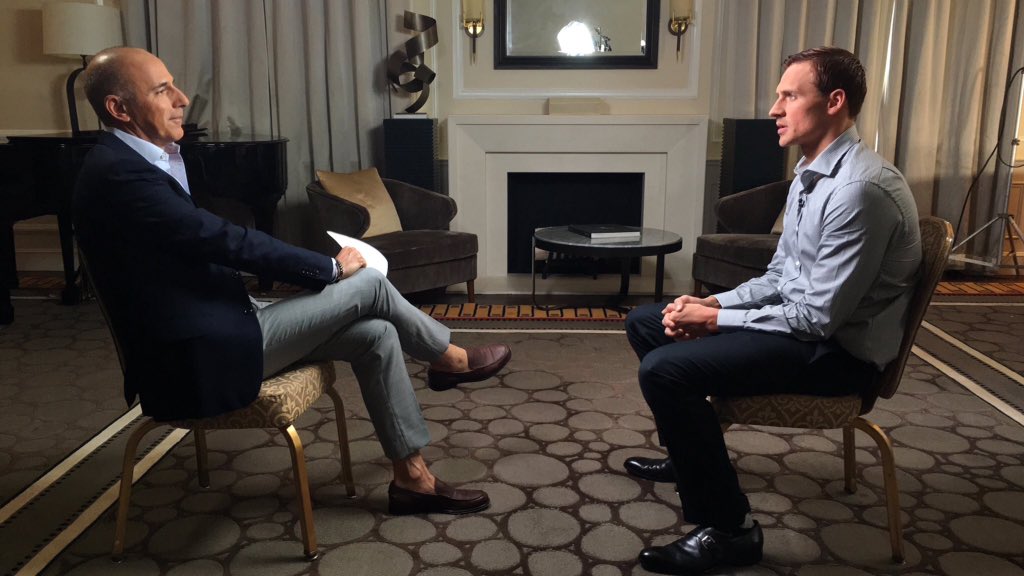 Matt Lauer and Ryan Lochte

After the truth came out late last week, a contrite Ryan Lochte did another interview with NBC on Sunday, due to the firestorm of controversy his conduct created, in lying about being robbed at gunpoint. Lochte, who became tearful during the interview, expressed that he feels bad about his behavior. Lochte stated he should not have "over exaggerated" what transpired at a gas station.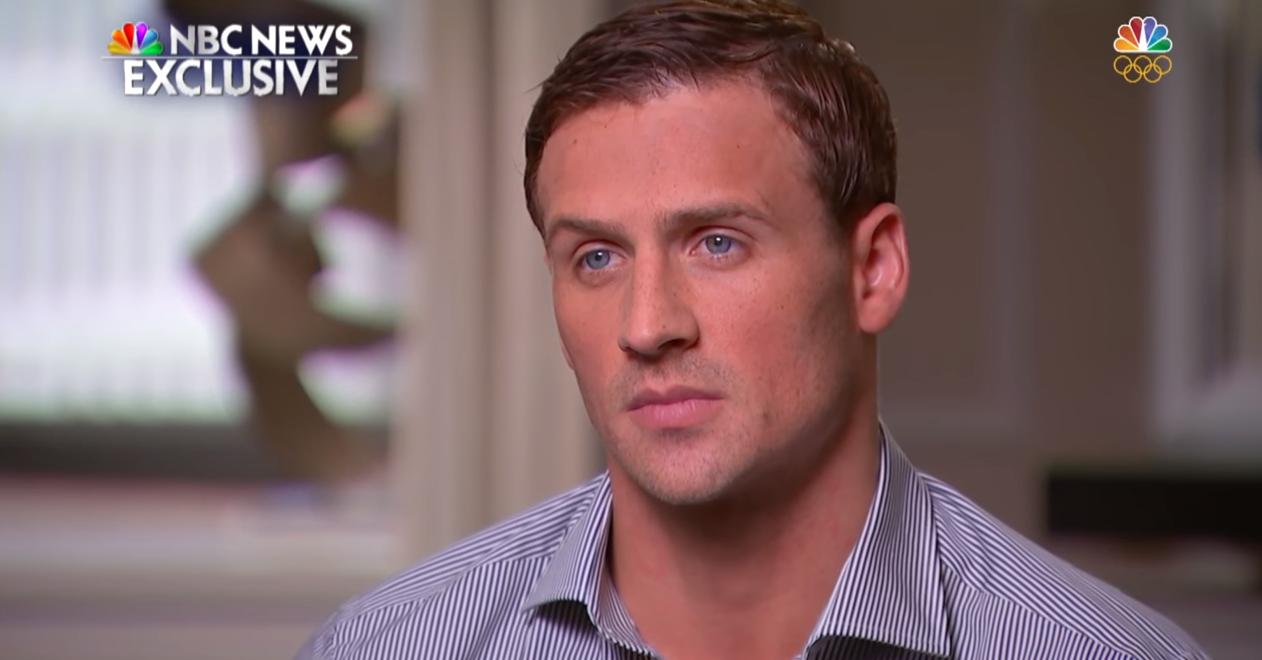 Ryan Lochte

Brazil is not happy about the incident. The government of Brazil slammed it during a press conference. Even in the conclusion of the Olympics, a Brazilian federal government employee, Vinicius Machado, lamented to the press while celebrating the success of the Rio Olympics, "We are a nice, friendly people. So we were anxious about this event. We were testing ourselves. We had some problems; we had some situations with the Americans, but we did it our way, and we did well, I think."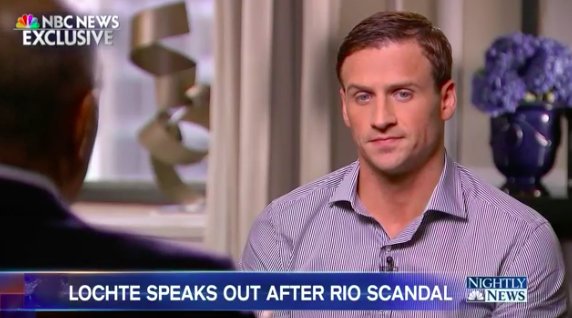 Ryan Lochte

Lochte has been spending too much time in Hollywood on the party scene, hobnobbing with celebrities, whose ways do not align with the rest of America. Before the scandal broke, Lochte even revealed he is moving from Florida to Los Angeles, California. Lochte is better off not being in Hollywood, who routinely abuse their celebrity in lying to the American people for sympathy, attention and profit. The American press is predicting Lochte will lose $15,000,000 in career endorsements over the incident that has so upset Brazil.
STORY SOURCE
Speedo USA Is Among 3 Companies to Drop Ryan Lochte Amid Rio Fallout
AUG. 22, 2016 - The fallout from Ryan Lochte's story about being robbed at gunpoint in Rio — a tale the Brazilian police said was not true — took another turn Monday after three companies said they would end business partnerships with the American swimmer. Speedo USA and Ralph Lauren, the luxury clothing retailer, announced Monday that they would part ways with Lochte, a 12-time overall Olympic medalist. Syneron Candela, a company that sells hair-removal devices, told Reuters its relationship with the swimmer ended on Sunday.
Speedo USA said in a message posted to Twitter that it would instead donate a $50,000 portion of Lochte's fee to a charity to help Brazilian children. "While we have enjoyed a winning relationship with Ryan for over a decade and he has been an important member of the Speedo team, we cannot condone behavior that is counter to the values this brand has long stood for," the company said in its statement.
On Monday, Kim Angelastro, a spokeswoman for Syneron Candela, wrote in an email, "We hold our employees to high standards, and we expect the same of our business partners." Lochte was a spokesman for its Gentle Hair Removal brand. Through a spokeswoman, Ralph Lauren said Monday that Lochte's endorsement agreement with the clothing company had been only for the 2016 Olympics, and that his contract would not be renewed...
August 21 at 7:59 PM - RIO DE JANEIRO — Under a tropical drizzle, Brazil kicked off the last act of South America's Olympic debut Sunday night, a danceable farewell to a zany 17 days of brilliant athletic performances and a decathlon of mishaps. Athletes shrouded in plastic ponchos, smiling through the rain, seemed an apt ending to an Olympics that was always an uphill climb. With dancers dressed as colorful birds, fiddlers and fireworks, Rio drummed and stomped its way to a happy, sopping final note, as they prepared to put out the torch and pass the baton to Tokyo, the next host city...
But on a drizzling Saturday afternoon there was Vinicius Machado, a 24-year-old IT infrastructure planner for the federal government, who was drinking a beer at a picnic table in Olympic Park. Maybe these Games were not as seamless as in London or Beijing, he said, but Brazilians got it done, and those who came had a good time.
"We are a nice, friendly people. So we were anxious about this event," he said. "We were testing ourselves. "We had some problems; we had some situations with the Americans," he added. "But we did it our way, and we did well, I think."...