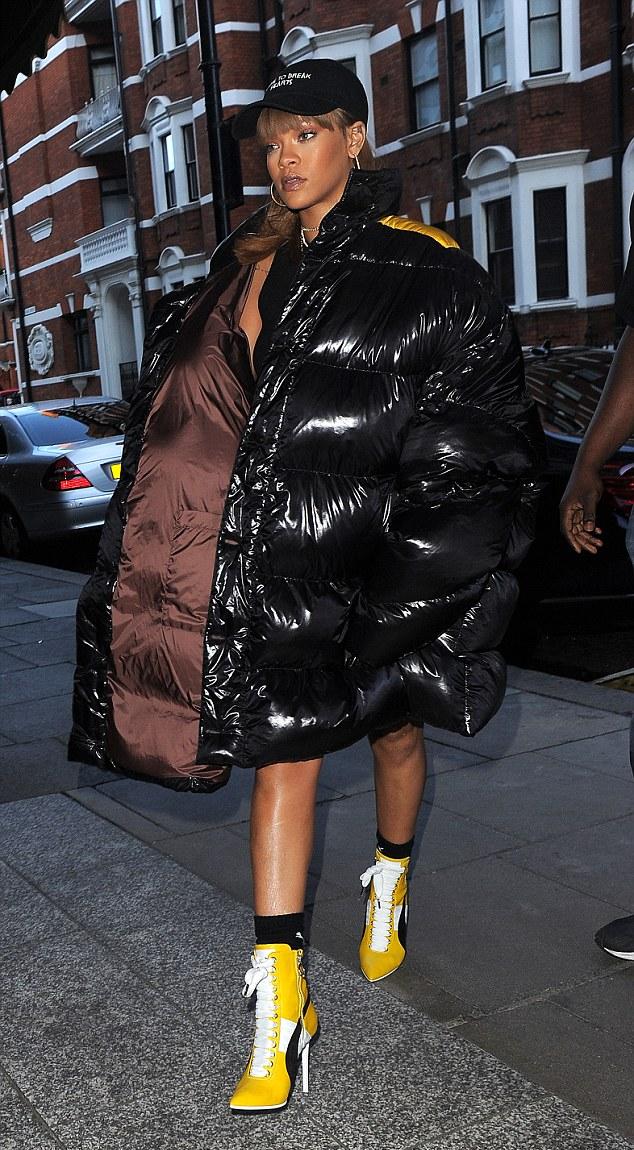 Rihanna looking depressed days after being booed
The career problems of vocally struggling singer Rihanna continues. First the first five singles from her "Anti" album flopped. Then the "Anti" album flopped, experiencing a 80% sales decrease from its predecessor. Then her "Anti" tour sponsored by Samsung flopped, not giving them any return on their $5,000,000 investment, due to poor ticket sales. Rihanna has been spotted crying on stage looking out at half-empty arenas.
The most recently woe arrived in the form of Rihanna's fans slamming her. Fans booed Rihanna during her concert in Belgium. First she arrived an hour late to her set at the Pukklepop festival then decided to lip sync, which angered the audience, resulting in wild booing. Many fans left early. Rihanna's career is in freefall.
STORY SOURCE

Rihanna goes under cover in a VERY large puffy coat for shopping trip at London's Harrods...after being booed by Belgian fans for 'lip syncing'
Published: 22:15 EST, 19 August 2016 - She got booed by fans at a shambolic concert in Belgium on Thursday night. And pop star Rihanna looked downcast as she went shopping at luxury department store Harrods in London on Friday. The 28-year-old, who is set to play the UK's V festival this weekend, hid under a very puffy black coat as she indulged in some retail therapy after the disappointing show...
Lip syncing? The superstar reportedly only sang one song - Diamonds - live on stage during the Belgian concert...On Thursday, Rihanna was booed by Belgian fans during a concert in which she arrived almost an hour late and lip-synced the majority of her show. The approximately 66,000 fans at Thursday's Pukkelpop festival in Hasselt started booing as soon as the singer took the stage, and many left early...