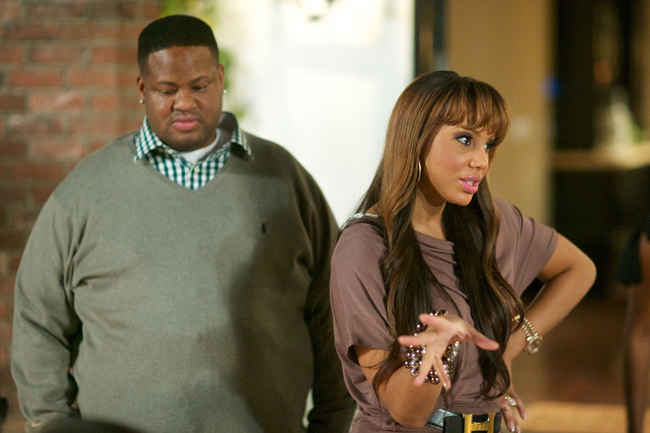 Vincent Herbert and Tamar Braxton
R&B singer Tamar Braxton has been experiencing difficulties this year. Her album flopped, concert appearances sold poorly and she was kicked off the talk show "The Real." After the cancellation of her reality show "Tamar And Vince" she returned full time to the one she started her career with, "Braxton Family Values." However, the ratings for the latter have declined as well.
This week it was reported Tamar and Vince got into a violent fight in an Atlanta, Georgia hotel. Police were summoned, after Vince bit Tamar's finger so badly, some feared she would lose the digit. In the July 16, 2011, the Judiciary Report did state there were rumors Vince has been getting violent with Tamar (
Rumor: Tamar Braxton Is A Victim Of Domestic Violence
).
Tamar married Vince for his money and connections. Tamar's music career did not take off for many years, always in the shadow of award winning sister, Toni Braxton. Ironically, Toni introduced Tamar to Vince, a music producer and imprint label owner. Vince gave Tamar a life of luxury and got her a new record deal with known producers. Vince used his influence in the music industry to make Tamar's album a success. The couple got mixed up with the Hollywood illuminati and it put a massive strain on their marriage. The constant presence of the cult and their deranged demands brought the couple to breaking point.
The most recent rumors state Tamar is cheating on Vince with a Hollywood entertainment manager. If this lands in divorce court, the alleged affair would be used against her. There is also precedent for this behavior, as Tamar was beaten in an elevator in Atlanta for cheating with married music executive, Michael Mauldin, the father of producer, Jermaine Dupri (whose last name is Mauldin).
Side Bar:
Speaking of Mauldin, a few weeks ago he was staring me down. I was ignoring Mauldin, as he was a Sony employee that had exploited one of my copyrights without permission. It's annoying how
these people keep finding me
when I don't want to see any of them. I don't know what they think they are accomplishing. I am not afraid of them, nor do I like them. So exactly what do they think they're doing.
Mauldin is not a good guy. He and his son Jermaine not only ripped off the artists they signed to So So Def, their now defunct label, they also stole copyrights from a slew of writers and producers who sued them. Many writers and producers also complained to the parent label about the thefts they condone (Sony). The Mauldins also started other businesses and didn't pay their employees, who slammed them for it on television and retained lawyers.

STORY SOURCE

BOSSIP Exclusive: Tamar Braxton Involved In Domestic Dispute With Husband Vincent Herbert At The Ritz Carlton In Atlanta

Posted at 10:56 PM on August 22, 2016 - Looks like trouble is still brewing within Tamar Braxton and Vince Herbert's rocky relationship. The couple got involved in an intense physical domestic dispute at the Ritz Carlton in Buckhead Atlanta last night, resulting in Tamar calling the police on Vince. BOSSIP has exclusively learned the details of the incident.
According to our sources, Tamar and Vince got into an extremely heated argument that turned physical. During the altercation, Vince actually bit Tamar on her hand so badly that he drew blood, and she ended up calling the police. Witnesses say that Tamar's finger was in extremely bad shape as she left the premises, and she very likely needed stitches to close up her wound. However, Tamar refused EMS services when they were offered. Vince was apparently NOT arrested, as he fled the scene before police even arrived.
Even more shocking…we hear this isn't the first time that these two have gotten physical. Sources say the couple routinely fist-fights and get into intense, physically violent altercations — something which everyone who works closely with the couple knows. They typically smooth things over and put on a good public face after each blowout…but apparently things got out of hand this time around, and police involvement was necessary...