After a dramatic stand off with police in Los Angeles, singer Chris Brown, has been arrested on the charge of suspicion of assault with a deadly weapon. Beauty pageant winner, Baylee Curran, went to Brown's house at 3AM on Tuesday morning, escorted there by rapper Ray J. Brown had a few friends over, but Curran and another unnamed woman, were not invited guests.
Curran went into a hot tub on Brown's property. After a soak in the hot tub, Curran commented on expensive diamond jewelry a man had on display seeking a sale from Brown. This is where the story gets sketchy. Curran stated she was admiring the jewelry when Brown's friend snapped at her. She alleges Brown then pointed a gun at her and stated "get the f**k out." Curran immediately left and called police.
When police arrived at the Tarzana residence in Los Angeles, Brown refused to come outside and speak to them about the alleged incident. Brown is accused of throwing a duffle bag out of a window containing guns and drugs. After several hours of what is being branded a stand off, Brown finally came out of his home to speak to police. Hours later Brown was arrested and taken to downtown Los Angles precinct. Brown was then booked on the aforementioned charge of suspicion of assault with a deadly weapon. Ray J has denied Curran's claims.
Brown is a convicted felon, drug addict and mentally ill, which are three classifications barring an individual from owning a gun, making it a felony. Rather than going to police first, Curran went to gossip website TMZ (then the authorities second). One has to wonder what Curran was doing at Brown's house at the indecent hour of 3AM, with a group of men (and stripping off to go soak in his hot tub).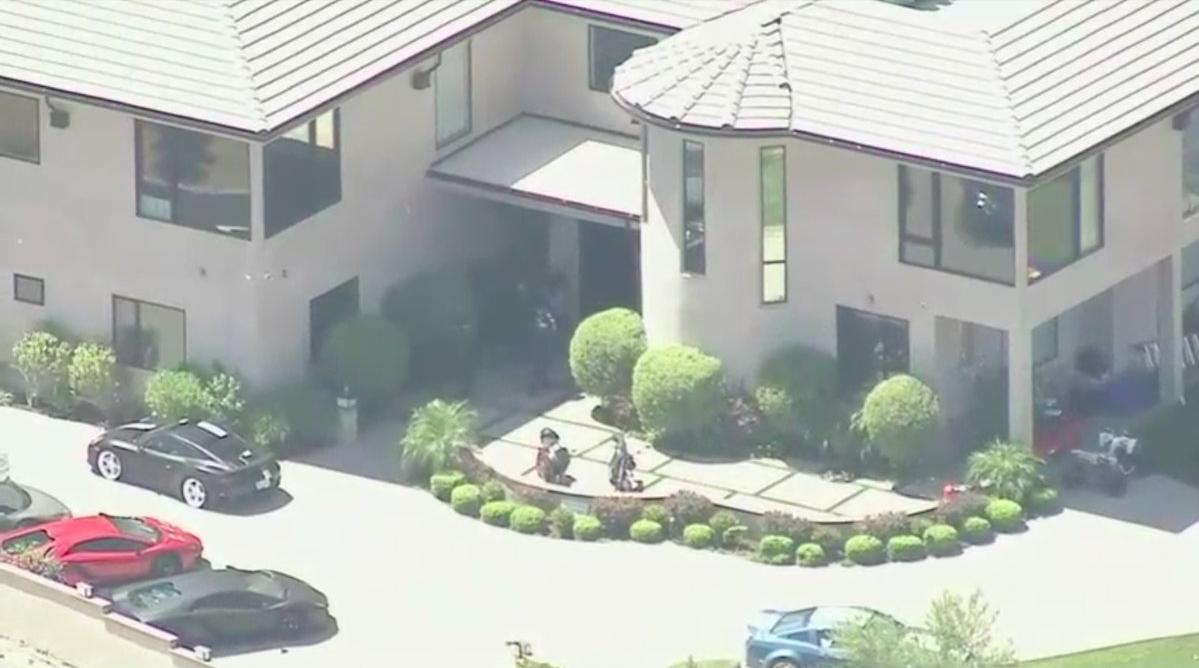 Chris Brown's house during police stand off
Curran is a friend of Nia Guzman, the mother of Brown's 2-year-old daughter Royalty. The two have been in a bitter custody battle, with Brown having been awarded full custody. Guzman has repeatedly demanded $16,000 per month in child support, an increase from $2,500 monthly, which has repeatedly been rejected by the judge.