Jonathan Aledda has been named as the North Miami Beach Police Department officer who shot unarmed African-American behavioral therapist, Charles Kinsey, as he lay on the ground with his hands up in surrender. Minutes before the shooting occurred, Kinsey exited the group home he works in, walking behind 24-year-old mentally disabled patient, Arnaldo Rios, who had walked out of the facility.
Kinsey was following behind Rios for his own safety and to bring him back to the group home. Police became involved and it led to the shooting, after they allegedly received a 911 call from an anonymous person, stating a suicidal man had a gun and was going to shoot himself. So Aledda decided to shoot the allegedly suicidal man instead. Who in their right mind shoots a suicidal person that allegedly posed a danger to himself.
A neighbor stated to the press that she used her binoculars to detect Rios did not have a gun in his hand, but a toy. She informed a police woman on the scene of what she observed through her binoculars, but was told to back away. Shortly after, Kinsey was shot at three times, with one of the bullets hitting his leg. Rios was admitted to the hospital suffering significant emotional trauma, as the autistic man keeps reenacting the incident repeatedly stating "I hate the police!" and "shoot!" among other things, while terrified and traumatized.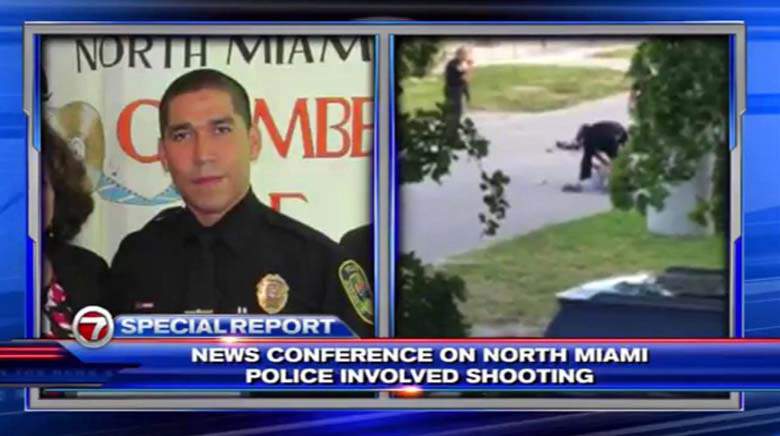 Jonathan Aledda


Due to intense public backlash, the North Miami Beach Police Department is stating Aledda was trying to protect Kinsey by attempting to shoot Rios. However, the public is not buying it. Feedback comments on websites such as the Miami Herald, Miami New Times and news channels reveal, members of the public are questioning why Aledda handcuffed a bleeding and wounded Kinsey, as well as Rios, putting both in the back of his squad car after the shooting.
If Aledda was trying to protect the behavioral therapist, why cuff him while injured. There was a distance between Kinsey and Rios prior to the shooting. How did a member of the SWAT team, who specialize in sharp shooting, miss so terribly, hitting the man he claimed he was protecting.
Clearly, Aledda thought Kinsey was the bad guy, when neither the behavioral therapist or his client had done anything illegal in this matter. People in the disability field in Miami now fear for their mentally impaired patients lives and have been sending out alerts warning staff and the family members of the disabled to be very careful when out in public, especially around police.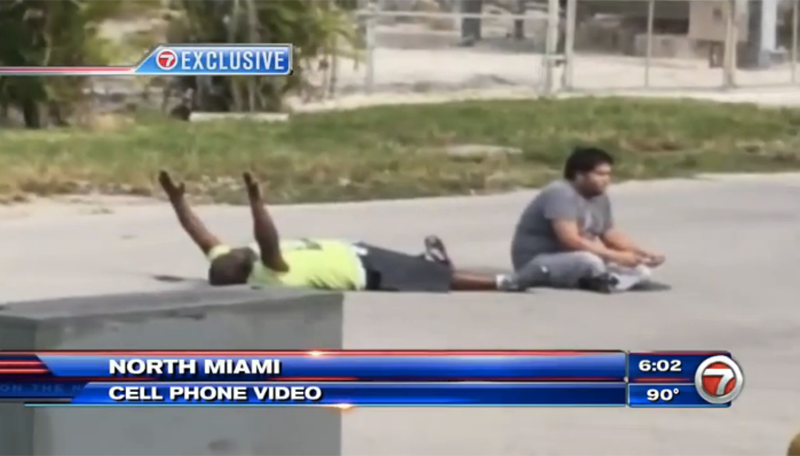 Police shot Charles Kinsey who was laying on the ground, hands up in surrender and stating "Don't shoot me!" Kinsey disabled, autistic patient, Arnaldo Rios, sits beside him understandably confused at why they are being criminally harassed by police.
Aledda has a history of questionable behavior. A complaint was filed against Aledda in 2013 for injuring a store owner. Aledda responded to a 911 call of a robbery in progress at a business in Miami. When Aledda arrived, he assumed the black store owner was the robber, threw him against a wall twice and injured his elbow. Aledda refused to listen to the store owner who was informing him that he was the one who called police for assistance due to the robbery. Aledda opted to rough up, injure and arrest the store owner anyway. Much like Aledda clearly refused to listen to Kinsey, shooting him while assuming he was the bad guy, when he was just trying to protect his mentally disabled patient, Rios. Talk about stereotyping people
STORY SOURCE

Autistic man whose black caretaker was shot by an officer is so traumatized he's stopped eating and has been screaming 'I hate the police!'

Published: 21:44 EST, 23 July 2016 | Updated: 08:44 EST, 24 July 2016 - An autistic man who saw his caretaker get shot by an officer has been left traumatized, distressed and has stopped eating, his family has said. Arnaldo Rios was the intended target of the shooting, which occurred Monday after four North Miami police officers responded to a 911 call about a suicidal man with a gun.
Rios sat cross-legged. He yelled. He didn't obey commands to lie down with his hands up and he fidgeted with a metal object. Meanwhile his therapist Charles Kinsey tried to surrender by lying down on the ground and keeping his hands up. Therapist Charles Kinsey, 46, (left) was shot in North Miami while he was on the ground with his hands up. He was trying to soothe his autistic patient Arnaldo Rios (right), who was playing with a toy truck...