A Miami Police officer shot 46-year-old therapist, Charles Kinsey, who was caring for his 23-year-old autistic student. Kinsey and the student were on the ground. Kinsey, a black man, had his hands up in surrender and was laying on his back stating, "Don't shoot me" and informed the officers his autistic patient had a toy truck in his hand and not a gun.
The police officer opened fire shooting at Kinsey three times. Kinsey was shot in the leg. Kinsey exclaimed, "Sir, why did you shoot me?" The officer responded "I don't know." Rather than get Kinsey help, the officer cuffed and arrested him and his autistic patient. Foul!
The officer's name is being withheld by North Miami Beach Police Chief Gary Eugene. It has since been revealed police were trying to shoot the autistic man, which is even worse on their part. The officer should face criminal charges and be stripped of his badge, because if he does something like this again, he could kill an innocent person. Kinsey should sue them as well. However, police are already discussing a potential settlement.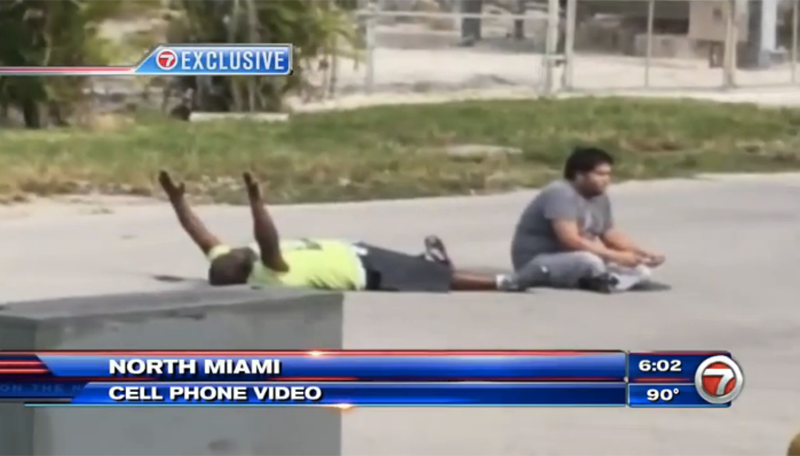 Police shot Charles Kinsey who was laying on the ground, hands up in surrender and stating "Don't shoot me!" Kinsey disabled, autistic patient sits beside him understandably confused at why they are being criminally harassed by police.

This is not the first time something like this has happened in Miami. It reminds me of a similar story regarding what transpired in Miami in 2011, regarding one of the disabled adult students at the school my mother used to teach. All the students were wonderful, mentally disabled adults who were learning life skills and how to function in the world. It was great to see them grow as people in learning everyday things you and I often taken for granted.
One of the disabled students who attended the school was a 56-year-old mentally impaired black man named Ernest. He was a kind, sweet and humorous man, who due to his mental disability, had the mental age of an 8-year-old. He was a very nice man and good person loved by all who knew him. He would say things that made people smile or laugh.
One day he found a toy gun on the street that fascinated him. Officers confronted him. An officer yelled at him regarding the toy, believing the gun was real and shot and killed him. Ernest's neighbors on the street stated to reporters that police should have known he was disabled. If they had talked to Ernest for even a few seconds they would have realized he was mentally disabled. However, they didn't bother. They killed him instead. Everybody was devastated. Ernest was killed like his life wasn't worth anything. He didn't deserve that. Nothing came of the incident, as the police officer got away with it, while Ernest lost his life. It was not right. However, that's the justice system for you - corrupt.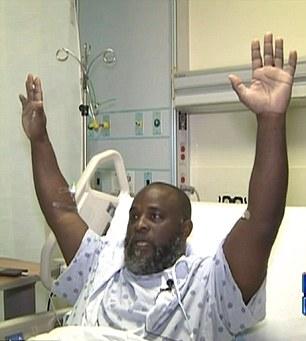 Charles Kinsey reenacts the shooting in the hospital to illustrate the injustice that transpired against him

It was piss poor police work. And this is what troubles me about so many incidents like this, the ease and quickness with which some, not all officers, take a life. Why be so confrontational. Why not exercise some consideration for human life. Why not be negotiators instead of adversarial individuals so aggressively confronting others.
In some cases select officer are putting themselves in trouble in going right up to people then killing them (Alton Sterling, Tamir Rice, Philando Castile, Eric Garner and many others). Why not maintain a safe distance and negotiate with the subject. Talk to them from a safe space. Even use the bull horn from your squad car. Why charge right up to people and shot within seconds, then claim your life was in danger. That's a load of crap. You put your life in danger doing that and often against unarmed people.
If criminals open fire on police, then yes, officers' lives are most certainly in danger. But to shoot at a person who has their arms up in surrender or has their back turned to you running away is patently wrong. That's not justice. That's an execution. That's vengeance. That's anger and vindictiveness stating through actions, "How dare you run away from me."
RELATED READING

N. Miami Beach Officer Shoots Mentally Disabled Man Carrying Toy Gun

August 31, 2011 11:15 PM - North Miami Beach Police are piecing together an officer-involved shooting that left a mentally disabled man dead early Wednesday evening. Officers tell CBS4′s Natalia Zea that a man carrying a rifle was seen walking through a neighborhood in the area of Northeast 155th Terrace and 14th Avenue.
Witnesses say the man even pointing the rifle at a dog at one point. Police say several neighbors called 911 to report the incident. Police say when officers arrived, there was some sort of confrontation and one officer to open fire on the man. But their investigation revealed that the "rifle" was in fact, a realistic looking toy. The injured man was taken to Jackson Memorial Hospital where he later died.
Family members say the man police killed is 56-year-old Ernest Vassell. "They murdered him in cold blood for a toy gun!" cried Vassell's older sister Claire Harding. "That's no reason for you to kill somebody!" Vassell's sisters say they have never seen him with a toy gun, they believe he must have found it somewhere. They say he was mentally disabled after a brain injury as a child and that he has never been violent.
"They could tell him to drop the gun, they say they told him to drop it and he raised his hand, he probably raised his hand to hand them the gun because he is afraid of police," said Harding. The family is demanding answers and changes to the North Miami Beach Police Department. "They should train these police officers better," said Harding. "This is ridiculous, they just go around killing people for nothing."
Police maintain the toy gun appeared to be a real rifle. One officer is on administrative leave while police and the state attorney's office investigate.