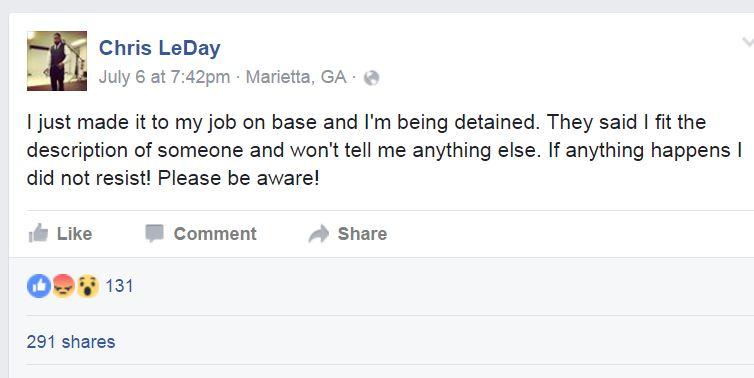 Atlanta man, Chris LeDay, was unjustly arrested by police, in an act of revenge, after he posted shocking video online, revealing police officer, Blane Salamoni, mercilessly shooting and killing Alton Sterling in Louisiana. LeDay works at Dobbins Air Reserve Base. LeDay stated police detained him simply stating he fit the description of someone, but initially would not say regarding what crime.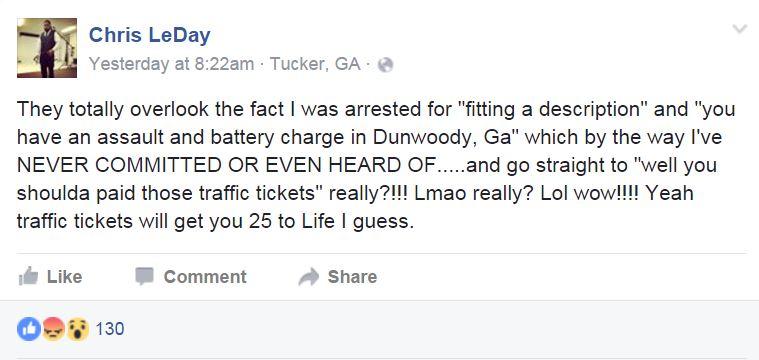 LeDay was handcuffed and shackled like a murderer and told it was in reference to "unpaid traffic tickets." It is highly unusual to shackle someone for parking tickets. The government is being nasty to LeDay over doing his civic duty in exposing a terrible crime - murder. To single out LeDay for such treatment is discriminatory and abusive. When police engage in such behavior, it only makes the problem worse. LeDay spent the night in jail and was hit with $1,231 in fines.
LeDay did not film the shooting, but did upload it to the internet. LeDay and the person who filmed the video did nothing wrong. The law permits people to film such incidents in public settings. The government needs to concentrate on the police officer that killed Sterling - Blane Salamoni. His partner, Howie Leake II, should also be prosecuted for contributing to the murder of a citizen in acts of police brutality.

STORY SOURCE

Man Who Posted Alton Sterling Shooting Video Has Been Arrested By Police

July 10, 2016 - 24 Hours after the footage of Alton Sterling being shot and killed by Baton Rouge police went viral, the man who initially posted the clip online has had his own brush with law enforcement. Chris LeDay, an Atlanta native who did not film the shooting video but was the first person to post it online, helped the story gain national attention when he shared it on his Instagram, Twitter and Facebook accounts. As the story began to circulate into being front page news, LeDay was arrested while on the way to his job at Dobbins Air Reserve Base.
Recalling the incident on his Facebook page, LeDay believes his arrest was retaliation for sharing the clip. Speaking with the blog Photography Is Not A Crime, he says that he was detained by military and civilian police officers and told that he fit the description of someone who is wanted for battery. After being handcuffed and shackled, he was taken to the police station where he was reportedly told that he was arrested for unpaid traffic tickets...