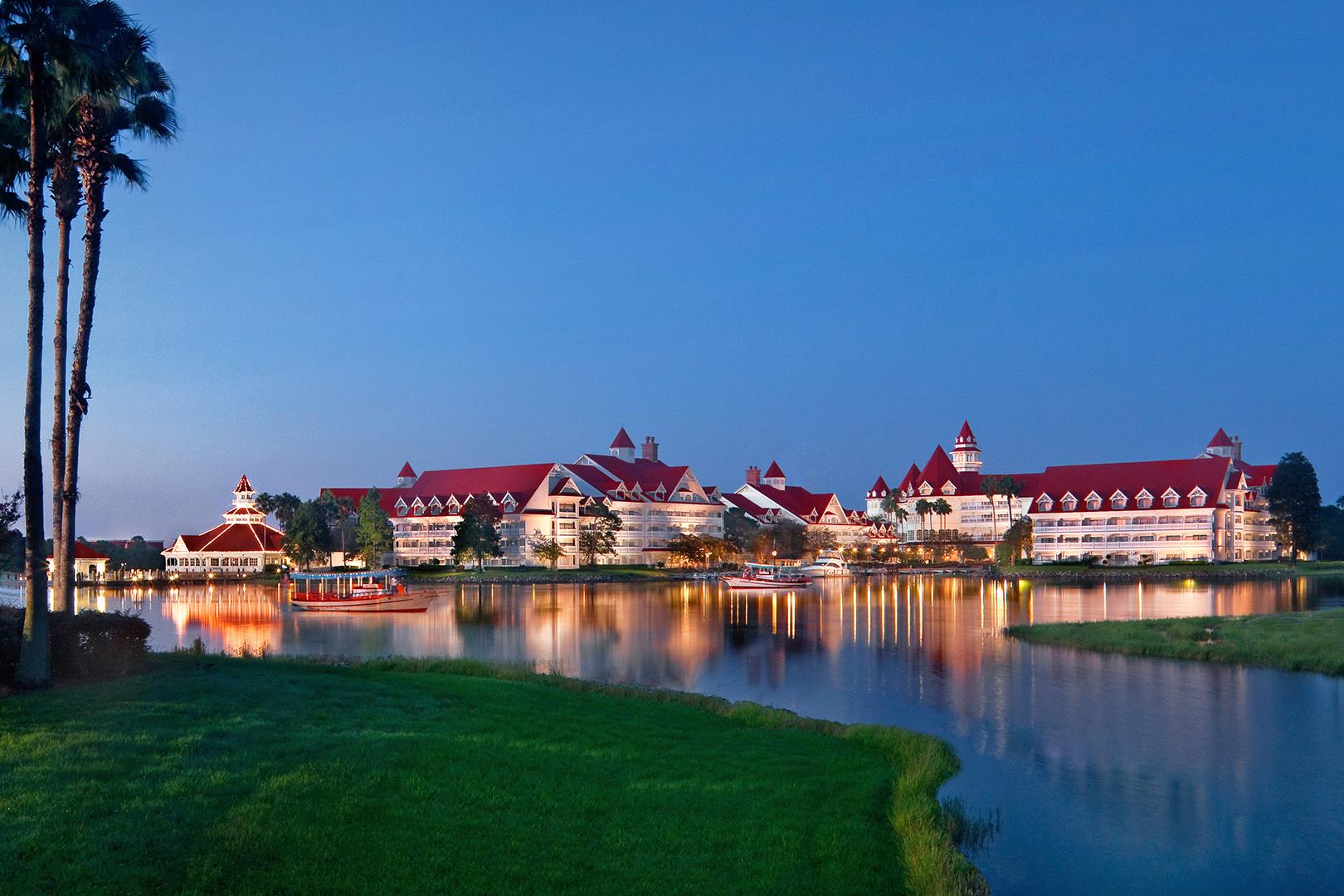 Disney World's Grand Floridian hotel and spa in Orlando, Florida
The state of Florida has been faced with one tragedy after another over the past few days. Hurricane Colin circled the coast causing heavy rains and winds. "The Voice" talent show star, Christina Grimmie, was murdered in cold blood by a deranged fan, who was stalking her (he killed himself as well). On Sunday morning, Pulse gay and lesbian night club was the subject of a terrorist attack leaving 49 dead and 53 wounded, at the hands of ISIS terrorist Omar Mateen. Florida Governor, Rick Scott, has declared a state of emergency and publicly complained President Obama has not called or visited the state.
Last night, a 2-year-old boy was dragged into the water by an alligator at Disney's Grand Floridian Resort and Spa. A family of five was near the water at the Disney resort, when an alligator surfaced and dragged the child under the water. The boy's father tried to save him, but sadly was unable to, due to the sheer strength of the beast. That poor family. Alligators see humans as adversaries.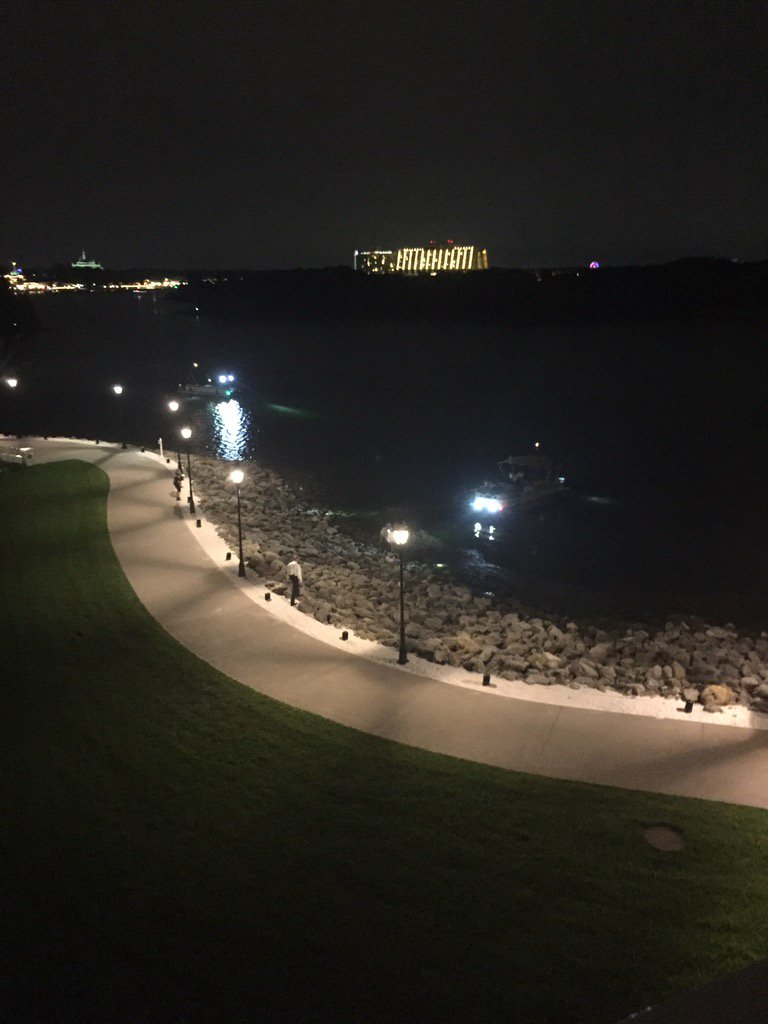 A search is being conducted along the water at Disney's Grand Floridian hotel and spa for missing toddler

There is an alligator problem in Florida and the government needs to do something about it (cull them). I remember in the mid-1990s, I was at Bayfront Park in Downtown Miami, Florida giving homeless people food and money on Christmas Eve. When I was done, it was about 7PM. I stopped to look at the water for a bit. After a few minutes, I saw the back of a large animal surface right in front of me and for the life of me couldn't figure out what it was based on its appearance, as certain animals are not known to go in Biscayne Bay.
I didn't see the face or tail of the animal. The animal had ridges on its back. I wondered if it was a manatee whose back had been cut up by a boat propeller, another problem in Florida. However, the ridges on the back of the animal were too perfect, symmetrical and natural looking to have been healed wounds from a boat propeller. Then, I wondered if it was a dolphin, as they are known to be in Biscayne Bay, but they only have one fin on their back, not over a dozen ridges.
It didn't dawn on me until last week that it was an alligator I'd seen in Biscayne Bay in the mid-1990s. Last week I read an article about a massive alligator walking on a golf course in Palmetto, Florida. The gator was so big, it looked prehistoric. I couldn't believe it, but it reminded me of what I had seen in the water by Bayfront Park in the mid-1990s.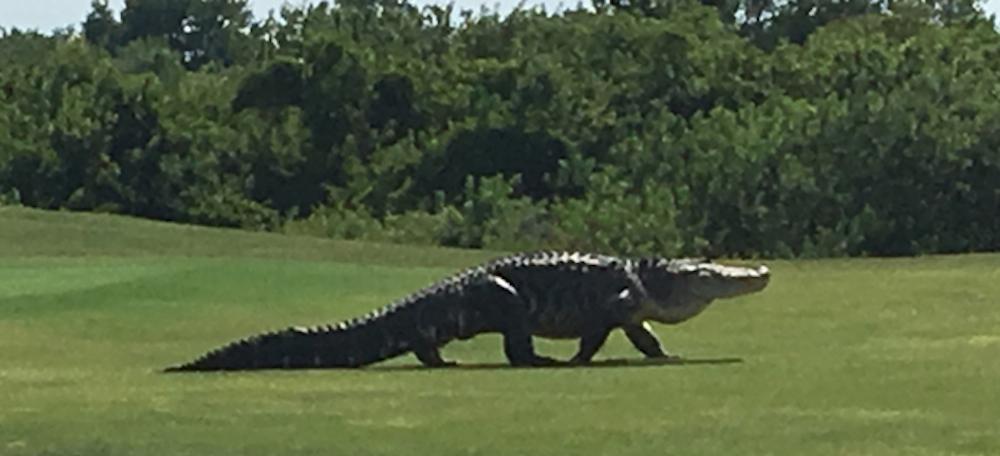 Alligator walking on golf course in Palmetto, Florida last month. Alligators in Florida didn't used to be this big or surface in such public places.
The golf courses in Florida have artificial ponds built in and gators are hiding in some of them. A couple years ago, a man who worked at a golf course in Florida, whose job was retrieving golf balls from the artificial ponds, lost an arm when he went into the water, which unbeknownst to him, had a gator inside it.
Even sharks are coming in close on Miami Beach and other places off the coast of Florida. 10-years ago, there weren't so many shark sightings in Miami, Florida. However, over the past decade, it has been happening much more. Something is bringing the sharks closer to the shore. It could be a change in the temperature of the water or a change in the contents of marine life and what's being dumped into the water (what the larger animals are consuming).
There are all sorts of imbalances with the waters in Florida, via a problem that did not previously exist in this manner. There's been a significant amount of dumping in Biscayne Bay and the Everglades in Florida, damaging the natural ecosystem over the past 30 plus years. People illegally import exotic fish, snakes and other animals as pets from foreign countries, that are not indigenous to the state, grow tired of them, then dump them in Florida's waters (criminals have even dumped human bodies and cocaine in the Everglades, as seen on the news). People have also dumped garbage in the water.
When I was about 10-years-old my class took a school field trip to the Everglades, put on protective gear and went into the water to catch small marine life that we got to look at under a microscope. It was fun. Now, it is dangerous to go into the waters in that manner (Everglades). With all the drug money that has flown through and currently is in the state of Florida, the government should have put some tax money aside to clean up the waters of Biscayne Bay and the Everglades, among other places, but for years, many excuses have been made.
STORY SOURCE

Authorities search for boy dragged into water by gator
June 15, 2016 - ORLANDO, Fla. (AP) — Authorities in Orlando are searching for a 2-year-old boy who was dragged into the water by an alligator near Disney's upscale Grand Floridian Resort & Spa. Speaking at a news conference early Wednesday, Orange County Sheriff Jerry Demings says the family of five from Nebraska was on vacation and wading in a lake Tuesday evening when the attack happened. Demings says the father tried to rescue the child but was unsuccessful. Demings says more than 50 law enforcement personnel are searching the Seven Seas Lagoon for the boy and will keep looking. Demings says there have been no other recent reports of similar alligator attacks at the lake.