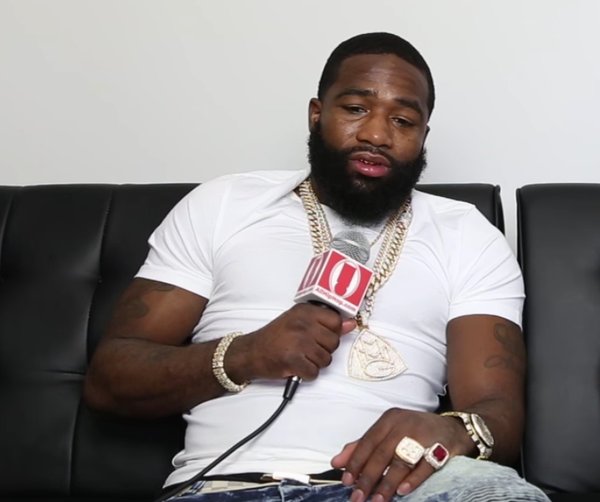 Adrien Broner


Ohio boxer, Adrien Broner, recently did an interview about not making weight for his April 1, 2016 fight against challenger, Ashley Theophane. It cost Broner $50,000 that went to Theophane as a bonus. Broner was stripped of his WBA junior welterweight title days prior to the fight, for weighing in at 140.4 pounds, which was .4 lbs over the limit for the weight class (the catch weight).
Broner didn't take training seriously enough and maintained a high calorie diet in the lead up to the fight. He is also an alcoholic, which causes one to retain fluid. I sounded a warning on Twitter two weeks before the fight, as I realized he was not going to make weight and he ended up not doing so. The catch weight exists to ensure a fair, even fight between boxers. However, he did put in a major effort after that point to reach the catch weight and missing it by 4 ounces really does not constitute an unfair advantage to an opponent (provided there is no massive dehydration masking the true weight, with dehydration before the fight sending the body mass up a good 10 pounds, at the true weight).
Broner's weight had significantly come down and it showed on his thinned out frame. Both boxers were basically the same size. However, the whole episode had me thinking, why wasn't he being weighed every few days. It's his career and something that needs to be taken seriously. Broner wants to be a big promoter, having started AB Promotions, to handle his business affairs. However, to have the best results in business, you have to be disciplined and professional on all levels.
Broner stated to the Fight Hype website about failing to make weight, "It's just something that a reporter like you guys will never understand, because you guys haven't pushed yourself for three months, trying to get down to the weight, then once you hit that wall you just can't go no more...It was over. I grew out of the weight class."
Broner has now decided to move up to a new weight class. It's clearly too stressful for him to be a light weight. Therefore, it is understandable he would seek to do this. However, the question is will he quickly adapt to fighting in a new, heavier weight class, after several years as a lightweight. Recently, Broner predicted his friend Amir Khan would beat Canelo Alvarez after moving up two weight classes. However, as I predicted, Canelo won the fight. There are pros and cons to moving up to a new weight division.
Broner stated in another interview that in the days leading up to the Theophane fight, he didn't eat for days, just kept sleeping and running, which is unsafe. That type of crash dieting can create heart problems. This is why some boxers discipline themselves to stay within a certain weight that corresponds to their division year round. Broner likes to party, eat pizza and fried chicken and drink large quantities of alcohol. There's nothing wrong with relaxing a bit, but gaining 20-30 pounds inbetween fights, then engaging in drastic dieting to lose the weight in a short space of time, is not good for anyone's health. Boxers should try to stay within 5-pounds of their weight class, as you can easily drop 5 pounds with a few days of roadwork (jogging).
For years Floyd Mayweather maintained his weight year round and even in retirement is still hovering at that same general weight. Boxers such as Canelo Alvarez and Deontay Wilder also routinely stay within a few pounds of their weight class inbetween fights. To be fair, when some boxers lose a fight, especially a big one, it is a crushing blow. They use food to comfort themselves and the pounds pile on. If they have no upcoming bouts for several months or more, the weight creeps up on them and by the time the next fight rolls around they've gained 20 or more pounds. As boxing is their bread and butter, pardon the pun, they have to make a conscious effort to stay within a few pounds of their weight class. You can't give up on yourself.