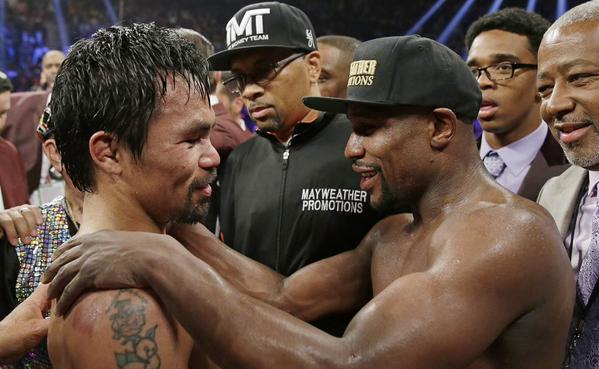 Manny Pacquiao and Floyd Mayweather after May 2, 2015 fight
The career earnings of recently retired 39-year-old boxer, Floyd Mayweather, is approximately $1 billion dollars. The career earnings of Mayweather's top rival, 37-year-old Manny Pacquiao, who announced his retirement as well, is approximately $500,000,0000, according to an article published on the Forbes website. Those are staggering figures for any athlete in any sport. There are a number of other boxers who have become multi-millionaires from boxing as well.
Some may scoff at earning a living from boxing, but many athletes have used the sport to support themselves and their families quite well. They've proven boxing can be a great source of income. It takes hard work, dedication, discipline and practice, but it can be done. It also takes good business management. When some people hear and read about the big financial figures being tossed about, it sometimes brings out the greed and envy in them and they try to rip boxers off. So, you have to be careful. Know what you are signing and how your money is being collected and spent.
There are things you can do to help and protect yourself. My dad, a former professional athlete and coach, is of the belief it is a good idea that young boxers seek out the knowledge and assistance of older, veteran boxers. His advice regarding the subject is, "Find a good, old boxer." They can give you tips on life inside and outside the ring, in sharing their experiences. Many of them enjoy being in boxing gyms and soaking up the atmosphere, long after they've retired. Talk to them and see what you can learn.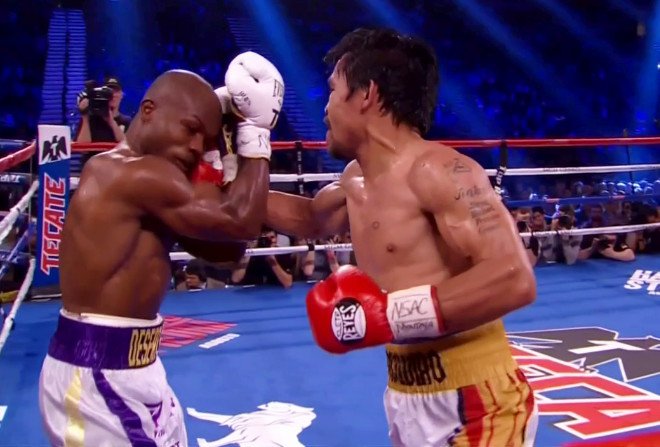 Timothy Bradley and Manny Pacquiao during April 9, 2016 fight


Mayweather, for instance, had the benefit of his father and uncles, former professional boxers, training and guiding him. It made a big difference. He benefited from their experiences in the ring. Mike Tyson was trained by boxing veteran, Cus D'Amato, who was a boxer and had decades of experience as a trainer when he took Tyson under his wing. Current world champ, Tyson Fury, was trained by his dad, a former boxer (as well as his uncle Peter Fury) and he gained from their experiences. There are tricks of the trade and when you have someone who has been through it helping you with your career, it will benefit you.
Be careful listening to friends who are not knowledgeable on the sport. They may mean well (while some are just hanging around hoping you'll make money and acquire other material things they can get) but if they don't know the sport and they are trying to assist in training you, they could be telling you things that will lead to you forming bad boxing habits that could cause you trouble in the ring. Keep your practices and form textbook correct, punch perfect.
Even though you are just starting your career, you have to think ahead. Don't do things now that you will regret later. I've often written in this column that entertainers and athletes need to keep their image as family friendly as possible, because it sets a good example and will lead to endorsements that can support you and your family. People make millions of dollars from endorsements alone (this is on top of purse money). So, stay out of trouble and be careful of what you post on social networking.
STORY SOURCE
Floyd Mayweather: By The Numbers

May 2, 2015 @ 06:49 PM 48,556 views - Floyd Mayweather (47-0) faces Manny Pacquiao (57-5-2) in the "Fight of the Century" Saturday night from the MGM Grand Garden Arena in Las Vegas. The sports world has waited nearly six years for boxing's two biggest stars to square off in the ring with many figuring it would never happen thanks to the animosity between the camps of the two champions. But the money was too much to resist for all parties involved and off we go. Win or lose, no one will make off better financially on Saturday than Mayweather. He stands to make at least $150 million from the bout cementing his place on top of the world's highest-paid athletes.

$99.99: Record cost of Saturday's fight in HD. Standard definition is $89.99.

$400,000: Value of Rolex watch Mayweather received from the MGM Grand as a gift.

$750,000: Cost for Mayweather to get out of his Top Rank contract in 2006. It was the best investment in the history of boxing.

2.48 million: Record PPV buys for his 2007 fight against Oscar De La Hoya.
5.9 million: Mayweather's Twitter TWTR +4.83% followers, which ranks seventh among active American athletes. LeBron James leads among U.S. athletes with 20.8 million. Mayweather also has 10 million Facebook fans.

14.5 million: Total career PPV buys for Mayweather fights, which ranks first all-time.

$25 million: Mayweather has earned at least $25 million for each of his past 10 fights. Saturday night marks No. 11.

$41.5 million: Record guarantee Mayweather received for his 2013 fight against Canelo Alvarez.

$72 million: Record live gate for Saturday's fight. The previous record was $20 million for Mayweather-Alvarez.

$73 million: Mayweather's total earnings for his fight against Alvarez, including his share of PPV revenue.

$123 million: Cash in Mayweather's bank account, according to a 2013 ESPN The Magazine profile, before his $73 million Alvarez payday.

$153 million: Record PPV revenue for Mayweather-Alvarez.

$200 million: The amount Mayweather says he will make from Saturday's fight. He's being a tad optimistic unless the PPV buys go nuts. Mayweather posted on Instagram in 2014 that he would make $70 million from his first Marcos Maidana fight after the PPV money was counted. Mayweather made $32 million.

$420 million: Mayweather's career earnings ahead of Saturday's fight.

$873 million: TV revenue generated from Mayweather's 13 PPV fights, which ranks first all-time. He'll move past $1 billion Saturday night.
http://www.forbes.com
Manny Pacquiao Set To Retire After Bradley Fight With $500 Million In Career Earnings
Apr 9, 2016 @ 10:00 AM 22,269 views - Update: Pacquiao won a unanimous decision against Bradley and reiterated that he is retired "as of now." Manny Pacquiao squares off in the ring against Timothy Bradley Saturday night at the MGM Grand Garden Arena in Las Vegas.

Pacquiao says it will be his final bout, although many are skeptical, including his trainer Freddie Roach and long-time promoter Bob Arum. Pacquiao reiterated his stance at Wednesday's press conference as he plans to focus on his political career with a senate election on the docket next month in the Philippines. "This is my last fight," he said.

If it is the end of the road, Saturday's fight will wrap an extraordinary run where Pacquiao rose from living in a cardboard shack in the Philippines to one of the most marketable and bankable athletes on the planet who won world titles in a record eight divisions. The result after Saturday: Pacquiao will have earned $500 million from boxing purses and endorsements during his two-decade professional career...


http://www.forbes.com
RELATED ARTICLES