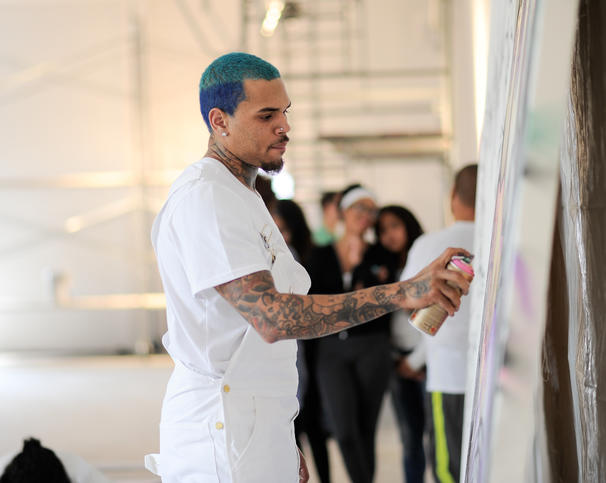 Chris Brown

R&B singer, Chris Brown, has been hit with another lawsuit. Brown has roughly a dozen against him, alleging everything from assault endangerment. The latest has been filed against Brown by graffiti artist, Konfused, real name, Andre Khazrei, who obtained a trademark for his name and registered copyrights for his art work and clothing line. Kofused has been using the name since 2003.
Konfused alleges in a lawsuit that Brown recently stole his trademarked name, changing one letter to rename it Konfuzed, then using it for the singer's graffiti work and clothing line. Konfused also states Brown recently made an error and signed a painting at the Grammy Museum "Konfused" rather than "Konfuzed" which he states is a dead giveaway the singer knowingly ripped him off. In the lawsuit, Konfused demands Brown stop using the moniker and pay damages for infringing his trademark and copyrights.
The names are extremely similar and even confused me momentarily while writing this article. Brown needs to use his own name, which he has already established anyway, because this is unquestionably causing "confusion in the marketplace" as the frequently employed legal phrase goes, regarding the subject of trademarks.
STORY SOURCE

Chris Brown Sued Street Artist Konfused ... You Jacked My Tag!!!
4/6/2016 12:49 PM PDT - Street artist Konfused is just that ... after Chris Brown snatched his tag and slapped it on a clothing line ... according to the lawsuit he's filed against the singer. In legal docs, Andre Khazrei says he's been Konfused since 2003 ... long before Breezy created the very similar artistic alter ego, Konfuzed -- and started tagging walls and signing paintings.
Andre says he got a trademark for Konfused t-shirts and a bunch of other merch -- which is why he says Chris' Breezy Konfuzed clothing line is a total rip-off, which confuses the marketplace. His proof? In the docs, Andre says Chris himself screwed up and signed a painting at L.A.'s Grammy Museum with "Konfused" ... instead of using a 'Z.'