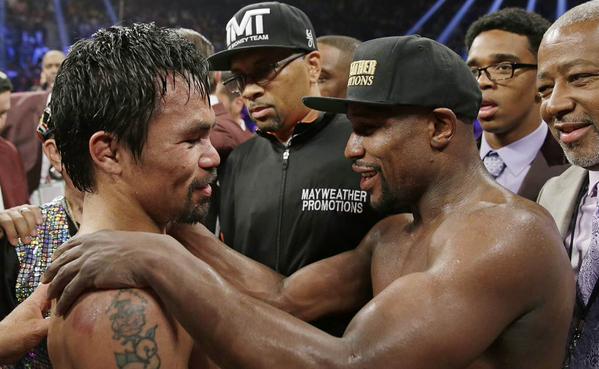 Manny Pacquiao and Floyd Mayweather
The New York Times quoted Wu Ching-kuo of the amateur boxing federation as having stated, "Professional boxers will be at Rio: I don't know how many, but they will be." The amateur boxing board has been broaching the subject of potentially allowing professional boxers to compete at the Olympics. The issue is scheduled for a vote at the end of May 2016. Some are in favor of it, while others are against the idea. Amateur boxers fight with headgear and are not used to the hardcore level of fighting that goes on in the ring at the professional level. It is something they have to be somewhat eased into in order to become accustomed to in the ring.
Amateur boxers fighting professionals at the Olympics likely would not be a level playing field (though it would give some professional boxers the chance to finally represent their country, such as the Philippines Manny Pacquiao, who has expressed an interest in winning his nation's first gold medal and I don't blame him). Imagine an amateur boxer having to face Manny Pacquiao, Floyd Mayweather, Tyson Fury or Deontay Wilder in the ring. It would be an intimidating and daunting task. The professional boxer would likely use experience to win. However, there is also the possibility it would bring up the level of talent in amateur boxers, which could aid in their development (provided the professional boxer doesn't punch the amateur to the moon).
As stated in the column previously, you can see the progression in most boxers from their first professional fight to approximately their tenth. The development begins to show by the end of that time period. The body language exudes more confidence. The punches become more precise. By approximately their twentieth professional fight, if they progress correctly, boxers look like confident, skilled pugilists, who punch correctly and in a controlled manner.