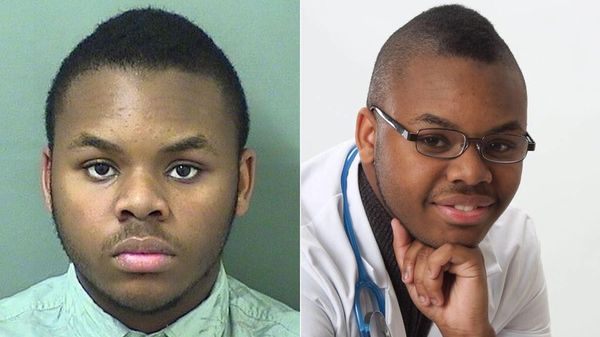 Malachi Love-Robinson's mugshot (left) and a photo from his medical website (right)
Growing up I enjoyed the sitcom "Doogie Howser M.D." Being a child prodigy with a high IQ (when the show aired), I was fascinated by the intelligence and precociousness of the 15-year-old fictional doctor that was the center of the show. I still occasionally watch the show, that is now available on DVD and select channels.

Malachi Love-Robinson in court under arrest
Apparently someone took "Doogie Howser M.D." the wrong way. 18-year-old Florida teen, Malachi Love-Robinson, has been posing as a doctor since he was an underage minor. There was an incident of Love-Robinson posing as a doctor in a Florida hospital and attempting to treat patients, with no license to do so.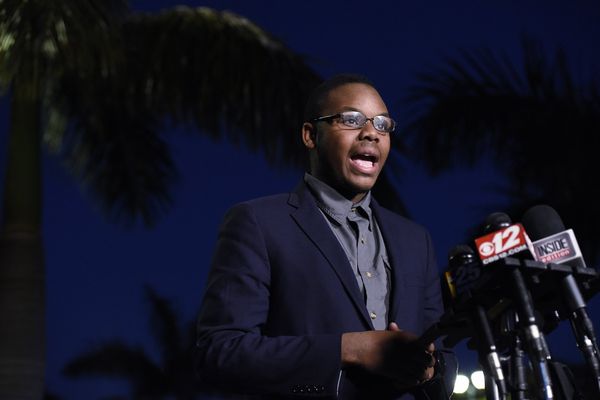 Malachi Love-Robinson prior to his arrest

After the hospital scam unraveled, Love Robinson opened his own medical clinic/urgent care, again with no license, while labeling himself a "medical doctor." This was highly illegal, inadvisable and very dangerous, due to the complexities of the human body and medicine. No one should pose as a doctor, as innocent people could die under unlicensed medical care.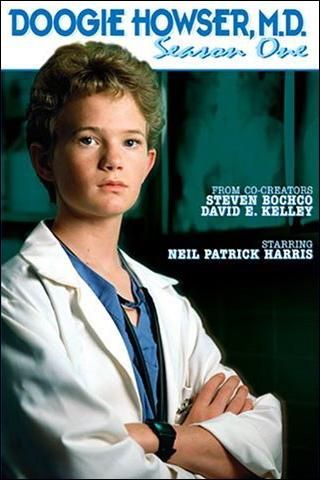 Doogie Howser, M.D.
While posing as a medical doctor, Love-Robinson made house calls and illegally obtained the credit card data and other personal financial information of an elderly woman. Love-Robinson stole $35,000 from the bank information and credit cards of the elderly woman and used it to pay down his loan and credit card debts. As such he was arrested on five charges of fraud and one of grand theft.
He is also under indictment in two other criminal cases for posing as a doctor. The presiding judge in the case has order Love-Robinson undergo psychiatric evaluation. Love-Robinson is what is known as criminally insane. Not all mentally ill people commit crimes. Many are law abiding. However, Love-Robinson is mentally ill to go to a hospital and pose as a doctor, open his own clinic and steal money from patients.
Side Bar: Florida has a problem with unlicensed people practicing medicine. I remember over a decade ago, I went to a medical clinic in Miami's Westchester area, off S.W. 24th Street, for a regular check up. The clinic was advertised in the phone book. When I got there I did not like the smell of the office (it was the only medical office I'd ever been in that smelled bad). From the odor in the office, I got the distinct impression that medical waste was not being disposed properly (the odor permeated the place), so I declined to have the doctor examine me (I wasn't sure the equipment would be properly sterilized). However, there is a record that I had an appointment there, spoke to the doctor and declined to have him examine me. A few months later, while watching the news in Miami, I saw police hauling the so-called doctor out of his office in handcuffs. Turns out he did not have a license to practice medicine.
Practicing medicine without a license is dangerous. Certain medications can cause blindness, heart attacks and or strokes in people who have specific preexisting conditions that could lead to death. Certain medications can also cause terrible allergic reactions in people with specific preexisting conditions that could lead to death. An unlicensed "doctor" can misread symptoms and in doing so, miss a deadly disease in a patient in the process, via misdiagnosis. Doctors train for years to become medical professionals and have to constantly keep up with ever changing medical guidelines from medical boards, associations and drug manufacturers.

STORY SOURCE

Judge: 'Mental health assessment' needed for teen 'doctor'


2:56 p.m. Wednesday, March 2, 2016 - Weeks after Malachi Love-Robinson made national headlines as "Dr. Love," the teen who authorities said posed as a medical doctor was back behind bars this week. Authorities say Love-Robinson allegedly stole nearly $35,000 from a patient to pay for his car loan and credit cards. Love-Robinson, 18, was arrested Tuesday on five charges of fraud and one charge of grand theft — in addition to previous charges in two separate cases.
Judge Joseph Marx told Love-Robinson and his lawyer Wednesday morning that the 18-year-old would be released from jail on the condition that he seeks a mental health evaluation. He was granted supervised release. "I'm not concerned about your client not coming to court," said Marx to Andrew Stein, Love-Robinson's attorney. "(A mental health assessment) is exactly what I think is necessary here."
The directory in the lobby of the West Palm Medical Plaza still lists the office of Malachi Love-Robinson Wednesday, February 17, 2016. Love-Robinson, who called his practice New Birth New Life Holistic and Alternative Medical Center & Urgent Care, was arrested Tuesday for practicing medicine without a license. According to his most recent arrest report, Love-Robinson used a patient's bank information to make payments toward his auto loan and credit card debt.
The woman came to him seeking help with a stomach problem that she said medical doctors couldn't diagnose. Love-Robinson claimed to be skilled in holistic medicine and a licensed Naturopathy Doctor, a license the state no longer issues. In a separate case, the woman told police Love-Robinson stole several checks from her, for which he was charged grand theft and fraud in mid-February. The sheriff's office later learned that Love-Robinson used her bank information to make $34,504 worth in payments toward a loan for a Nissan and Citibank and Capital One credit cards, the arrest report says.