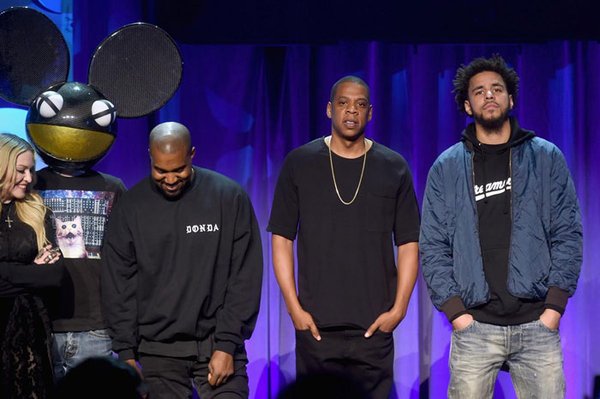 Tidal's Madonna, DeadAmu5, Kanye West, Jay Z and J Cole
As Jay Z and Madonna's Tidal music streaming service falls, skidding towards bankruptcy, electronics giant Samsung, is reportedly interested in buying in the failed business. The Swedish company Aspiro was purchased and renamed Tidal. The price tag was $55,000,000, underwritten via loans and personal funds by recording artists Jay Z, Madonna, Rihanna, Kanye West, Micki Minaj, J. Cole and DeadAmu5, among others. It was launched as an equity business run by the aforementioned entertainers, but adopted the music streaming model pioneered by rival Spotify.
Spotify is worth an estimated $3 billion and has 30 million subscribers (Apple, who is new to music streaming has 11,000,000 subscribers and Tidal has now has 1,000,000 but Tidal's users are mostly free accounts that are trial memberships). Tidal's owners immediately thought they would become billionaires. However, that's not how things worked out. Approximately 25 people fled Tidal, as the new owners have been engaging in criminal activity, such as falsifying sales, keeping two sets of accounting books, withholding royalty statements from recording artists who signed up the service in acts that constitute breach of contract, financial fraud, conversion and racketeering.
This week it was announced, Tidal has been sued for doing the very thing the company said a year ago it wouldn't do - not pay artists. The band, The American Dollar, sued Tidal for $5 million American dollars. Oh, but it gets worse. Coincidentally (not really) yesterday Jay Z and company claimed it has fired Tidal's CFO Chris Haart and COO Nils Juell (trying to shift the blame to the two executives for Jay Z and Madonna's unlawful conduct - after blaming
Harry Fox
and prior to that, Universal, for all their self-induced problems). However, other reports indicate both men left Tidal, adding to the grand total of 25 people that already fled the lawbreaking company. Weeks prior Tidal's Senior Vice President, Zena Burns and Chief Information Officer, Vania Schlogel left.
Any entity that purchases Tidal is going to be faced with serious liabilities on a failed business. Tidal doesn't even have the rights to much of the music they are illegally streaming. Major labels also hate Tidal for botching their releases (and they seek to botch more releases to get them as Tidal exclusives). Vanity Fair magazine wrote, "On top of everything else, music industry executives aren't confident about Tidal, either. In a Billboard survey, 71 percent say they think Tidal will die out within a year. A more optimistic 17 percent gave Tidal one to two years before it folds." In short, they want Tidal gone.
In response to an item Jay Z and Madonna floated to the New York Post about Tidal and a potential sale, Samsung stated to the newspaper, "It is our policy to not comment on rumors or speculation."
RELATED ARTICLES