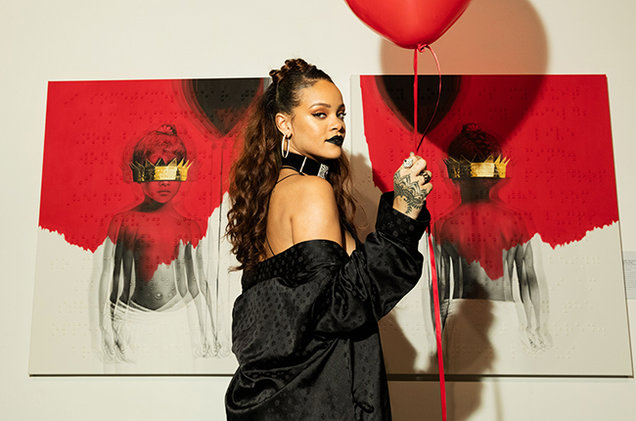 Rihanna




Lewd singer, Rihanna, is being heavily ridiculed online as news was released revealing her new, frequently delayed album "Anti" is only being credited with selling a paltry 460 copies (and that is in streams, which means people only listened to it and did not buy it) while the rest, 1,000,000 were given away for free. Rihanna cut a deal with Samsung who bought 1,000,000 copies of the album "Anti" for $1 each and gave them away to the public for free.

Embarrassed by the bad publicity and claims her music career is dead and over, Jay Z and Rihanna lied stating "Anti" had sold 400,000 overnight. However, Forbes magazine rubbished the claims as highly unlikely, branding it a lie. The truth came out today that "Anti" is only credited with selling 460 that weren't actually even bought by the public either, as they represent streams on Tidal. This confirms what the Judiciary Report and others have repeatedly stated about Jay Z and company, regarding their unlawful habit of lying about financial figures to fake the look of success.

Billboard and Soundscan are rejecting the 1,000,000 copies it as a dishonest scam that violates the rules. However, the RIAA has certified "Anti" platinum, but are being mercilessly mocked on social networking for doing so, with audiences labeling it cheating. As discussed in the column years ago, Jay Z was caught red-handed running a Soundscan scam, via paying retailers to run each copies sold of his CDs through the register 3-5 times, which greatly inflated his sales.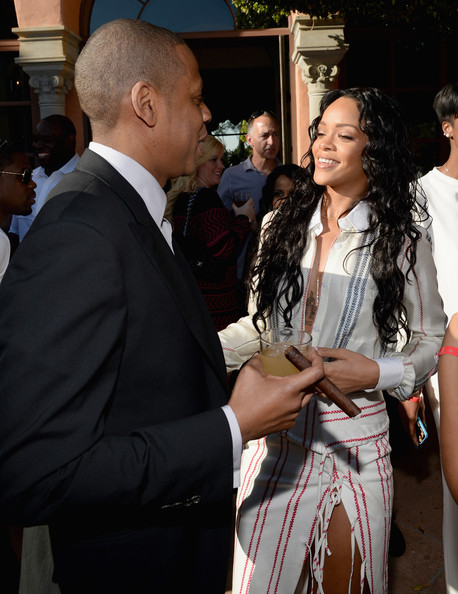 My sources informed me that Samsung is furious at the bad publicity and plans to slash the tour money even more than what was negotiated, which is nowhere near the $25,000,000 Jay Z and Rihanna floated to the New York Post. They were not promised even half that figure and the money is to book arenas and pay other costs associated with her upcoming tour slated for this summer.

The tour is already in trouble, as she has no new hits to sell it. Rihanna's last four singles have flopped ("Four Five Seconds" "Bit*h Betta Have My Money" "American Oxygen" and "Work"). Ironically, "Four Five Seconds" "Bit*h Betta Have My Money" and "American Oxygen" were originally apart of "Anti" but were dropped as they had flopped. Rihanna's new single "Work" featuring Drake is flopping as well.

The reviews by mainstream outlets are brutal, but deserved. Rihanna stole and slapped together other people's preexisting copyrighted works, such as Just Brittany's song and separately some of

my preexisting copyrights. The rip offs by Rihanna sound tragic and dull, as she has deteriorated and devalued the original works. People work hard to put their music together and not for lazy, money grubbing thieves to steal it.






STORY SOURCE




Rihanna's 'ANTI' Only Sold 460 Copies (Yes, You Read That Right)


February 1, 2016 - 4:41 pm - Some crazy things happen when you give your album away for free. As we reported last week, Rihanna's long-awaited ANTI, which finally dropped (to polarizing reception) last Wednesday (Jan. 27, 2016), has already been certified platinum by the Recording Industry Association of America (RIAA). Unfortunately for Rihanna, her achievement is somewhat undermined by the fact that Samsung, a sponsor of her upcoming world tour, purchased those copies — all one million of them — and gave them away for free. Do you know who doesn't count albums given away for free by phone companies? Literally everyone except for the RIAA, including Billboard.

Billboard reports that ANTI debuts at No. 27 on their Album 200 chart, due in large part to streams of "Work," the album's first single, and other album tracks made available on TIDAL between Wednesday and Friday. (It also apparently counts only 460 copies of the album sold before the Friday cut-off. If you need a quick math refresher: No. 27 is pretty far away from No. 1, and 460 copies is far, far from platinum.

Meanwhile, the album's lead single, "Work" (Feat. Drake), debuts at No. 9 on the Billboard Hot 100. Does Bad Gal have another No. 1 on her hands? I suppose we'll see! Of course, we're having a bit of fun with the fact that ANTI debuted on an a day that was not a Friday and that it wasn't available to purchase for more than a day after it was released. Things will look much better for Rihanna next week: with a full week of actual sales (and nearly a full week of being perched atop the iTunes Albums Chart), she is likely to score her second No. 1 album after all. Still. 460 copies. Damn.

Tidal Claims That Rihanna's Album Has Already Sold 400,000 Copies

an 29, 2016 @ 12:27 PM 9,224 views - Rihanna's eighth full length album might only be just over a day old, but according to at least one source, ANTI is selling incredibly well.

Tidal, the streaming service that exclusively has the record available for download for its first week, claims that the album has already shifted over 1.4 million copies. The company confirms that one million of those were paid for and given away to fans by Samsung, so that leaves 400,000 copies that have been sold to expectant fans.

But, is that really true? That 400,000 figure should be taken with a grain of salt. If the numbers are correct, it means that ANTI is already the biggest success of the singer's storied career, and that's a bit tough to believe.

To put that 400,000 figure into perspective, it's worth noting that Rihanna's largest debut sales week to date was with her last album, Unapologetic. That record became her first to start at number one (and her only number one yet), and it sold just under 250,000 copies in its first week. That campaign was going strong at the time of the album's release thanks to the massively-popular lead single "Diamonds", which was another number one hit for her.

So, without a single (lead cut "Work" was released less than a day before the album appeared online) and little to no warning, is it really possible that the record is approaching half a million in sales in just two days? If so, that puts ANTI on track to have a massive first week, dwarfed only in recent memory by Adele or Taylor Swift.

Interestingly, while the RIAA does count those one million copies as sales, neither Billboard nor Nielsen (which provides Billboard with data every week) will recognize them. After Lady Gaga shifted more than one million copies of her second full length record Born This Way thanks to Amazon offering it for just 99 cents a few years back, the rules have changed as to what counts and what doesn't count when it comes to charting. A full length needs to be sold for at least a certain price ($3.49) within the first month it comes out in order to be included in the weekly ranking. The price that Samsung paid for those one million albums that it gave away can't be deciphered, so they won't be included in her official first week tally.

Both Tidal and Rihanna would benefit from these huge numbers—numbers that are only expected to grow. The rollout of ANTI didn't go as planned for the streaming service, so it could use some good press. The story is so great it's almost unbelievable…and that's the problem. This isn't to say that the figures are incorrect, but do keep in mind where they are coming from.
RELATED ARTICLES