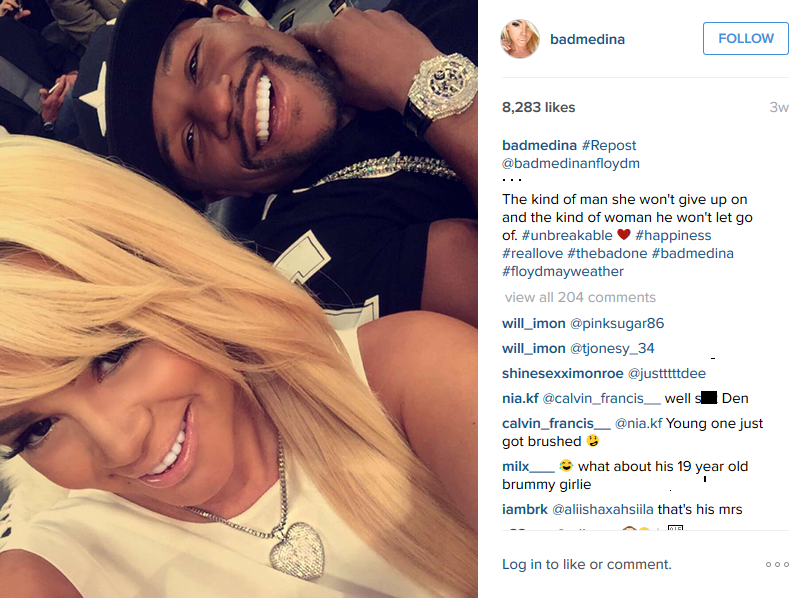 Floyd Mayweather's girlfriend, Bad Medina, posted a sad item on Instagram after news hit about him getting a new side chick, who is one of several women
For years Bad Medina played the side chick to the world's richest boxer, Floyd Mayweather. Actually, she was one of several side chicks, while Mayweather openly dated pretty, aspiring model and actress from Miami, Shantel Jackson. When Mayweather dumped Jackson for aborting his twin babies without telling him, Medina was brought into the forefront as his girlfriend. She was no longer the side chick. However, it lasted for roughly one year.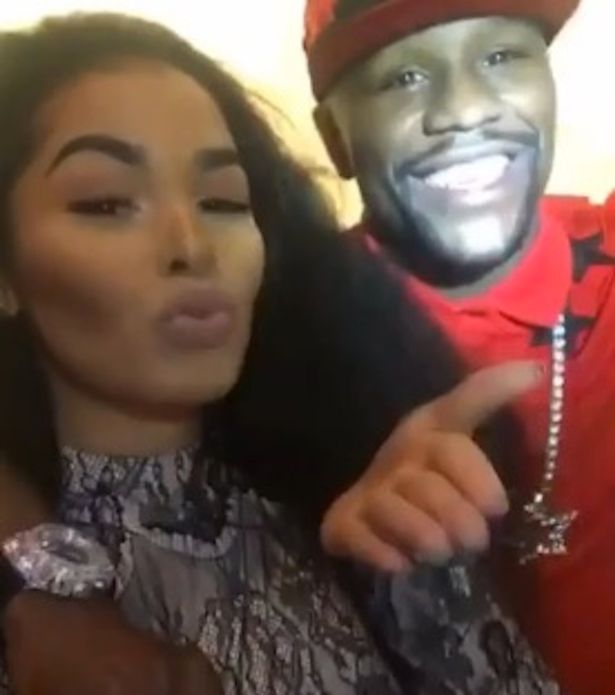 Rmarni and Floyd Mayweather
This month Mayweather took a trip to lovely London, England, the new billionaire capitol of the world. Mayweather made a number of public appearances in England and saw the sights. While in London, Mayweather met a shop assistant, who is also an aspiring rapper, named Rmarni (real name Ramarni Ellis). He began taking her out in London and pictures hit the press and blogs. He has also flown her to Los Angeles. She has been posting about their relationship on Instagram. However, Medina began making sad posts on Instagram indicating she is not letting him go, despite the new side chick, "The kind of man she won't give up on and the kind of woman he won't let go of #unbreakable #happiness #reallove #thebadone #badmedina #floydmayweather."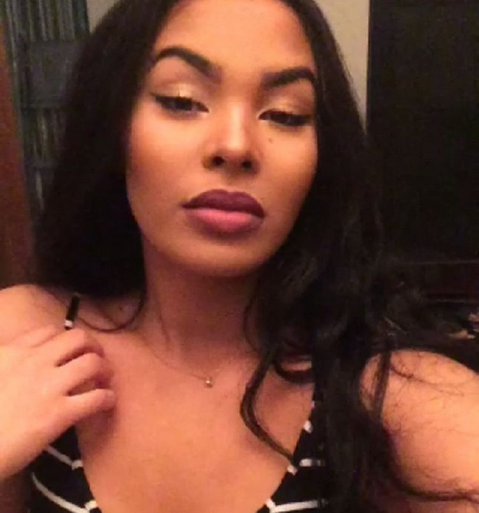 Rmarni looks like one of Floyd Mayweather's former side chicks, Princess Love
The closest Mayweather came to marriage was Shantel, a woman he proposed to with a $5,000,000 ring (previously he proposed to the mother of his children but did not marry her). He made her an offer if she would come back they would marry (but she didn't, opting to date rapper Nelly). Mayweather openly dated Shantel and showed the world he loved her. Mayweather even publicly stated he loves Shantel in an interview. He was crushed that she aborted his twin babies (and understandably so, as that's a tough thing to go through) and it destroyed their relationship. He still loves her though and tried to get her back.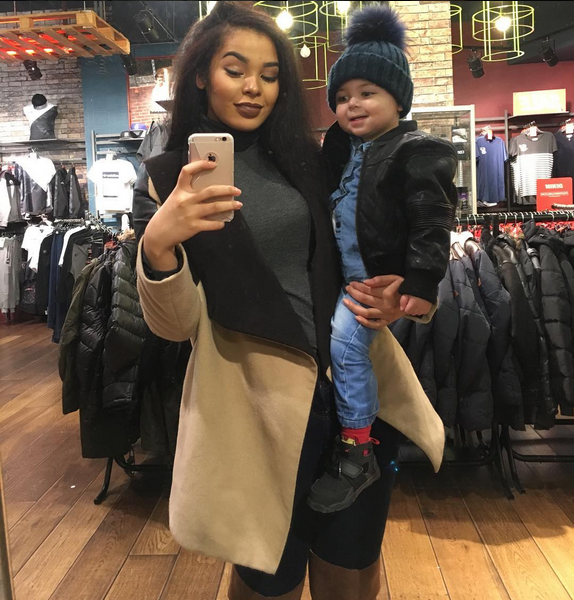 Rmarni
Medina was around the entire time. However, though she was the side chick, the only times he publicly acknowledged her was as a friend and nothing more (even though it was a sexual relationship), until he broke up with Shantel and was on the rebound. Prior to that, he let everyone online and in his private life know Shantel is (was) his girl. He didn't hide Shantel, but he hid Medina and other women, never owning up to them while Shantel was in his life. Something tells me if Shantel showed up on his doorstep today, he'd take her back.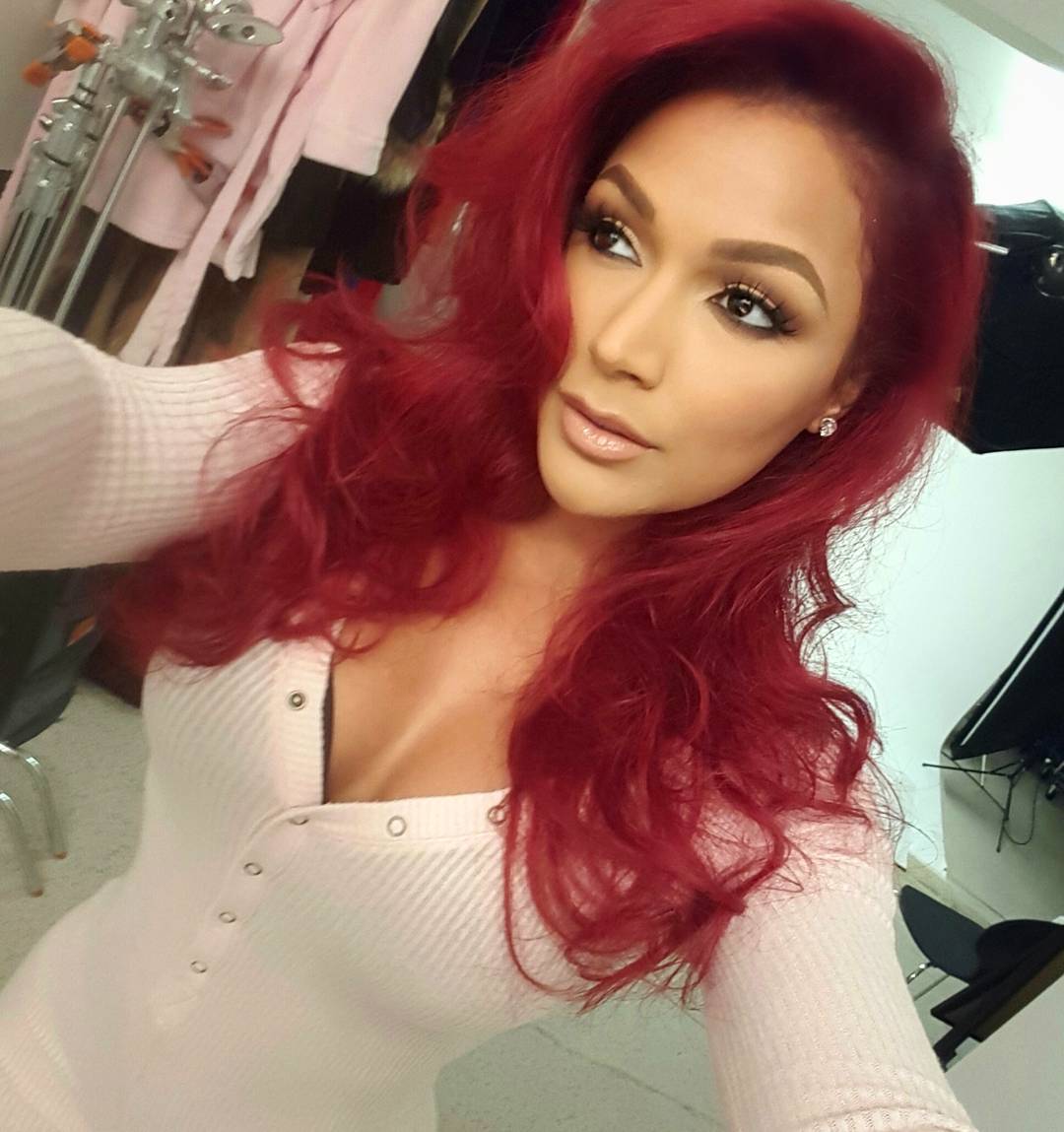 Shantel Jackson
When a man shows you that he deems you second best, it's a sign. Pay attention. It's also dangerous thing to try to force more of a commitment out of him as he doesn't think you're the one and you will end up disappointed. Famous men who have many options as Mayweather does will date different women, but they are not serious about them. The one they are publicly engaged to and or actually marry is the one they are serious about.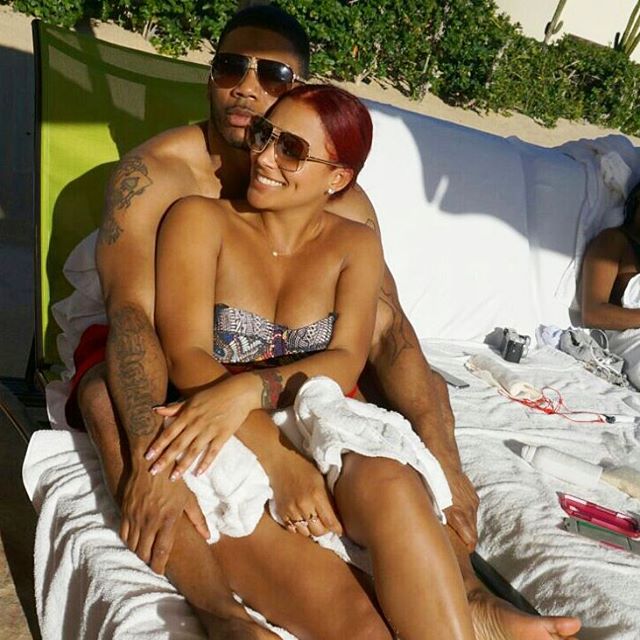 Shantel Jackson and her boyfriend of the past year and a half Nelly
I've written about these things for years based on what I've seen in the industry behind the scenes. When things go wrong for famous men and women they date in said situations, it results in messy legal entanglements and public embarrassment, that could have been avoided.
RELATED ARTICLES