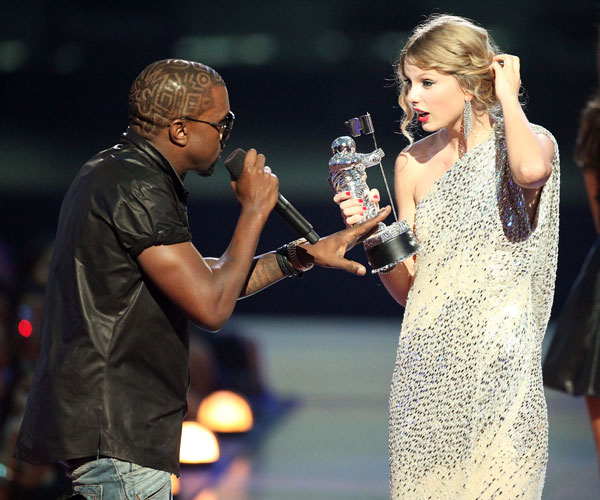 Kanye West interrupting Taylor Swift at the VMAs
Ranting rapper, Kanye West, fell afoul of singer, Taylor Swift, after he insane interrupted her Video Music Awards (VMA) speech a few years ago to robotically proclaim his boss wife, Beyonce, deserved the award more than she did. The rude and disrespectful act brought Swift to tears and created a huge backlash against West, who eventually apologized. His career has been blighted by the unwise interruption ever since.
Not one to let things go, West rehashed the madness by releasing a disrespectful track this month titled "Famous" from his botched album "The Life Of Pablo." The offending lyric by married West states, "I feel like me and Taylor might still have sex. Why? I made that b**ch famous. I made that b*t*ch famous."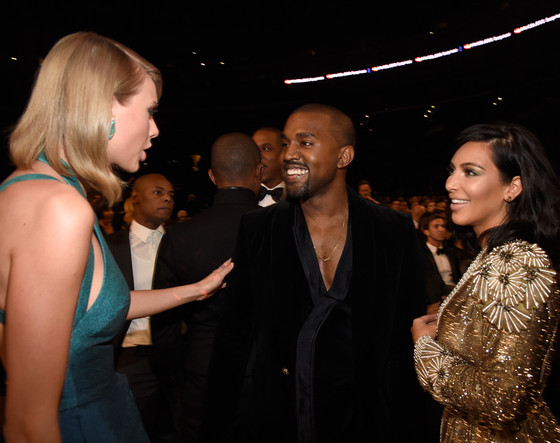 Taylor Swift, Kanye West and Kim Kardashian years later on speaking terms after his insulting VMA speech interruption
Wow, West is really flattering himself and on so many levels. He must think he looks like Denzel Washington. Furthermore, he did not make Swift famous. I remember prior to Swift going mainstream, I saw her videos on the CMT network. Swift was known with a country music audience, just not mainstream. West's distasteful VMA outburst created a scandal in the press that took her mainstream. However, he didn't make her famous.
West claims his wife, Kim Kardashian and rvial Swift were okay with the song's inappropriate, adulterous lyrics. However, Swift went on stage and refuted his claims at the Grammys last week by stating, I want to say to all the young women out there, there are going to be people along the way who will try to undercut your sucess, or take credit for your accomplishments or your FAME." It was a dig at West's aforementioned song "Fame."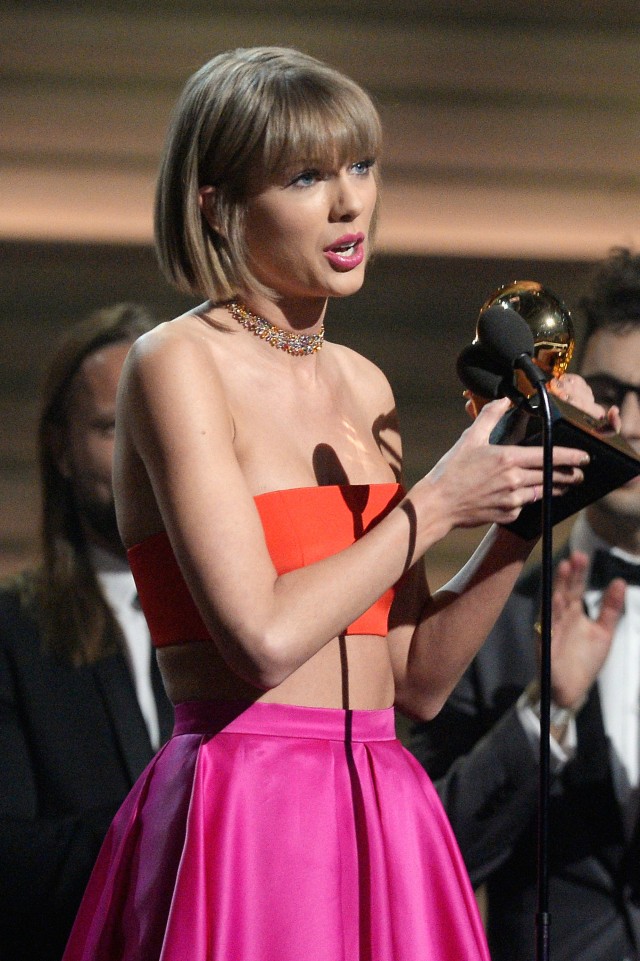 Taylor Swift rebuffing Kanye West's song "Fame" this month at the Grammys
West through another temper tantrum upon hearing her speech and stated, "I called Taylor. I played it. I said, 'Taylor, I talked to my wife about it.' I said, 'How you feel about this line, Taylor?' She said 'Oh, Kanye, I like that line." Then she won an award and said something completely different. She's not cool no more. She had two seconds to be cool and she f****d it up."
Side Bar: It's telling that Kanye didn't ambush a black woman on stage while she's accepting an award. The VMAs would have been scrambling to cut to commercial because a black woman would have, as the phrase goes, beat the black off him, then shoved the award right up his...