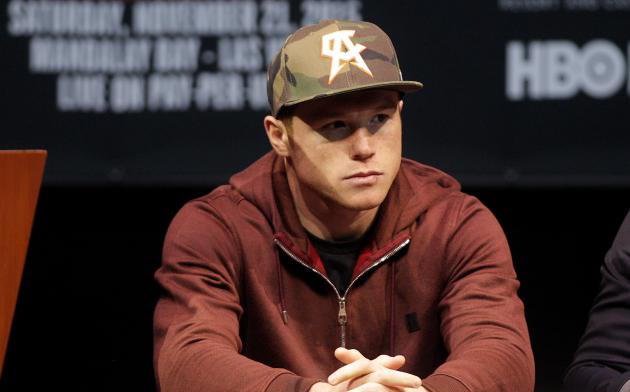 Canelo Alvarez
Bolton born boxer, Amir Khan, has taken the fight of his life, in pursuing and agreeing to contractual terms to fight potent Mexican pugilist, Saul "Canelo" Alvarez, who has won 46 of 48 fights, with only 1 draw and 1 loss to Floyd Mayweather, which is an excellent record the red-haired fighter has worked very hard for in his career. Many in the boxing world were shocked at the announcement of the Canelo v. Khan fight for a number of reasons.
The catch weight for the fight is 155 pounds (each boxer must weight 155 pounds at the official weigh-in). Khan is used to fighting at 140 and in that range. Canelo on the other hand is used to fighting at between 160-170. However, many in boxing are joking that Canelo will show up at the weigh-in having come down from 160 to 155, but on fight night will weight 170. Between the time immediately proceeding weigh-in and fight night, Canelo is going to eat 50 Enchiladas, Huevos Rancheros and Carne Asada - and Mexican food is delicious - then try to punch a hole in Khan (LOL I'm kidding).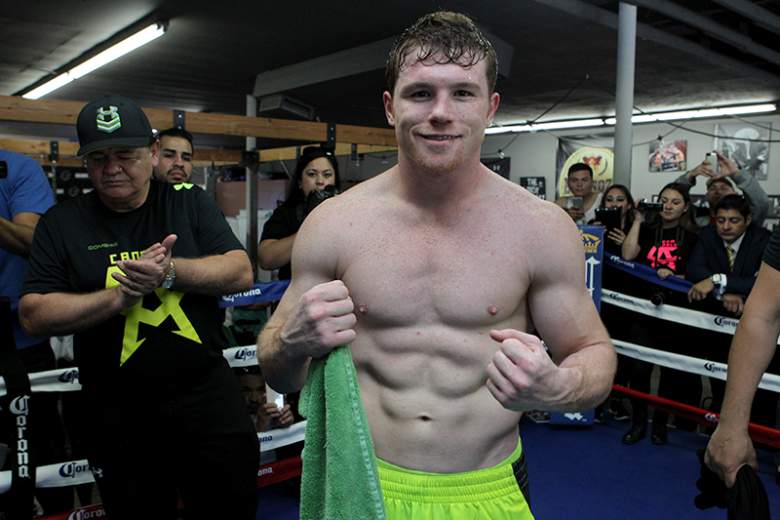 Canelo
Canelo is a muscular, solid boxer, who is a great power puncher. Canelo can also take punches as well. It's a dangerous combination in a fighter, as Canelo's opponents end up staring at a boxer who can give and take punishment in the ring and you don't truly find out how hard he hits until the punches start flying and landing on fight night. Canelo is also very tricky and unpredictable.
When you're not sure what combination a fighter, such as Canelo, is going to use and where he is going to hit you (left hook, right hook or body shot ect...) it will throw you off in the ring and leave you open to a surprise attack that results in a knockout. And in boxing, all it takes is one punch...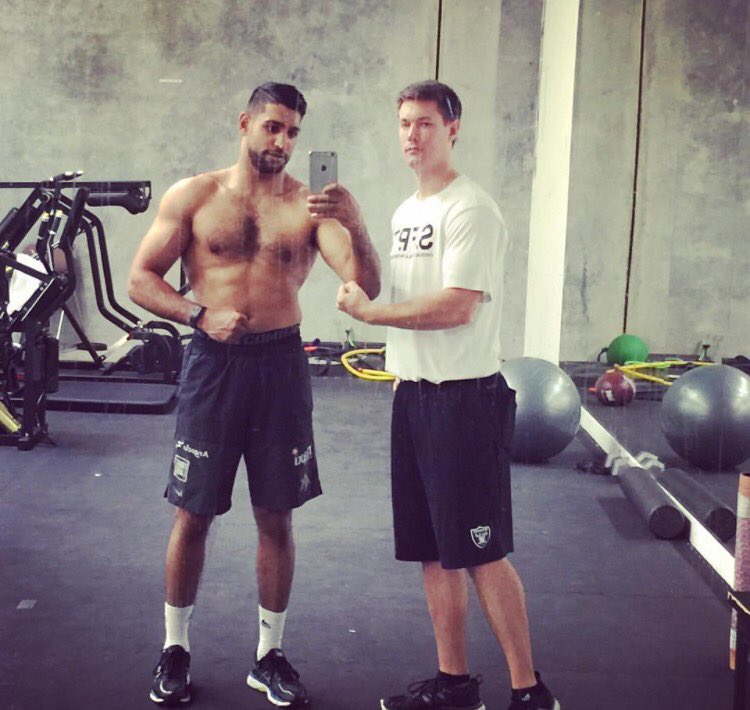 Amir Khan (left) is bulking up, gaining more muscle and definition. Amir has clearly been demolishing plates of Sticky Toffee Pudding (kidding). However, about a year ago when I was on Khan's Instagram page, he had a massive piece of chocolate cake, bigger than the WBC belt, on his plate, about to devour it in a Manchester cake shop (LOL).
Khan has been fighting with a more lanky, wiry frame, but he has very quick hands and moves well in the ring. When you have a boxer capable of great output, said fighter can outpoint opponents by landing more clean shots for the decision at the end of the fight (provided they don't get knocked out - a knockdown is one thing, but a knockout is quite another).
It's also a known and regrettable fact that Khan's chin can't take much punishment and it resulted in him hitting the canvas in two notable knockouts. For Khan to have a real chance he would have to stick and move (run) the entire fight, running around the ring like Usain Bolt to stop Canelo from catching him with a massive punch. And once again, in boxing, all it takes is one punch...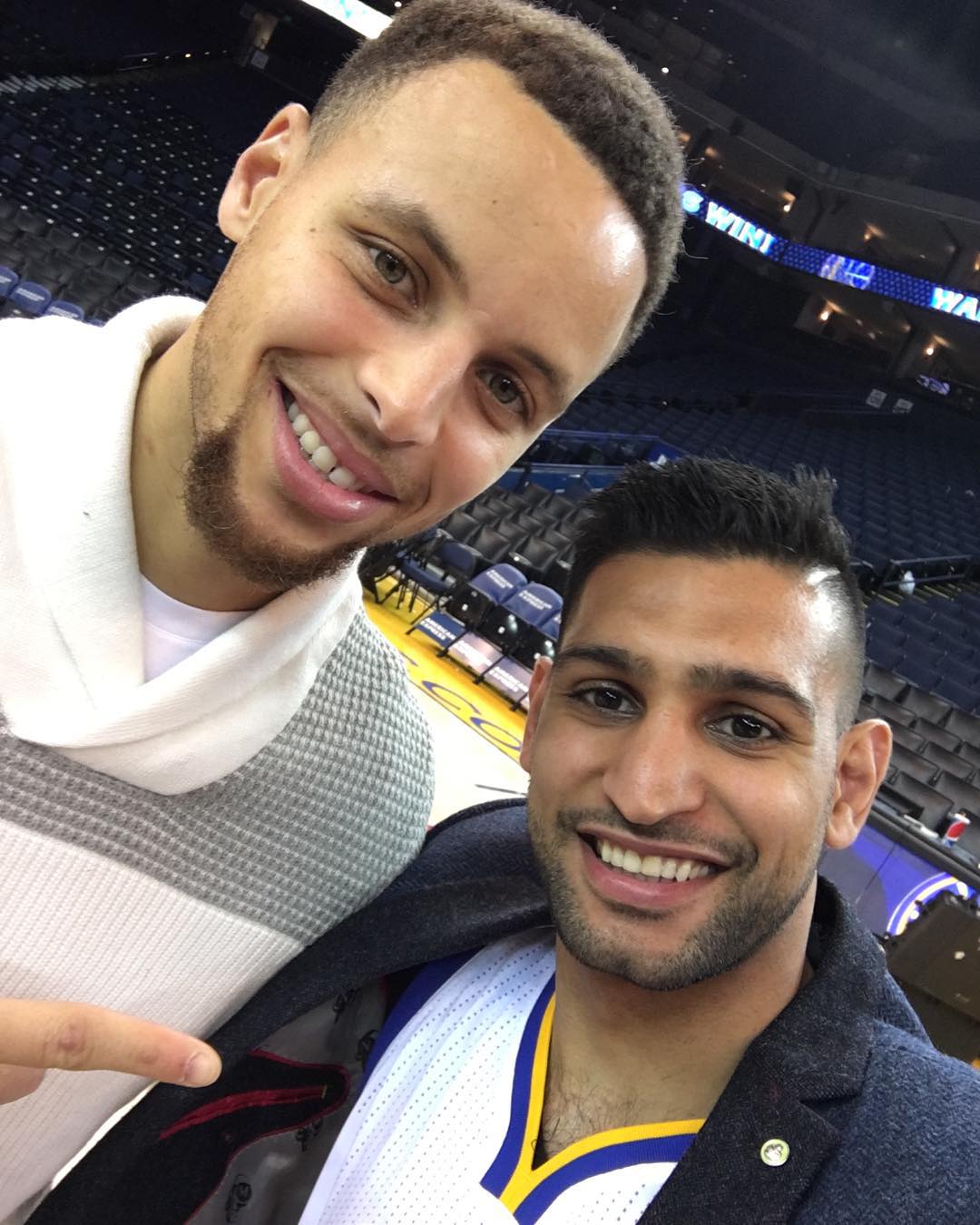 Amir Khan (right) and basketball star Steph Curry. Amir is gonna have to be "360 with the wrist" like Steph because Canelo is dangerous in the ring.
Boxers such as Floyd Mayweather and Leo Santa Cruz have also been quick to point out the relevant fact that Khan is jumping up two weight classes to fight Canelo and if you are not used to fighting at a certain weight, it will create difficulties for you in the ring. Many accomplished boxing trainers have pointed out this fact as well in interviews, regarding the Canelo v. Khan fight. In this Khan is taking a massive risk. For the foregoing reasons Khan is firmly the underdog.
Side Bar: one of the strongest chins in all of boxing is Canadian-Haitian Bermane Stiverne, who is as tough as nails.